If you're searching for the ideal community that provides you with urban convenience and natural beauty, look no further. Located in the heart of Esquimalt Village, The Proxima offers the ideal combination—where you'll live a quality life in a quality-built home.
The Proxima, built by GT Mann Contracting, is a six-storey collection of 89 units. You'll find stylish one-, two-, and three-bedroom condos, including junior suites, penthouses, and townhomes, all with ground-level patios facing a beautifully landscaped courtyard.
Positioned within two pet-friendly multi-family buildings and connected by an elegant atrium, the larger Adamo building faces Esquimalt Road, while Bellus is located up Lampson Street.
The Proxima has been built with convenience in mind, offering up rich life experiences within a community of opportunity. It's no surprise that the inspiration behind the name emerged organically.
"It felt like the name needed to express the perfect positioning of the building," explains Mark Rice, owner-operator of Coldwell Banker Oceanside Real Estate, and Director of Sales for the project. "The Proxima buildings are located along the main arteries that lead you to Esquimalt Village, and straight downtown."​
Abundant Esquimalt Village amenities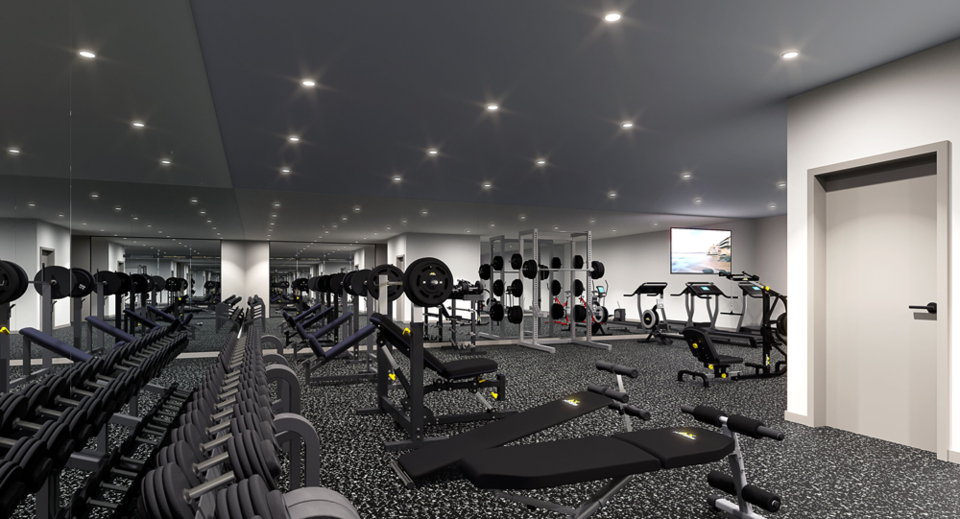 ​The heart of the Esquimalt Village acts as a hub of connectivity by weaving services, grocery, recreation, and parks together. The farmers' market operates twice a week in the summer, and is the best spot for local farm-fresh produce.
"Esquimalt Village is more amenity-packed than most villages," says Rice. "Typically, most regions have grocery and coffee shops, but this particular area has a skating rink, pool, ballfields, and some major conveniences for the community within walking distance."
Enjoy lively dining, the local craft beer scene, and don't miss annual festivals like the Esquimalt Rib Fest at Bullen Park, and the Memorial Park Music Fest. As an added bonus, the Esquimalt Harbour, Archie Browning Sports Centre, and Esquimalt Recreation Centre are also nearby.
When you're not working out in the 1,500 square-foot fitness centre or sunning yourself on your balcony, you'll appreciate the building's proximity to golf courses, the ocean, and nature trails. This includes 18-acre Macaulay Point, where you can soak in views of the Juan de Fuca Strait.
"The Village is a great place to walk and bike," says Rice. "The Galloping Goose, E&N Railway, and West Bay Marine Walkway trailheads all meet here, and are integrated into the area."
Stylish building interiors​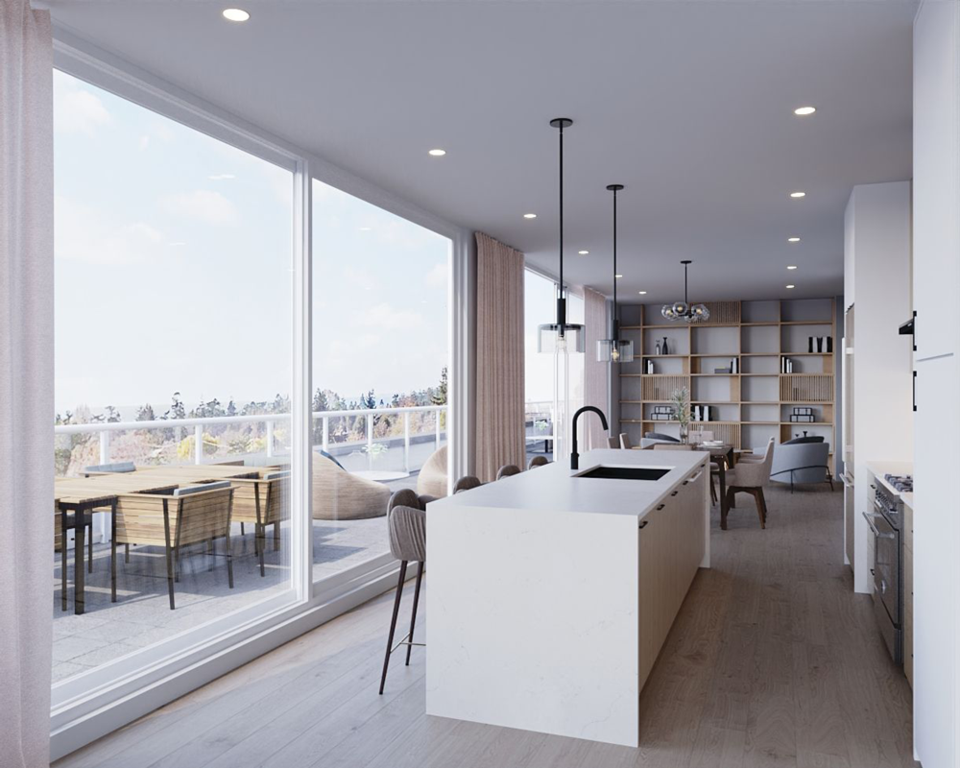 ​Interiors were planned by Victoria's Spaciz Design Company, making for aesthetically pleasing rooms that excel in both form and function. "Most of the kitchens have generous islands, with ample seating to encourage a dinner party culture," says Rice. An especially exclusive feature is the KitchenAid appliance package, with dramatic black tinted stainless fronts.
Main units have two colour schemes: Lumen, a light colour palette with white and grey-coloured tones, and Caligo: a warm palette, with painted grey millwork and warmer tones in the flooring and tile work, which both make for inviting, liveable spaces.
The voluminous and airy lobby has ample bench seating and floor-to-ceiling windows with lots of natural light. It's a perfect spot to relax with a book and enjoy the common space.
"We wanted to design efficiently-sized units to ensure people have a way to get into the market. Units starting at $374,900 are helping create new and affordable housing inventory in Victoria," says Rice. "Built by GT Mann, one of Victoria's most reputable builders, The Proxima offers a selection of units you can't beat."
"The Proxima – Live life here." To book your private showing today, visit theproxima.ca or call 250-588-2339.