Rivers across almost every region in British Columbia are on track to run at their lowest levels in recorded history, according to the province's River Forecast Centre.
Dave Campbell, head of the agency, said the record low river levels for this time of year have their roots in three recent phenomena: the lingering effects from a late 2022 drought; a powerful spring heat wave that melted snowpack early; and a persistent lack of rain.
Normally at this time of year, the amount of water held in the province's snowpack is 26 times higher. And by last week, only five of 99 snow stations still measured any snow at all.
"It's pretty widespread. All regions are experiencing this," Campbell said. "The fact that we're trending at historic low in so many rivers right now, we're headed to a potential worst-case scenario."
Campbell said the most affected river system are the medium to small tributaries that rely on snowmelt to see them through the dry summer months.
The North America WaterWatch map codes river flow along a spectrum of high flows, represented in blue, to the lowest flows, shown in shades of orange and red. On Tuesday, most of the B.C.'s rivers were speckled in burnt orange and dark red dots.
Larger rivers fed by lakes or that are dammed tend to be in better shape, said Campbell, because they have managed to hang on to meltwater before it washes down stream.
Reservoirs, refilled with meltwater, face dry months ahead
BC Hydro's Stephen Watson said the utility's Vancouver Island reservoirs are receiving about 80 per cent of their normal flow. In the Campbell River watershed, BC Hydro has reduced flow rates two weeks earlier than normal in order to provide enough water for fish living in the river.
"We've been capturing that water," said Watson. "Right now, the Campbell River system, we're looking at more than having the river flow over the next week."
BC Hydro spokesperson Susie Rieder described the Vancouver Island reservoirs as moving into "conservation mode."
Elsewhere in the province, Rieder said high electricity demand in the winter lowered the levels of many reservoirs across the province, but that most have refilled with all the early meltwater. With that winter snow mostly gone, she said water levels will be at the mercy of summer rain.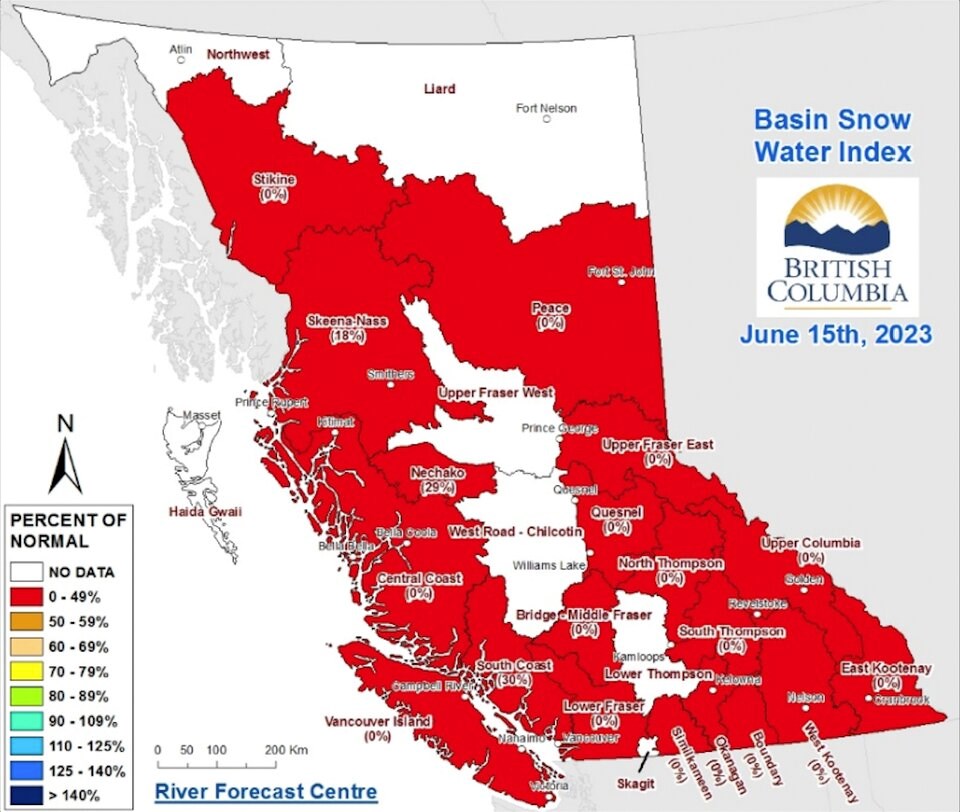 The three reservoirs Metro Vancouver draws on for its drinking water are also within normal ranges due to their ability to capture any melting snow.
"Record-breaking warm temperatures and dry conditions over the last couple of months did result in earlier than normal snowmelt (starting on April 22), and recent measurements indicate lower-than-average snowpack in the watersheds," Marilyn Towill, general manager of Metro Vancouver's Water Services, said in a statement.
Towill said the regional body is encouraging residents and businesses to conserve water, especially as storage drops through the dry summer months. Metro Vancouver rolled out Stage 1 watering restrictions on May 1 and they remain in effect until Oct. 15.
"We encourage everyone in the region to adopt conservation habits year-round — we must prepare for changes to rainfall and snowpack due to climate change," Towill said.
B.C.'s small and medium rivers to be hit first
Campbell said the biggest impacts so far can be seen in B.C.'s Peace region, where the largest wildfire in the province's history continues to burn out of control under level 4 drought conditions.
A spokesperson for the BC Energy Regulator (BCER), which manages water to the region's oil and gas industry, said low flows have prompted it to issue a "water directive" requiring operators to suspend previously approved water diversions from rivers, streams and lakes across a number of tributaries in the Peace River and Liard River watersheds.
Campbell said he and his colleagues at the River Forecast Centre also have broad concern for small- and medium-sized rivers in in the Southern Interior, Sunshine Coast and Lower Mainland.
Normally at this time of year, rivers are peaking due to melting snow in the mountains. But Campbell says river levels have already started going down way ahead of schedule. He said he's never seen anything like it.
"We don't have a lot of analogue years," he said. "Nearly half of the rivers are sitting at the lowest ever recorded or what we call the fifth percentile — something that would happen once every 20 years."
Low river levels come decades ahead of climate projections
Campbell said the conditions are so abnormal that historic comparisons aren't very helpful. At this point, he said, it's easier to find a comparison decades into the future.
"This year is much closer to what we've been expecting in climate change scenarios in the 2050s and 2080s," he said.
Campbell added he's hopeful but not confident summer rainfall rain will once again fill rivers to seasonal averages (July and August tend to be some of the driest months of the year). If not, he said, falling river levels could be devastating for anything living there.
"It's everywhere," he said. "We need to get that rain."