From British Columbia to Newfoundland, vast stretches of Canada are forecast to receive hotter than normal temperatures this summer.
The seasonal forecast, released by Environment and Climate Change Canada meteorologists and climatologists Tuesday, raised the probability of a scorching summer after record-breaking spring temperatures and an already historic fire season.
"That whole heat event really set the stage for where we are now," said warning preparedness meteorologist Terri Lang.
Federal climatologists say they have already seen a signal human-caused climate change played a role in the spring heat wave.
In a statement, the department warned Canadians to monitor weather forecasts and take weather alerts seriously ahead of what's expected to be a hot and potentially dangerous summer. It also called on people across the country to "get prepared" for weather-related events and develop an emergency plan now.
"Many parts of the country are already experiencing the devastating impacts of wildfires, driven mainly by higher temperatures and seasonal dryness associated with a warming climate," said the federal department in a statement.
Cool temperature swing brings snow, flooding
Cooler and wetter temperatures more typical of 'June-uary' weather reached many parts of B.C. last week. At higher elevations, hot temperatures gave way to snow along stretches of the Coquihalla Highway Sunday. On Tuesday, Environment Canada warned 20 to 40 centimetres could fall on Highway 93 between Jasper and Banff. The "unheard of" snowfall has also brought up to 150 millimetres of heavy rain, prompting flooding in many communities as far east as Edmonton.
The low-pressure system was also expected to influence parts of B.C., triggering a special weather statement Tuesday with localized flooding threatening the communities of Lillooet, Lytton, Ashcroft and Cache Creek.
"Travellers are advised to exercise caution and drive at reduced speeds when encountering slippery road conditions and water pooling," noted the statement.
The probability of swings between drought and heavy rainfall, and heat waves and extreme cold grow with human-caused climate change, said Environment Canada research scientist Nathan Gillet.
"Those things are what we call cascading impacts, and can not be ignored because they're quite literally tied together," added warning preparedness meteorologist Armel Castellan.
Part of those cascading effects also impact fire weather, the conditions that set the stage for forest infernos. On Tuesday, the Donnie Creek wildfire — B.C.'s largest on record — continued to burn out of control. While the core the wildfire season has yet to begin, 2023 is already the third largest on record in terms of area burned. The only two that surpass occurred in 2017 and 2018.
The cooler, wetter weather hitting many parts of B.C. is expected to give way to a high-pressure system by the weekend. That will bring clear skies and hotter temperatures before another low-pressure system drops temperatures again.
Over the coming months, however, meteorologists worry the rain is coming too little and too late.
"We have strong confidence that it's going to be warmer than average," Lang said.
Many scientists forecast the return of El Niño conditions by the fall and winter. Over the next few years that's expected to raise average global temperatures beyond 1.5 degrees Celsius of warming above pre-industrial levels.
But sea surface temperatures have warmed much faster than initially thought, and Lang said it's clear an El Niño is already emerging.
Beyond the already hot summer, the warning preparedness meteorologist said that means warmer and drier conditions will likely prevail through the fall and into the winter.
"It's actually already here," she said. "I think it's throwing a lot of the scientists off."
Disappearing snowpack, dropping river levels
A confluence of conditions has generated a high risk of provincewide drought. By last Thursday, 17 of the province's automated snow weather stations had melted to snow-free conditions — "earlier than any year on record," B.C.'s River Forecast Centre said in a recent bulletin.
The centre said flood risk from snowmelt has largely disappeared and many peak flows are "rapidly declining."
"Flood risk from extreme rainfall events remains, particularly for the B.C. Interior," the bulletin warned.
The forecast drought conditions in the province are expected to been made worse by a lingering 2022 drought, the spring heat wave, rapidly melting snow, and projected hotter than normal summer.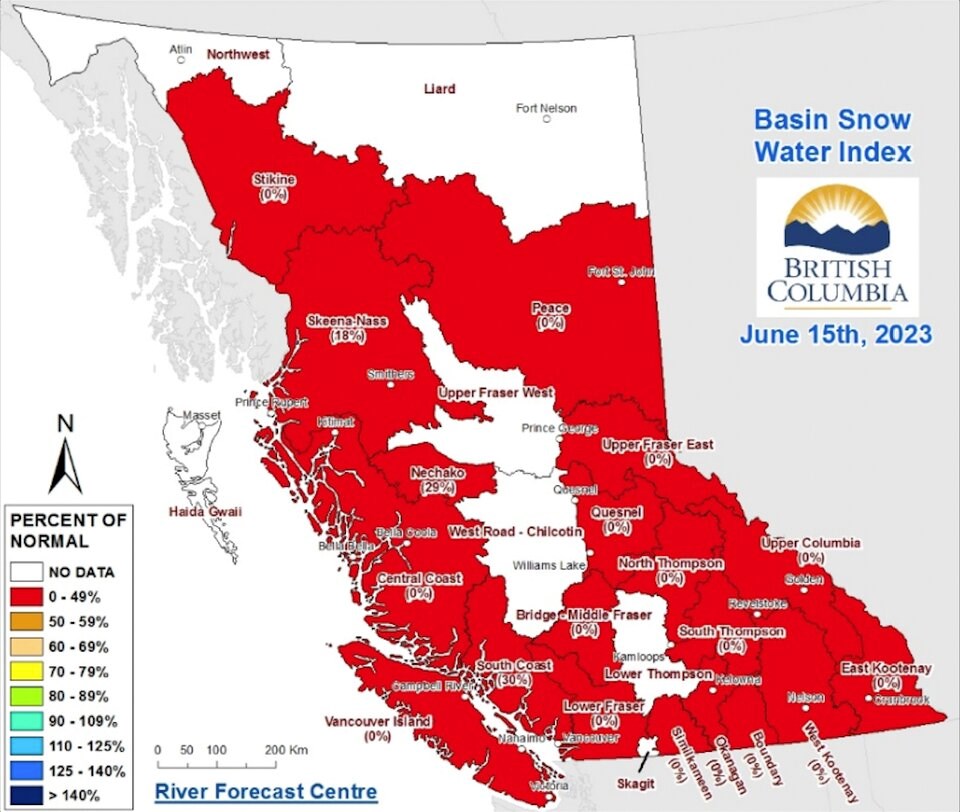 ​Snowpack levels dropped from an already worrying 29 per cent of normal to four per cent of normal over the first two weeks of June. In 2022, the mid-June snowpack average was 198 per cent of normal.
"2023 to date has already been characterized by 'outlier'-type conditions. Predicting possible scenarios and impacts is particularly challenging because no strong analogues for 2023 exist on record in B.C.," notes the River Forecast Centre.
The centre says prolonged hot and dry weather could have negative effects on fish and other aquatic life, accelerate the melting of glaciers, and increase an already high wildfire risk.
Another concern: a "severe" shortage in water for drinking and watering crops.
Summer rains remain a wildcard — beyond up to three weeks, it's extremely difficult to have any skill at forecasting how much or how little precipitation is going to fall, said Castellan.
Any cool, wet weather is unlikely to make up for the dry spring, but could temper widespread drought.