Before open-plan kitchens were commonplace, kitchen faucets were relatively inconspicuous and fixture selection garnered less ambition. Today, your kitchen faucet is generally front and centre and is an important component of the room's design.
From practical (controls, spray, size) to personal (colours, materials, finishes) considerations, it can be a daunting task when you don't know where to start. However, there's one constant that drives the direction, according to Sameha Dixson, showroom supervisor at Splashes Bath & Kitchen, in Victoria. BC
"The main factor to consider is whether it's for a new construction or renovation. If you're renovating, you're often inheriting things that exist, whereas with a new construction, you're starting fresh and have more control in the direction things go."
Overall, you'll want to consider your style preference, type of faucet you want (one lever or two handles), and your current sink configuration.
To help make shopping for your new kitchen faucet a more seamless and enjoyable experience, these considerations and model options address some common questions.
Function: performance, versatility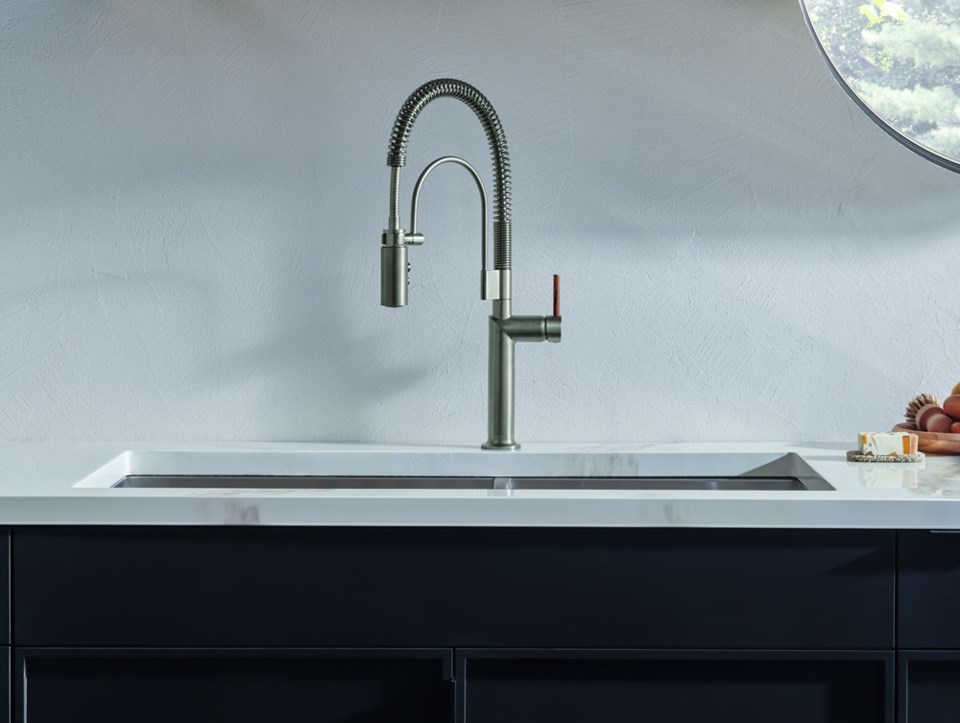 Functionality should guide your selection process. Think about the features that would make your tasks easier and more efficient.
"Some manufacturers have technology built-in, like Brizo's (Delta's inspired line) voice IQ," says Dixson. "You can command the faucet to turn on and off, or anything from pre-mixed temperature to distinct temperature settings or measured amounts."
The Hansgrohe Focus offers hands-free technology as does the Blanco, with their touchless SOLENTA Senso, which includes a sophisticated start-stop technology that automatically shuts off after 90 seconds.
There are also models with SmartTouch technology, which allows you to simply touch anywhere on the faucet body or handle. This makes it easy to activate only when needed, helping reduce water usage, and providing convenience and control.
From rinsing vegetables to cleaning sink corners, spray heads are another consideration and range from pull-out and pull-down heads attached to the faucet, or adjacent side sprays.
"How the spray pulls down is going to be dictated by the style," says Dixson. "Brands with contemporary styles have spray heads close to the same diameter as the spout. With traditional and transitional, which tend to flare out, will fall more naturally into your hand; ultimately, the faucet's style will affect the dimensions and how it performs."
Aesthetic: product depths, finishes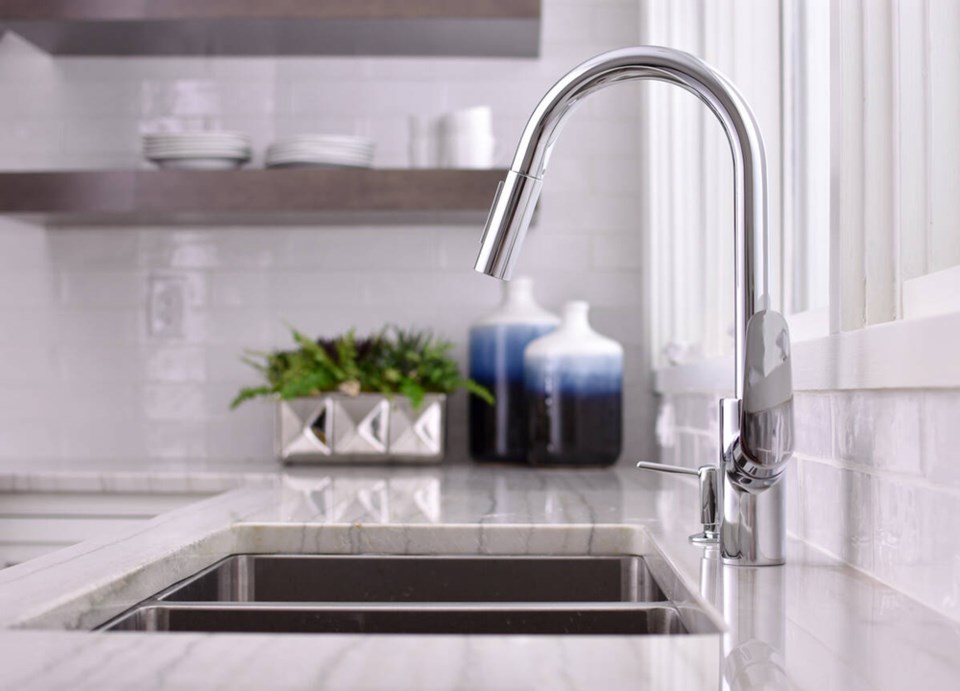 Product depths include things that might exist within the same space, like accessories or bar faucets, lighting and cabinetry.
"When you're choosing a fixture, it's being married with something else and we want to ensure they function together to maximize their performance in unison rather than just as a single item," explains Dixson.
Black matte and chrome finishes are two constants that retain their popularity. Chrome is the most cost effective, whereas black matte, brushed or satin nickel, or polished nickel or gold are more expensive.
"Brizo is the artwork on the countertop and their Tulham comes in exciting mixed finishes, which speaks to the new trend of having more than one finish in your kitchen."
Every brand has their own interpretation of tones, so be mindful when matching other materials in your kitchen.
Other considerations are size, scope and placement. Consider if your sink is under a window, whether you want a clean horizon, a low profile without visual interruption, or a showpiece.
For more information on the products, visit splashesonline.com.