March signals the arrival of the newness and freshness that comes with the spring season. Here on Vancouver Island, it manifests all around us, from the new inventory in our favourite shops to the fresh menu offerings at our favourite restaurants.
If you're looking to refresh your wardrobe and home and experience new foods and drinks, you're sure to find everything you wish for during a local weekend break in the Cowichan region.
Spaces for shopping local
When shopping in Cowichan, you'll find something to catch your eye everywhere you turn, from fine art and First Nations craftwork, to the latest fashions and antique jewellery, and so much more. Across downtown Duncan, Chemainus, and Ladysmith, you can shop for unique artisan creations from the locally-owned boutiques, making for great gifts for yourself or for someone else.
Since 1984, Fabrications in Duncan has been dressing women in pieces that represent the casual comfort and elegance of West Coast style. The local fashion boutique believes in promoting apparel accessories that make a difference, opting to curate items that are made with organic, fair trade materials.
Wild Coast Perfumery produces all natural perfumes that are blended, aged and bottled by hand on Vancouver Island. Each original fragrance is locally inspired, incorporating a wild harvested element in its blend for an authentically local touch. One of Wild Coast Perfumery's signature perfumes, the Cowichan Rose, captures the scent of the wild rose laden banks that wind along the Cowichan River.
Operating on Tl'lulpalus Territory, the family-owned Crowfoot Collective promotes the work of Indigenous artists and other local makers. From apothecary goods to symbolic jewelry, everything on the shelves is handmade and ethically-sourced.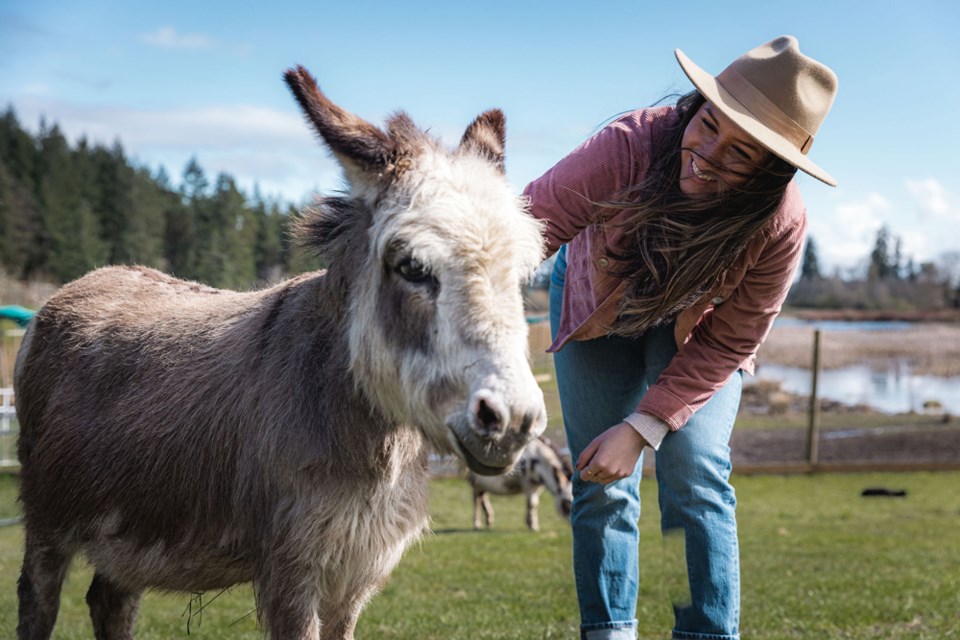 Space to savour and sip
Cowichan is host to amazing culinary experiences that are only made possible through the work of artisanal producers from the region's plethora of farms, wineries, cideries and distilleries.
Springtime is when over 700 working farms in Cowichan come alive again. As one of the region's oldest farms, Keating Farm and its 27 acre land is home to honey bees, chickens, turkeys, sheep, pigs, and heritage orchards and is driven by a slow, sustainable, and organic approach to farming. New to the Cowichan Valley, Miller + Co Flower Farms in Duncan produces premium hand-tied bouquets sourced from the farm's specialty blooms, such as tulips and daffodils, homegrown using organic practices.
Unwind during your Cowichan weekend with truly satisfying farm-to-glass wines, ciders, and spirits that represent the character of the region. At Duncan's Averill Creek Vineyard, you'll discover premium quality estate-grown wines, which can be enjoyed with a picnic lunch in the garden patio with spectacular ocean and valley views. Another essential tasting spot is Merridale Cidery & Distillery, B.C.'s oldest estate cidery and first craft distillery, located in Cobble Hill. The sustainable orchard-to-glass cider and spirits are perfectly paired with their farm-to-table cuisine.
Back for its 7th year, the annual Dine & Sip Cowichan culinary festival provides a rare opportunity to experience and enjoy the diverse tastes of Cowichan. From now until March 26, over 40 participating venues throughout the region will offer special pricing on a range of inspired dishes and beverages. You can appreciate the flavours and festivities while also giving back to Cowichan Food Banks.
Go to tourismcowichan.com/spring to plan your weekend in the Cowichan region.