The holiday season, at its core, is about togetherness and love. It's about gathering, spending time with our favourite people and slowing down enough to fully enjoy all the magic that comes with this time of year – including the delicious food.
However, with some folks preferring something sweet, some preferring something salty and some enjoying a mixture of both, it can be tricky planning food that everyone at your get-together will enjoy.
"Charcuterie boards are perfect for the holiday season because they have really nice treats that you might not otherwise indulge in, so it really marks a special event. You're also thinking about the people you love when you're choosing a board, what they really like to eat, so it's very personal and you can really create something that you know is going to be enjoyed," says Cherilee Dick, co-owner of Victoria Olive Oil Co.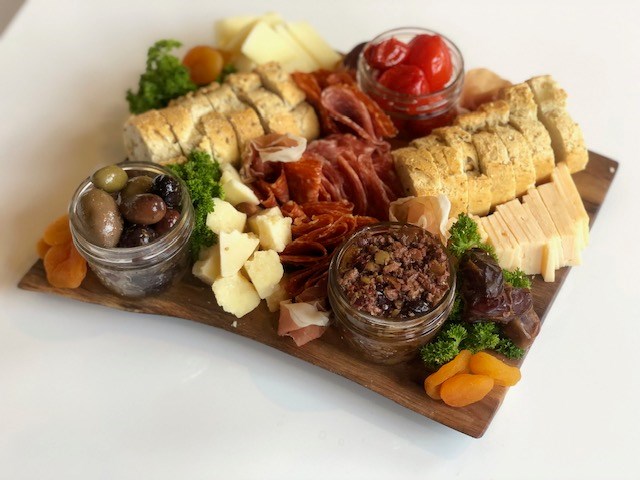 And better yet, all of these high-quality goodies are arranged on wood boards sourced from Vancouver Island wind-fallen trees and then masterfully crafted locally at Coombs Woodworks.
Finished beautifully with a rustic raw edge, the Alder, Walnut, Maple, Arbutus, Garry Oak and Rock Elm slabs are cut to highlight the character of the wood, meaning each board is unique.
You can also opt in to further customize your board by getting it engraved, or even having handles installed at either end for easier carrying.
"We have themed boards, as well, like our hot and spicy board, chocolate dessert board and our sweet and savoury board," explains Dick. "But one thing that really sets us apart is that we shrink-wrap them, so it's almost like building a gift basket on a board. That way, when you give it as a gift, people can unwrap it, eat from it, and then keep the board as a keepsake."
Victoria Olive Oil has shelves filled with items to choose from or you can select one of their prepared and pre wrapped packages. These charcuterie boards are also meant to save you the trouble of trying to squeeze an excess of leftovers into your fridge because they come with the perfect amount of everything, including the bottles of preserves, which are notoriously too large for one sitting.
If you are interested in purchasing a charcuterie board from Victoria Olive Oil Co., you can visit their shop, website or give them a call to place your order, as larger orders will need more to be completed. You can also follow them on Facebook and Instagram.