When people in Victoria talk about specialty foods, they'll be hard-pressed not to mention Victoria Olive Oil Co. on Broughton and their new expansion store next door, a food-forward assortment of carefully sourced local epicurean products and imported treasures for cooking, eating, indulging and entertaining.
If you're a fan of the original shop, there will be twice as much to love, including artisanal treats, condiments and fine food essentials for a West Coast inspired pantry, plus a selection of the freshest ultra-premium EVOOs, fused and infused premium olive oils, and white and dark balsamics.
Co-owners Cherilee Dick and her husband Kevan, are excited to now welcome you to the near 1,050-square-foot space, where inventory is chosen with intention and purpose to promote healthy eating and healthy living.
"There's a real need for a gourmet grocery store in the heart of downtown Victoria," says Dick. "We're bursting in our little store, so by opening next door, it gives us the opportunity to bring in a lot more products, do more gift baskets and charcuterie boards, and charcuterie board lunches to go, too."
Dick adds, "We'll have a large cooler to offer organic whipping cream, milk, eggs and different cheeses, for example, and items from Italy that other stores don't have. That's kind of my niche. I like to find different things that aren't everywhere."
Olive oil samples are available in the new space, but the original store accommodates most of the tastings. The new shop is also designed to host events, a very movable space, according to Dick. "It's about having more interaction with food."
In the original store, anticipate a decadent experience for your senses, from the appealing visuals of numerous fustis, to the flavours and volume of choice. "We have about 73 different oils and vinegars, including 10 EVOOs, and we bring in new flavours and new pairings to capture what our customers want," says Dick.
Supporting local farms and businesses
Specializing in meticulously sourced ingredients from small local producers and gourmet foods crafted from the finest local ingredients, they partner with exceptional local purveyors and businesses.
You'll find Derek DeWolf's crafted charcuterie boards from Coombs Woodworks; he'll customize, too (think handles, initials, company names); A&S Microgreens from Cobble Hill;
Julie Delight's Chocolate (French chocolatier), and products from Lantzville's Camas (farm-to-table restaurant), just to name a few.
It's also a social hub and community gathering spot, as customers exchange pairing ideas and culinary discoveries.
Olive oil health benefits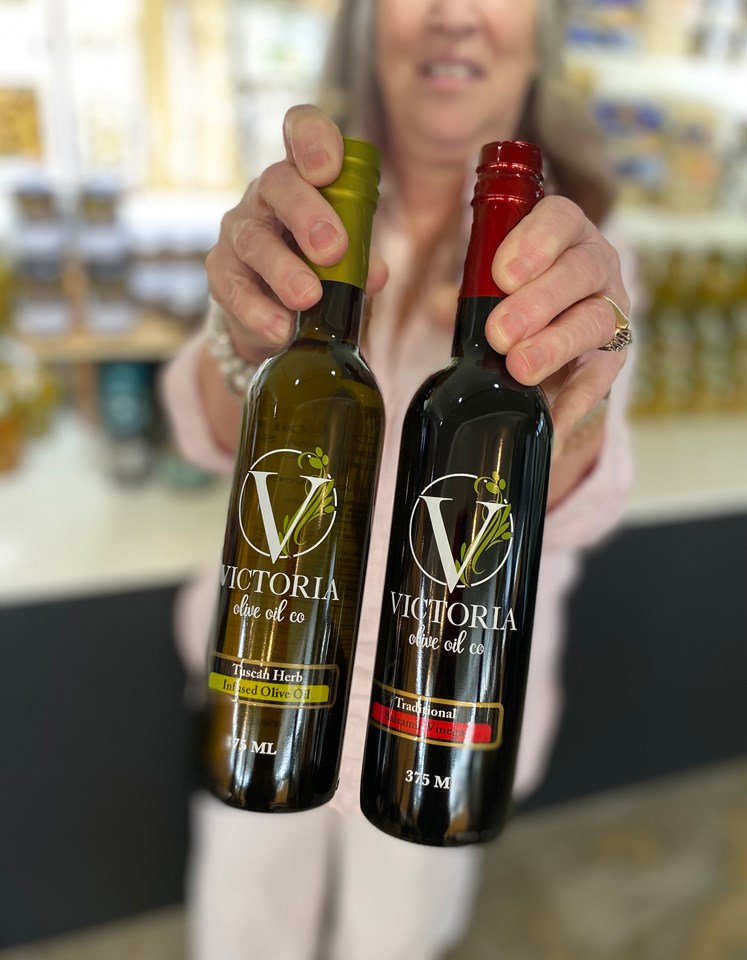 Expect an enlightening experience, especially since they're generous with their knowledge, educating customers who are interested in engaging about their oils and balsamics.
"We'll share information on how to use and for what purpose, cooking tips, especially if it's for a recipe, and give samplings of whatever they choose."
Not to be overlooked, an ounce of olive oil as part of your daily medicine provides various health benefits and cuts the risk of heart disease and stroke.
"Oleocanthal, for instance, helps with inflammation," says Dick, "and is especially good for joint pain and migraines. The Lentrisca EVOO varietal from Portugal has powerful antioxidants, although peppery and bitter. They crush the olive with the pit; a lot of health benefits comes from the pit, which is very important."
"Whether EVOO, fused or infused oil, they're all so good for you," explains Dick. "Of course, people use it on their face, body and hair, and we even have massage therapists buy our rosemary olive oil for their client's massages."
You'll find assorted olive oil skin-care products that contain antioxidants, promote collagen formation, absorb quickly and won't clog pores, plus they nourish and promote healing.
Pairings to elevate meals and beverages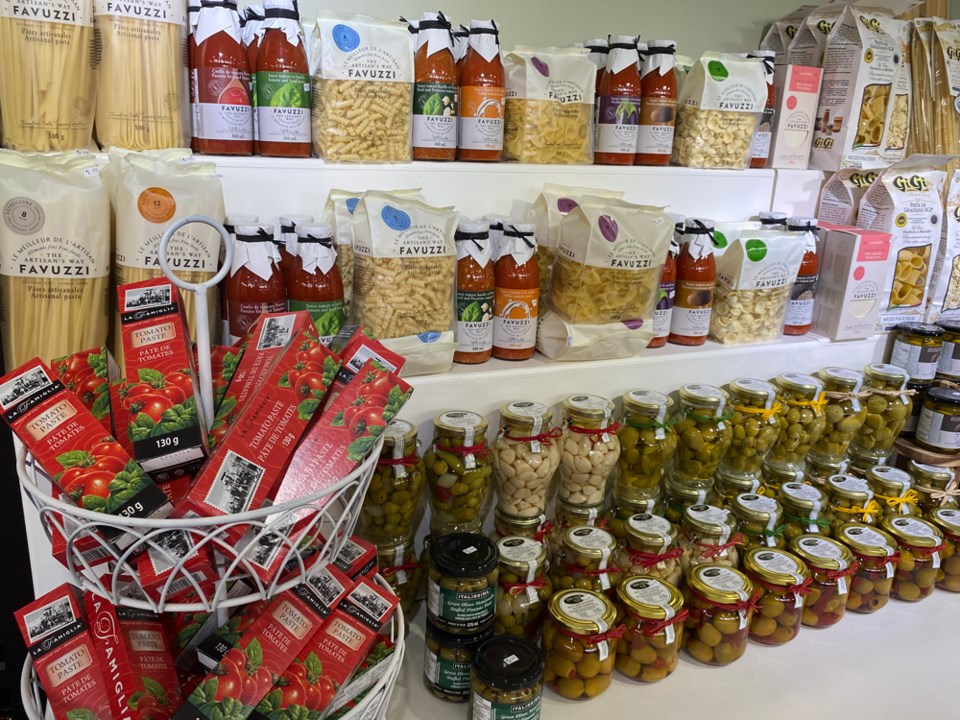 Here, Dick's pairing suggestions, although these just scratch the surface of possibilities.
Drinks: add white balsamics to infuse your flavour preference.
Key Lime: Mojitos
Honey Ginger: Moscow Mule, tea
Lemongrass Mint, Gravenstein Apple: martini
Sicilian Lemon, Black Cherry, and Espresso: various cocktails
Food: try these white and dark balsamics and oils for exciting flavour profiles.
Cranberry Pear: watermelon & feta cheese
Traditional Balsamic: smoked salmon
Tuscan Herb Olive Oil & Sicilian Lemon: poultry, seafood, vegetables
Whole Herb Rosemary: lamb, pork, and "mind-blowing" over roasted potatoes
For more information about the products, visit victorialiveoilco.ca.