Discerning homebuyers looking for the right property understand it's all about finding a good fit. It's a home that will work for you and your family today, tomorrow, and in the future.
Well-designed buildings with quality craftsmanship, coupled with highly livable locations that embrace amenity-rich neighbourhoods across Greater Victoria, and access to nature, by most accounts, is the ultimate dream home.
It's a prospect rooted in reality that Mike Geric Construction (MGC) wholly embraces, an Island industry leader in sustainable multi-family large condo developments.
Vibrant and accessible locations
"One of the greenest things a developer can do is choose a good location and build a condo close to where all the services already exist," says Ed Geric, owner and president, Mike Geric Construction. "Something with a great walkability score, where you are empowered to choose whether you actually need a car."
"When I look at Tresah, for example, it's in Victoria's Midtown, the heart of the Mayfair District. The mall, recreation, and services are there, and more importantly, it's on the Douglas Corridor, where a future transit system's stop will be at the Mayfair Shopping Centre, providing ease of access to all parts of Greater Victoria."
Retired couple and downsizers Jill and Dean Stokes, know all about the importance of location. They purchased a MGC condo in Travino, a five-building master-planned community in Royal Oak, where proximity to amenities was a priority.
"I've lived in Victoria my entire life and it's an excellent location," reveals Jill. "We walk to the grocery store and restaurants—Broadmead Village is so close—we walk there all the time. I do a lot of running, too, and there's nearby trails and Elk Lake."
"We bought a corner home and the quality and value are top-notch," she adds. "There's a real community atmosphere that makes everybody feel welcomed and safe, and of course, the affordability was attractive. We've never been happier."
To Geric, affordability is all about supply. "I provide what I call generational housing: some market rental, affordable rental, affordable home ownership, and market sale condos. To do those things in one larger development, you need increased density, which is supply."
Tresah East, Tresah West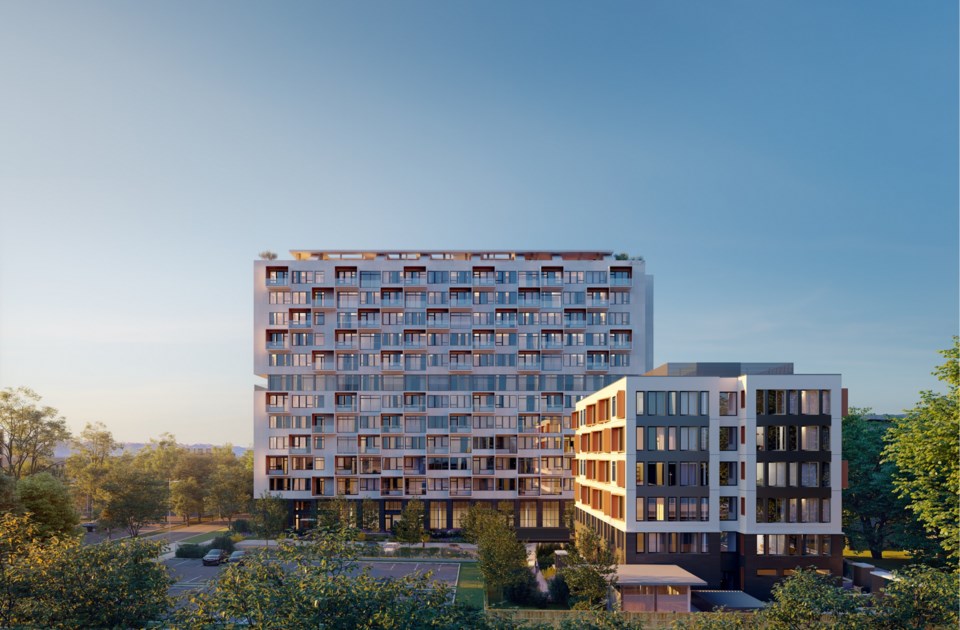 Designed for the future, Tresah offers a modern elevated living experience in a new urban village. The East (wood frame) is a six-storey building with 68 homes; 42 homes are one-of-a-kind studios. The building is nearing completion at the end of this summer, with some homes being offered as rental housing.
The West (recycled steel frame) is a 12-storey mid-rise containing 179 homes with bright, spacious floorplans. "The light-weight steel is 100% recycled, making it more environmentally friendly," says Geric, "and the fire safety and sound proofing is better." Features include, two Modo car share vehicles, EV charging stations, roof-deck amenity space, market-leading home automation in each home, and secure ground-level and underground cycling storage. Occupancy is projected for 2024.
The Rise on Fifth
Across from Sidney's Tulista Park, The Rise on Fifth is a modern 36-home, four-storey steel and concrete building, built with spacious open-concept layouts for luxurious comfort, with stunning ocean views.
One- to three-bedroom floorplans, include a common rooftop patio, an automated car lift system in the underground parking, and stalls ready for EV charging.
"With 1,000 to 1,600 square feet, these beautiful condos let people seamlessly transition from their single-family homes and thrive in their new downsized ocean-view home in beautiful Sidney, B.C." says Geric.
He continues to maintain his father's legacy, Mike Geric, founder of MGC, where "quality and craftsmanship mean everything; we build every home as if we are going to live in it."
For more information, visit gericconstruction.com, tresah.ca, and theriseonfifth.com.