Today's the day. You've decided to make a few upgrades to your traditional bathroom, maybe just some small changes to update and refresh, you think.
But before you know it, you're down the rabbit hole, considering an entire renovation and wondering if you can keep some of your favourite classic pieces and mix contemporary styles to achieve your desired results? The short answer, yes. Absolutely.
Ultimately, once you've decided if you're upgrading or rebuilding, the next step is to understand how to effortlessly blend styles, and the best way to strike a balanced look in your bathroom or kitchen.
When combining styles, first you'll want to familiarize yourself with the differences between modern and contemporary, and how these can work together with traditional elements that blend cohesively.
Mixing different design styles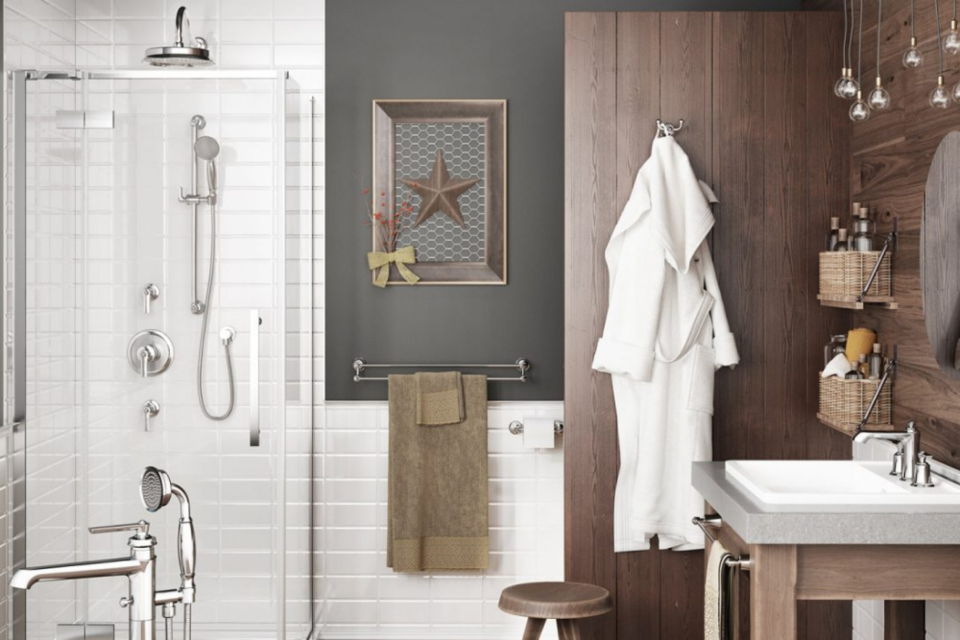 "Bathroom and kitchen styles generally fall under modern, contemporary, traditional, or transitional (a fusion of modern and traditional)," explains Andrew Silbernagel, marketing manager, Splashes Bath & Kitchen.
"Modern and contemporary have slight differences, even though people use the terms interchangeably. Modernist style refers to the design period of the late 19th and early 20th centuries, and is about simplicity and function, but with strong lines and natural and neutral or earthy colours."
The modern Moen EuroCube Bathroom Collection for example, combines precise geometric lines with superior performance for the well-appointed bathroom.
"On the other hand, contemporary is fashion-forward, constantly evolving with the times," he says. "It's going to change with what's currently popular, which right now is very similar to modern, the very minimalist look but a lot softer, curvier."
Some notable contemporary features for the bathroom or kitchen include square, clean lines and unique finishes such as matte black, gold, brushed gold, or modern brass. Popular brands include Blanco, Brizo and Duravit for modern and contemporary fixtures.
A timeless elegance is associated with traditional style, which is classic, comfortable and calm. With traditional fixtures, you'll see edges are soft and smooth, blending seamlessly. Rubbed bronze and polished nickel finishes complement traditional designs.
The Kalia Rustik Bathroom Collection is a gorgeous solid brass example of traditional design that would easily blend with modern or contemporary.
Silbernagel says if you're mixing multiple styles, one of them will end up being slightly more dominant; therefore, it's a good idea to choose one for your accent pieces and one as your base.
"Antique or traditional styles often work really well as accents because they have a lot of character and stand out nicely, leaving you with modern or contemporary for your more minimalist base," he says.
For instance, your traditional fixtures would pair well with a minimalist modern vessel sink, or a clawfoot tub married with a modern tub filler or sleek wall-mounted tub spout, balance nicely. For the kitchen, consider a classic traditional chandelier with modern fixtures, or wood countertops.
The fourth style, transitional design, is a measured balance of modern and traditional elements. It fuses the warmth of rustic charm with modern simplicity to achieve a look of casual sophistication. It's known for a subtle and clean colour palette to create relaxing and uncomplicated rooms.
Transitional pieces, such as the kitchen Blanco Vintera Farmhouse Apron Front Sink, are a combination of vintage inspiration with modern design, a clean, simplified version of the apron front sink style.
Small space storage solutions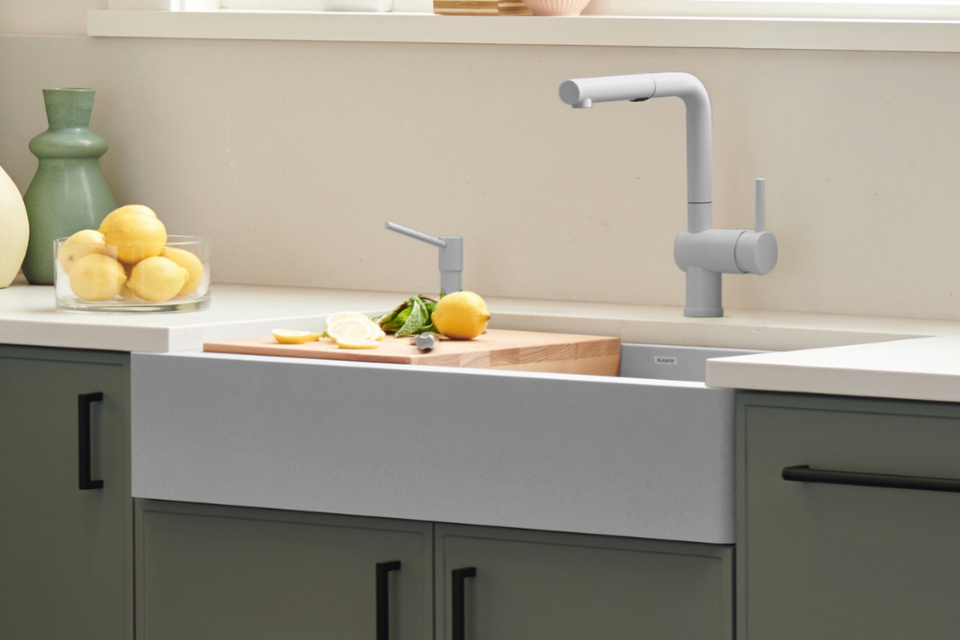 Silbernagel suggests incorporating medicine cabinets like those from Kohler or Paris Mirror, because they pull double duty in your bathroom. "Adding mirrors helps make your space look bigger, plus you gain valuable storage space," he reveals.
Vanities solve a lot of storage dilemmas, too, and if you have a non-traditional space, Splashes offers Stonewood Bath Cabinetry for custom-sized vanities.
In the kitchen, the Franke Chef Center Kitchen Sink has integrated shelf, waste, and compost buckets, plus roller mats, cutting boards and other accessories that fit right over the sink itself—the perfect option for limited counter space.
"Come in and meet one of our expert product consultants," says Silbernagel. "We have the knowledge and quality products at competitive prices to help you craft a mix of contemporary styles with classic designs, or any look you're trying to achieve for your dream bathroom or kitchen."
For more information, visit splashesonline.com.