The province's housing market is said to be showing signs of recovery heading into the spring season, according to the B.C. Real Estate Association's (BCREA) latest market report.
With activity in the province remaining low, spring will be "test" as to whether or not the market is shifting gears, said Brendon Ogmundson, chief economist with the BCREA.
"The market is starting to stabilize but at very low levels of listings and sales. Which isn't really what we would prefer to see, but it is starting to stabilize," he said.
A total of 4,775 residential unit sales were recorded in February, representing a 46.5 per cent decrease compared to the same month a year earlier, according to the BCREA.
Sales rose by six per cent, seasonally adjusted, from January 2023, according to Ogmundson. He added that it is normal to see an increase in total sales between these two months.
"Home sales rose month-over-month in most markets and prices appear to be firming up in the face of low supply," Ogmundson wrote in the report.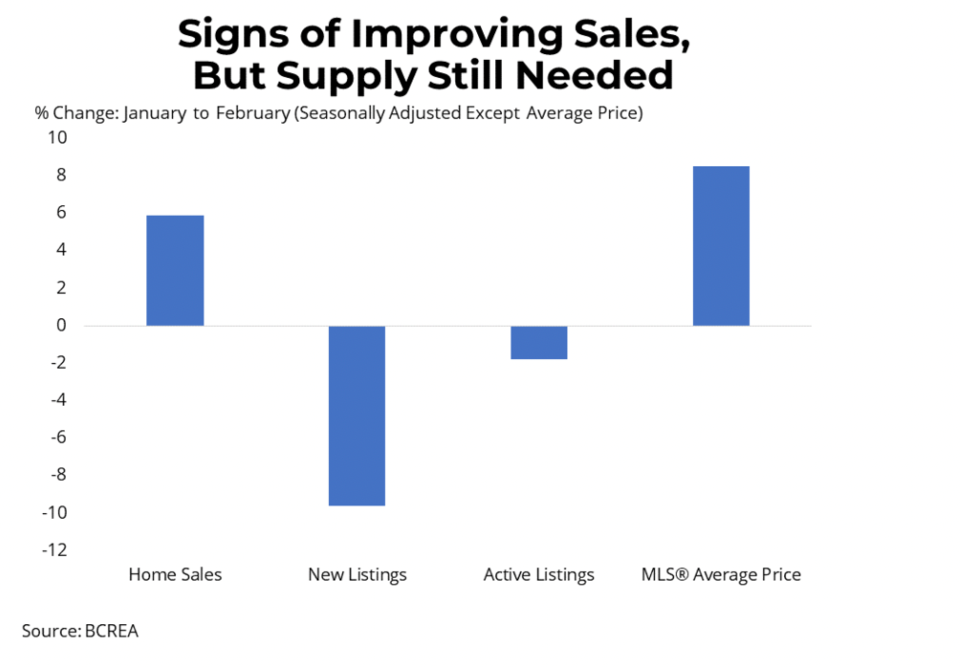 The average residential price in the province was $941,575 in February 2023, a 14.7 per cent decrease from the same time last year.
The report said the average Multiple Listing Service (MLS) price was slightly higher in February, up 8.5 per cent month over month to "its highest level since July 2022."
This is due to a more stable market as well as sales going back to a normal mix after the province saw a decrease in the number of single-detached home sales, according to the BCREA.
"What we'd like to see at the beginning of a recovery is prices coming up a couple months in a row, plus sales starting to rise from low levels as well. So we're not there yet," said Ogmundson. "I'm encouraged by what I saw in February, but we need a lot more data in the next few months to really say that we're in our recovery."