Assessed values for condominiums have increased 15 to 35 per cent from the previous year in urban areas of Vancouver Island, according to new data from B.C. Assessment.
Single-family homes in urban areas on the Island — typically where the largest increases have been seen in past years — have moved up by 10 to 25 per cent year-over-year.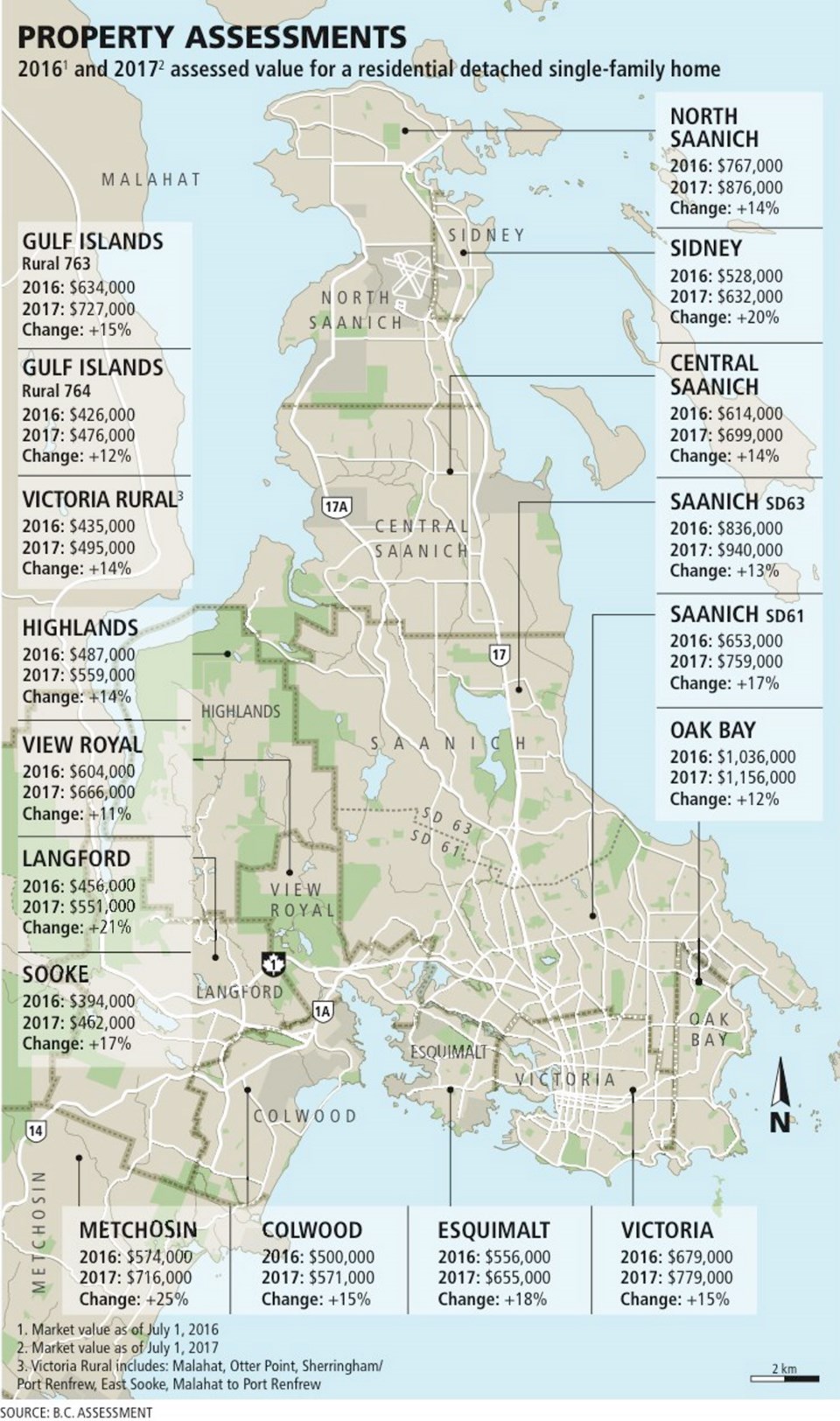 "The market has remained strong across the Island and across property types," Vancouver Island assessor Tina Ireland said Tuesday as the agency released its annual report on assessments.
The region's hot real estate market is pushing up values in most parts of the Island. Real estate agents have been saying all year that a constant problem is a shortage of inventory for sale.
In early December, B.C. Assessment warned owners of residential strata properties, which are largely condos, that they may see a larger than usual increase in their assessments.
Condominium construction is booming as strata units attract a spectrum of buyers, continuing a years-long trend. Purchasers include those entering the real estate market for the first time, homeowners who are downsizing, retirees, newcomers to the region, those who want the convenience of living in a low-maintenance home and people preferring to live in an urban environment, such as downtown Victoria, where thousands of condo units have been built and are going up.
B.C. Assessment released estimates of average 2017 versus 2018 assessed values of single-family homes on the Island.
Within the capital region, three municipalities are seeing increases of 20 per cent or more — Metchosin came in at 25 per cent, followed by Langford at 21 per cent and Sidney at 20 per cent.
The highest average single-family assessment in Greater Victoria was again in Oak Bay, at $1.156 million this year up from $1.036 million.
The portion of Saanich that falls within School District 63 follows with an average single-family assessment of $940,000, up from $836,000, and the District of North Saanich is at $876,000, a 14 per cent increase from $767,000.
For all of the Vancouver Island, Gulf Islands, and Powell River region, the highest percentage increases were at 26 per cent, seen in Ucluelet and Powell River.
Only one municipality on the Island experienced a drop — the Village of Zeballos, with an average assessment of $85,000, down by four per cent and $89,000 in the previous assessment.
The lowest average assessment for a single-family house on the Island is in the Village of Tahsis at $81,000, which is up by 19 per cent from $68,000 previously.
When it comes to where the most valuable properties are located, many have been on these lists for multiple years. They are often small Islands, and spacious waterfront homes filled with amenities in Oak Bay, Saanich and North Saanich, many on acreages.
Assessment notices show the estimate of a property's market value as of July 1, 2017 and its physical condition as of Oct. 31, 2017.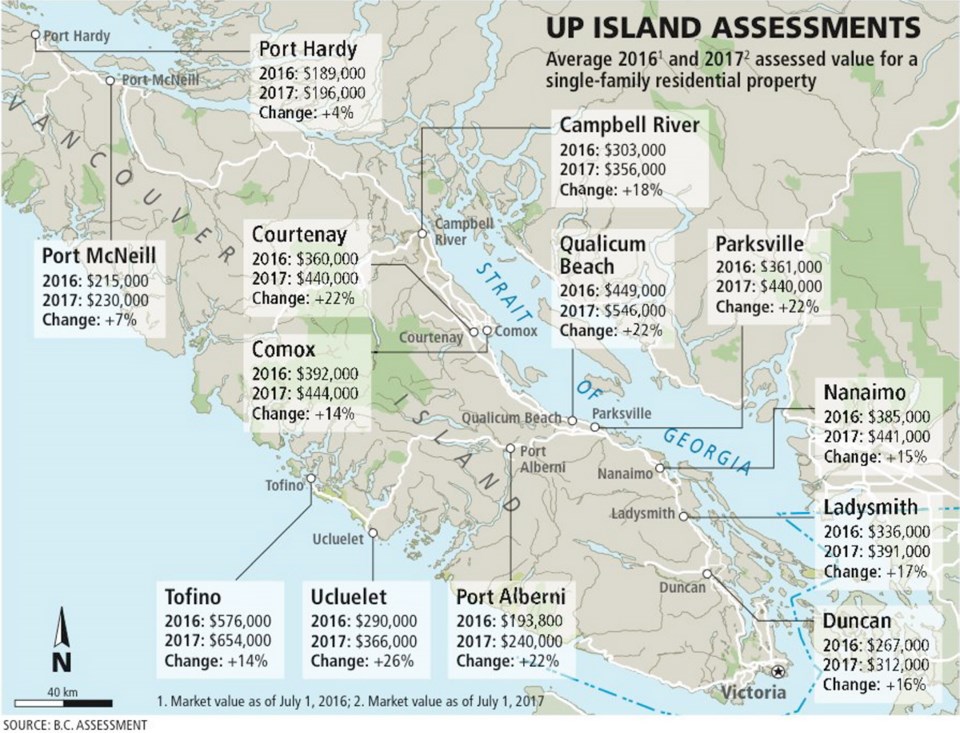 Property values set by B.C. Assessment are affected by factors such as nearby sales, size, age, quality, condition, view and location.
Remember that the assessed value in a notice is not necessarily the same as what a property may be worth today. Markets change as time passes.
A boost in a property's assessment is not necessarily going to be reflected in local taxes set by a municipality.
If an assessment increases as the same rate as others in a particular neighbourhood, then taxes would normally rise only by the mill rate set by a municipality. Municipalities are still in the process of establishing mill rates to cover their upcoming annual budgets. A mill rate refers to how much tax is paid per dollar of assessed property value.
Property owners with questions about their assessments can go to bcassessment.ca online to learn more about the system and to compare other properties.
Ireland said that those who do not agree with the assessment or see incorrect information on their notice should contact B.C. Assessment and speak to an appraiser as soon as possible in January.
If the owner remains unsatisfied, an appeal, called a notice of complaint, must be submitted by Jan. 31. That triggers an independent review by a property assessment review panel. Panels normally meet between Feb. 1 and March 15 to hear complaints.
B.C. Assessment can be reached toll-free at 1-866-825-8322 or via its website at bcassessment.ca
January office hours run from 8:30 a.m. to 5 p.m. Monday to Friday.
Vancouver Island Assessment offices:
* Victoria: 102-3350 Douglas St.
* Nanaimo: 300-125 Wallace St.
* Courtenay: 2488 Idiens Way.
BY THE NUMBERS
• Total number of properties in the Vancouver Island region: 369,000
• Total assessment value: $223.1 billion, up from $192.7 billion last year.
• Nearly $3.2 billion of the increase in assessment came from new construction, subdivisions, and rezoning approvals that increased property values.
• Total number of properties in B.C.: 2,044,482.
• Total value of B.C.'s real estate roll is more than $1.86 trillion, an increase of almost 12 per cent from 2017
• For B.C. as a whole, new construction, subdivisions and rezoning represented about $31.6 billion, up from almost 28 per cent in the previous year of $24.7 billion.
• About 88 per cent of all properties in B.C. have some residential classification component.
• More than 98 per cent of property owners do not appeal their assessment.