The provincial government has come out with new legislation intended to "fix outdated zoning rules" and allow townhomes, triplexes and laneway homes, on single-family lots, but Burnaby Mayor Mike Hurley is not impressed.
In municipalities with more than 5,000 people, the new rules will allow:
Three units on single- or two-family lots less than 280 square metres (about 3,010 square feet)
Four units on single- or two-family lots greater than 280 sq. m.
Six units on lots greater than 280 sq. m. near "transit stops with frequent service"
The province says these changes could see more than 130,000 new small-scale multi-unit homes built in the next decade.
"Constructing mostly highrise condo towers or single-family homes means B.C. isn't building enough small-scale multi-unit homes that fit into existing neighbourhoods and give people more housing options that are within reach," Premier David Eby said in a press release.
Burnaby has been doing just what Eby is criticizing, approving thousands of highrise condo units in towers across its four town centres and reserving almost three-quarters (or more) of its residential land base for single- and two-family homes.
While councillors have discussed building apartments outside those town centres, the housing crisis hasn't let up. Single-family homes in the city still regularly sell for upwards of $2 million and rents are the second highest in the country.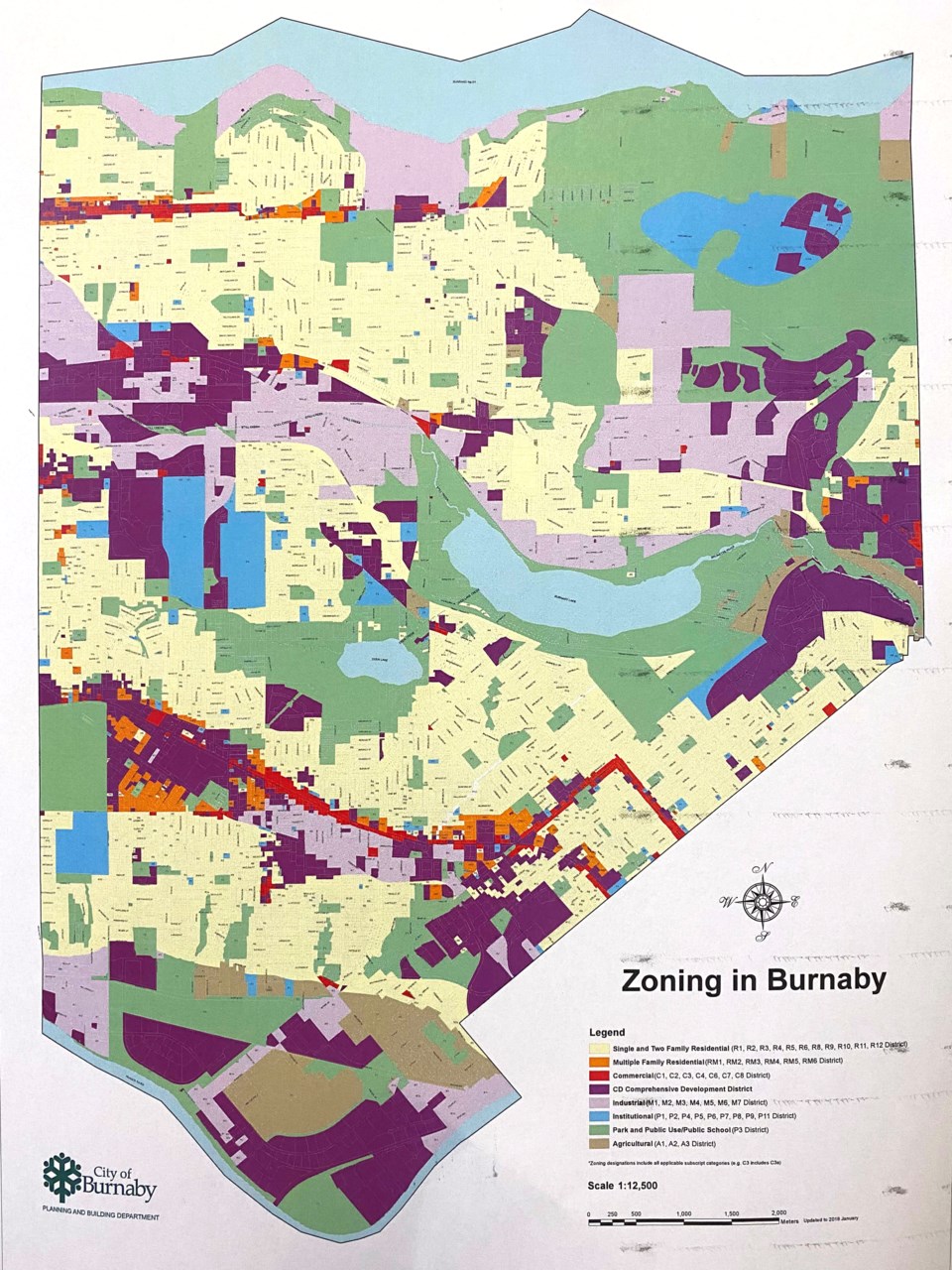 'Very frustrating': mayor
But Hurley said it seemed like the province hadn't put "any thought into any of this."
"It's a massive change," he told the NOW. "And I don't think anyone really realizes how big a change this is, whether it's good or bad," he said, noting there were "hardly any" details with the new announcement.
He worried about the possibility of speculation and if land values on single-family lots could double or triple.
He questioned how properties would be taxed when lots have the potential for four or six units and are assessed on "highest and best use."
Hurley is also concerned about infrastructure.
He said many of Burnaby's neighbourhoods were built in the 1950s and '60s with smaller pipes for sewers and water.
"Who's going to pay to replace all those pipes with bigger pipes, and then the infrastructure that goes with handling those bigger pipes?"
The province has planned a $51-million fund to support municipalities with the changes, but the mayor said that money won't be enough when split between all the municipalities the new legislation affects.
"That's really a drop in the bucket when it comes to infrastructure."
Hurley said there should have been "much more consultation" with the municipalities.
"I'm not sure that the provincial government … has the same level of expertise when it comes to planning as cities do," he added. "And so that's a concern."
The new legislation will also eliminate parking requirements for projects within 400 metres of frequent transit – an issue Burnaby council has been arguing over for months. Just three weeks ago, council approved reduced parking requirements within 800 metres of SkyTrain stations – but they were reductions, not an elimination.
"We work on things, and then the province comes out and does something, you know, without talking to us," Hurley said. "And it's very frustrating."
Burnaby's bylaws will have to comply with the provincial rules by the end of June next year.
"There'll be no community input into any of this stuff," Hurley said.
The province is also asking municipalities to update their Official Community Plan every five years.
Hurley said it would likely mean more work for city staffers.
The mayor said the city had been "easing into" making changes to respond to the housing crisis. Burnaby legalized laneway housing and basement suites in semi-detached homes in September.
"We would've liked to do it a piece at a time," Hurley said.
---
📢 SOUND OFF: What do you think of the province's plan to allow more homes on single-family lots? Do you agree or disagree with the mayor? Share your thoughts — send us a letter.
---