Home sales in Victoria and across the Island may be soft so far this year compared with the last couple of years, but this won't be enough to bring average prices down, according to a forecast by the British Columbia Real Estate Association (BCREA).
In its quarterly outlook, the BCREA predicted that residential resales on Victoria's MLS for the whole of 2018 will total 7,650 units. This would be a drop of 9.6 per cent compared with 2017 – and the association forecasts resale transactions will slow further in 2019 to fall another 1.4 per cent.
The report said the average Victoria home sale price across this year will be $685,000, which is 4.9 per cent higher than 2017's average price. BCREA added that it expected a continued rise of 3.6 per cent next year, to $710,000. This average includes all property types and neighbourhoods, and doesn't take into account larger variables between different property types and neighbourhood sub-markets.
Throughout the rest of Vancouver Island, average resale prices are expected to climb 7.6 per cent this year and 4.1 per cent in 2019. This is despite predicted unit sales declines of 12.7 and 1.4 per cent in 2018 and 2019, respectively.
"The housing market continues to be supported by a strong economy," said Cameron Muir, BCREA chief economist. "However, slower economic growth is expected over the next two years as the economy is nearing full employment and consumers have stepped back from their 2017 spending spree."
Across the province, resales are expected to drop nine per cent to 94,200 units this year, following 103,700 unit sales in 2017, and stay flat in 2019. However, the BCREA said that sales are "expected to remain above the 10-year average of 84,800 units into 2020."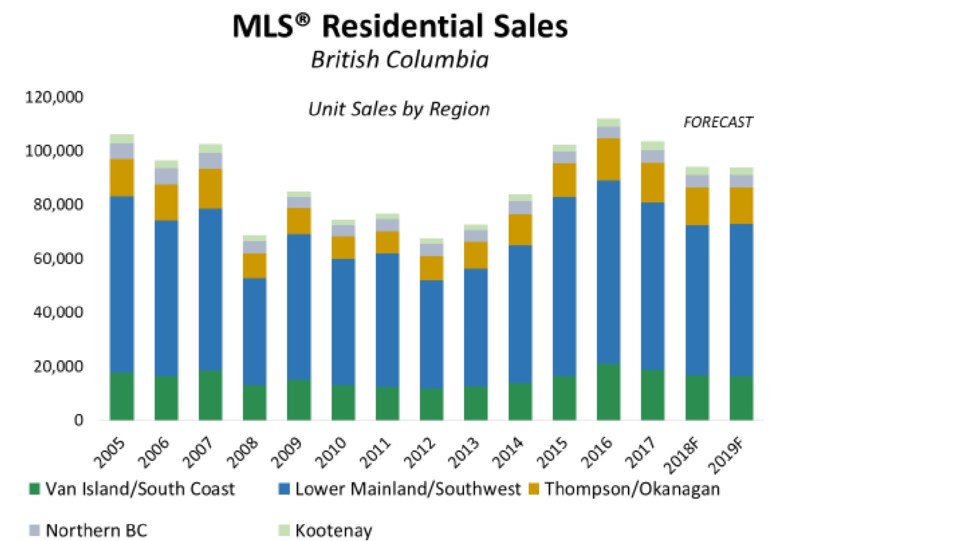 The report said the average B.C. home sale price this year would be $745,600, which is 5.1 per cent above 2017's $709,577. BCREA predicted a further growth of 4.1 per cent next year, to $775,900.
"Demographics will play a key role in the housing market over the next few years," added Muir, "as growth in the adult-aged population is bolstered by immigration and the massive millennial generation enters its household forming years."