There may be a common perception that the over-65s have it easy when it comes to their homes, and that they are mostly basking in vast amounts of equity. But now the high costs of housing have been highlighted as a major issue by an annual report looking at poverty levels among seniors across British Columbia.
The 2018 B.C. Seniors Poverty Report Card, published June 12 by Social Planning and Research Council of B.C. and United Way of the Lower Mainland, reported that 18.4 per cent of B.C. residents aged 65-plus are living in housing that is deemed unaffordable – costing more than 30 per cent of their pre-tax household income. The report's calculations are taken from the latest 2016 Census data, and do not include seniors living in collective housing such as nursing homes.
That proportion is the third-highest of any Canadian province, after Ontario and Quebec. But it rises sharply to 35.6 per cent among B.C. seniors living alone, who don't have anyone to share housing costs with.
It is even higher among B.C. seniors who rent their home, with a shocking 48.7 per cent spending more than 30 per cent of their income on housing costs.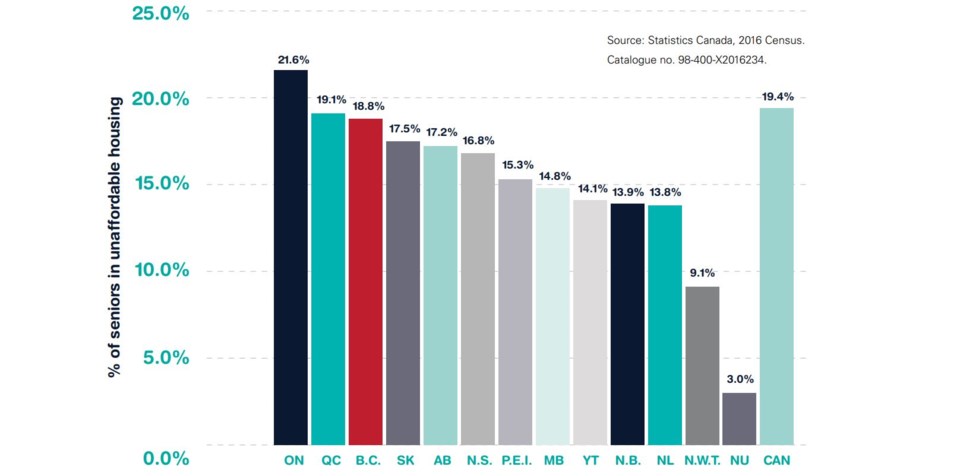 The report also said that the number of B.C. seniors on B.C. Housing's waitlist for social or co-op housing was just shy of 6,000 as of 2017, and rising each year. In 2012 it was 3,774.
Kahir Lalji, provincial director of healthy aging at United Way of the Lower Mainland, said, "Housing is one of many challenges older adults face when they live in poverty. Mobility, transportation, nutrition, overall health – all of these things can worsen with poverty, leading to greater vulnerability and isolation. Every vulnerable senior is a part of a community, and community-based supports need to be a part of the solution."
Although B.C.'s housing unaffordability for seniors was not reported to be as severe as that of Ontario or Quebec, overall senior poverty levels in the province were deemed the worst in Canada.
Using the low-income measure, or LIM, 8.8 per cent of B.C. seniors were reported as below the poverty line, a total of 70,990 seniors. That number has risen three years in a row, and is well above the Canadian average of 6.6 per cent.
Again, single seniors were over-represented among those groups, compared with seniors with spouses or families.