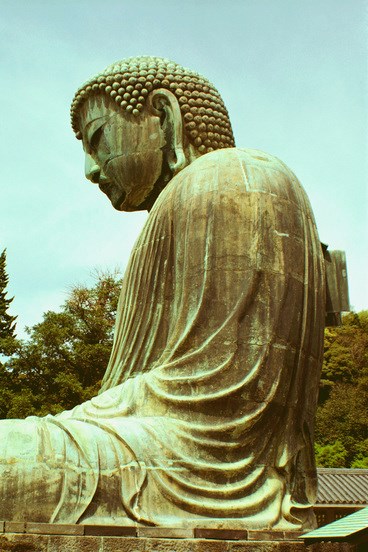 I harbour high hopes for meditation. Without doubt, if our culture were to ever become a true meditation culture; that would be a salvific marvel. Health and social costs would decline and quality of life for all would be enhanced. However, that is a long term, wide scale effect; some would say. "fantasy". What about the near term and in each individual?
The crucial change that meditation offers is a small shift at the very heart of our karmic existence. When Buddhists are talking about karma they are really talking about everyday life; your behaviour, your intentions and your relationships. Zen meditation addresses body, speech and mind directly, but the subtle shift at the core of our karmic existence is in intention. At that level meditation facilitates a shift away from the meticulous and toward the scrupulous. This is my way of describing the nature of change at the core of our life. Meticulous and scrupulous are often used interchangeably, but their differing etymologies reveal a psychological nuance, one emphasizes fear as a motivator while the other emphasizes self-knowledge.
It is not the case that one motivation is inherently better than the other. The benefit of making this distinction is that it allows us to understand ourselves in terms of balance and symmetry. It is a way of articulating how meditation can restore or establish more appropriate relationships, including and starting with the relationships within oneself. Through meditation, Buddhism teaches us how to be less energized and influenced by fear based, external factors and more trusting of our own true nature.
Meditation is a particular way of studying The Self; or, less abstractly, this self, this personality and my vast tangle of mind/body habits. This 'Self' as a generic thing is a slippery construct, although Buddhism provides a sophisticated analysis: but this very self is far more elusive. Zen meditation teaches that it will only appear under conditions of emptiness. 'Emptiness' means zero opinions, zero judgements, no comparisons and no harbouring of thoughts. In meditation we don't so much study the self as study the conditions, which cause it to come into being. This is called forgetting the Self.
'Emptiness" is a Buddhist concept very like the mathematical concept of 'zero'. Buddhists apply the term pervasively in the sense that every thing has zero inherent existence. Even the concept of 'emptiness' itself is "devoid of own-being", to borrow another Buddhist phrase about 'emptiness'.
The Sanskrit root is 'sunya' which means emptiness and is also the word for mathematical zero. Zero is a mathematical artefact; though it has no inherent existence, the entire edifice of science and mathematics could not exist without it. Therefore, for those who study the mystery, think of sunyata as 'zeroness' rather than 'emptiness' to avoid the easy slide into nihilism. Avoidance of the easy slide is aka 'the middle way'.
We each have our own 'ground zero'; where we fully exist and yet are unburdened and unsupported by opinion, judgement and preference. Meditators set all these to zero and return them to zero when they arise. Using the concept of zero we do not have to fall into a binary attitude toward any opinions, judgements or thoughts. A 'binary attitude' is the fertile ground for what Buddhists call the "disease of the mind". Or "setting up what I like against what I dislike". Even though zeroness has no existence.

Wayne Codling is a former Zen monastic and a lineage holder in the Soto Zen tradition. He teaches Zen style meditation in various venues around Victoria. Wayne's talks and some writings can be found on his blog http://sotozenvictoria.wordpress.com
You can read more articles from our interfaith blog Spiritually Speaking HERE
This article was published in the print edition of the Times Colonist on Saturday, Nov. 1, 2014