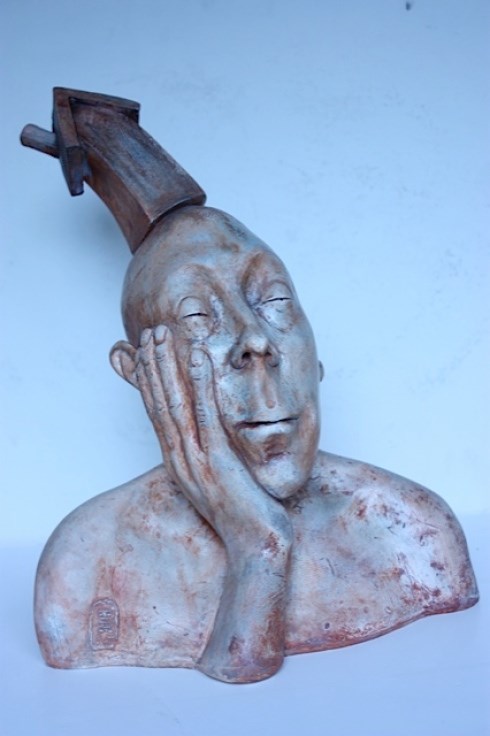 Leonard Butt is a complicated and private man with a marvelous sense of humour.  He creates exquisite sculptures in clay that speak a language full of metaphor.  The colours of ash and stone adorn fish, houses, asparagus, wings and kimonos that Butt sculpts in clay and then raku fires.
He speaks of his process as a connection with the ebb and flow of life.  A process he feeds, gathers, follows and watches while it ripens. He states, "With age you start to understand it better and respect it.  The art becomes more true, more honest, more personally significant…The spiritual is not the intention. The work could become contrived if I attempted to make something conscious that eludes me." He explains, "It is important to raise something personally significant to a conscious level through the process without too much analysis or control. And often there is a humorous aspect to the development of the work." The fish in his works are metaphors for his process. They travel in water, the equivalent of the unconscious in Jungian psychology, skillfully navigating the unconscious and mining the mystery of it. Leonard Butt is able to laugh at himself and his humanity. 
In his living room there were two sculptures of fish and kimono's.  One with a fish head vertically extending out of the neck hole of the kimono and the other with the fish horizontal, the head just emerging from one arm and the tail from the other.  Butt explains that these sculptures about himself and his wife, Marnie.  The male has his head out the top, brazen and obvious.  The other is the female, transverse across the sculpture, filling out the 'house' of the robe. In another sculpture there is a man and a woman. The man carries a fish and the woman a house. The man is the provider working outside of the home whereas the woman carries the day-to-day sense of family and home.  However, as Butt explains, everything is blurring now as he approaches a year long sabbatical from his teaching position and he and his wife are new empty nesters.  He will be travelling to Portugal this year to study bronze casting and entering another realm of sculptural maturity.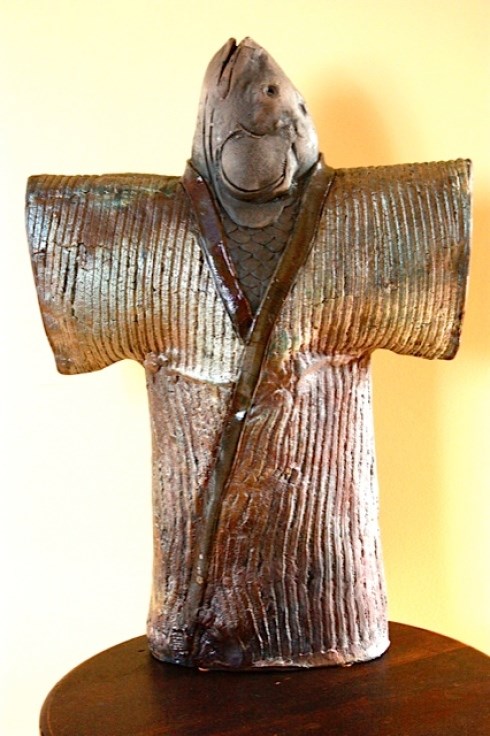 Big Fish: by Leonard Butt
Leonard has often shown at local juried shows where his sculptures often win awards. He has also shown with the Red Gallery in Oak Bay and recently accepted an invitation to show with the Madrona Gallery in downtown Victoria. He is a man with a quiet, complex and evolving plan that will emerge as he goes forward. He is not in a hurry. I look forward to watching evidence of his journey in the works he creates.
And he will be watchful too because, as he states, 'longing can become risky when it is enacted" and the wings of transcendence may be laying in wait to steal the reward away.  Yet in my opinion, they could just as easily be waiting to deliver it.
Leonard Butt's work can be seen on the Madrona Gallery website http://www.madronagallery.com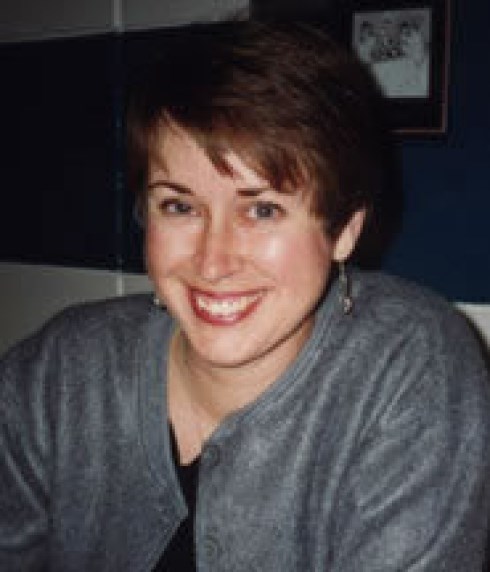 Joanne Thomson is a visual artist living in Victoria BC.  She teaches a course about Art-making as a Spiritual Practice as well as courses in painting and drawing. Her works can be seen on-line at www.joannethomson.com and www.morrisgallery.ca. 
You can read other articles from Spiritually Speaking HERE
* This article was first published in the print edition of the Times Colonist, in the Faith Forum section on Saturday. August 17 2013