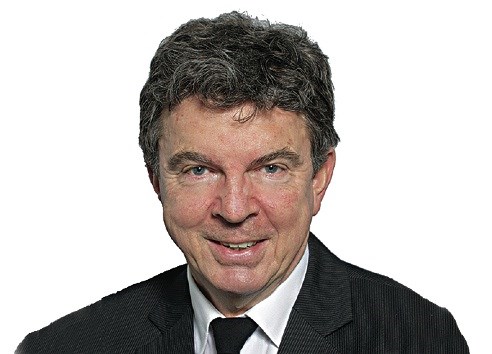 Conflict-of-interest commissioner Paul Fraser is going to continue his review of Premier Christy Clark's fundraising practices, despite a request that he consider stepping aside out of concern about his former law firm's political donations.
Fraser got two requests to review whether exclusive private receptions, where guests pay thousands to the B.C. Liberal Party to meet Clark, contravene B.C.'s conflict-of-interest law. One was from NDP MLA David Eby and the other from Democracy Watch, an Ottawa-based citizens' group.
Eby subsequently wrote Fraser with concerns about whether he was the right person to conduct the review. Eby said he heard from Vancouver freelance reporter Bob Mackin that Fraser's former law firm — Fraser Milner Casgrain — donated more than $25,000 to the B.C. Liberals from 2005 to 2007.
"Given the subject matter of my complaint concerning large donations to the B.C. Liberals, and the context of large political donations to the premier and cabinet ministers from business leaders in private and intimate settings, business leaders which as a set would certainly include Fraser Milner in the legal field," wrote Eby, "I respectfully request that you review this allegation."
Eby said if there is a personal connection or a perceived personal connection, Fraser should consider whether there is any reasonable perceived conflict of interest in determining the outcome of his complaint, given the unique subject matter. If so, Eby asked him to recuse himself from the matter.
"I have full confidence in your ability to determine whether or not this alleged series of donations will reasonably create the perception … that you are not free of conflict."
Fraser replied last week and later made the correspondence public. He said he was a partner with the law firm at the time the donations were made, but not the named partner in the title.
The 400-lawyer firm was the result of a series of mergers and was a national firm with offices across Canada.
"I was never active in the management of the firm," Fraser wrote. "I was not the guiding force in administrative decisions made by FMC in Vancouver or nationally during my tenure as partner."
Regarding the $25,485 worth of donations, $10,000 of that total was to then-candidate Wally Oppal. Fraser said he had no knowledge that contribution had been made. Of the remaining $15,483, $6,000 was in donations and $9,483 was in the form of ticketed fundraising events. "I did not attend any of these events, nor was I part of any discussion concerning FMC's contributions."
Fraser said large law firms have contributed for years to all mainstream political parties and he said his previous firm's were comparatively modest. "FMC was not well known for its political connections."
He said the background information should satisfy any reasonable objective test. "Uninformed perception should not be allowed to trump informed reality. There is nothing in the way I conducted myself as a practising lawyer before my appointment seven years ago as commissioner that should reasonably or fairly cause me to abdicate my responsibility to provide the opinion you have requested."
In an interview Monday, he said a decision could be expected in about 10 days.
Eby's letter said two other concerns were relayed to him: A "Paul Fraser" donated $300 to the B.C. Liberals, and the commissioner's son, John Paul Fraser, is a senior official in Clark's government.
But Eby said: "Any concerns I have about these allegations do not rise to the level that I would request that you consider that you recuse yourself."
Fraser said it was another Paul Fraser, not him. And he told Eby it is well past the time when the career choices of one family member should compromise the aspirations of others.
Whether Clark is in a conflict is yet to be determined. The Democracy Watch complaint is that she breached the law by accepting a benefit. But the admission price for her soirées — as with Opposition Leader John Horgan's events — goes to the party, not the leaders.
Eby said Monday he accepts Fraser's position.
Pending his decision, the problem with the exclusive admission fundraising might be not that it's illegal, but that there is no law to breach.