New models of the speed and magnitude of a tsunami in the event of a major earthquake show coastal communities on northwest Vancouver Island could be inundated in less than half an hour, while the coastal portion of Metro Vancouver could see a huge wave an hour or two after the quake.
Ocean Networks Canada has been developing an assessment framework for the risk of tsunamis across the B.C. coast from quakes in the northern Alaska-Aleutian subduction zone or the Cascadia zone off the west coast of Vancouver Island — including such data as when the wave would arrive and the extent of flooding.
"Knowing where coastal vulnerabilities lie and the predicted areas at risk strengthens hazard awareness, allowing decision-makers and communities to mitigate, prepare, respond and recover from emergencies," said study co-author Soroush Kouhi.
Incorporating modelling, historical records and using local Indigenous knowledge, the studies aim to support emergency planning for communities along the B.C. coast by helping predict how quickly evacuations would be required in the hardest-hit areas and the extent of flooding damage.
"B.C. communities are particularly vulnerable to tsunamis because of their proximity to the seismically active Alaska-Aleutian and Cascadia subduction zones, which are capable of producing megathrust earthquakes," said Ocean Networks in a release.
In two recently published articles in Oceanography Magazine, researchers looked at scenarios surrounding a magnitude-9 mega-quake in the region.
Northwest Vancouver Island settlements like Kyuquot would be the quickest to get hit in an Alaska-Aleutian quake, with the most recent study modelling a wave close to six metres that could rise to double that as it moves inland.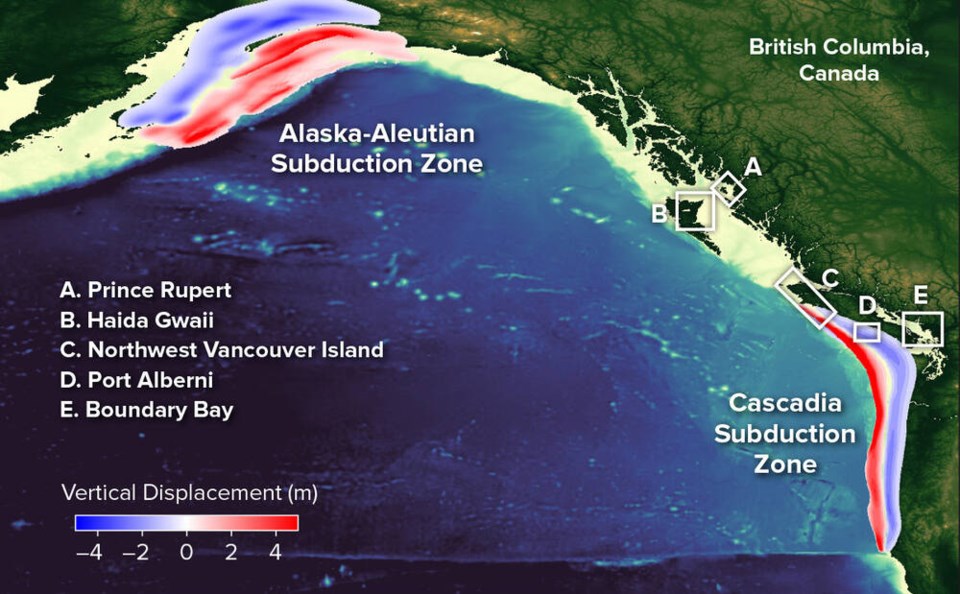 The data is important as the area was hit by an earthquake in 1964 that created record-breaking tsunami waves that affected Prince Rupert and Haida Gwaii. The latter areas are predicted to be hit about 2.5 to three hours after the temblor.
A separate study found that a Cascadia zone quake of similar size would travel through the Strait of Georgia and reach Boundary Bay, south of Vancouver, in about three hours. But the wave height is predicted to be much less catastrophic, at about one to two metres.
"The tsunami current speeds will exceed 1.5 metres per second in several regions, which will be hazardous for mariners and boaters, in particular in shallow water regions and narrow passages in the case of both Cascadia and Alaska tsunami.
The studies use digital elevation models — three-dimensional representations of the Earth's surfaces — to identify areas that might be affected under a variety of scenarios.
Those are then cross-referenced with the lived experience of those who live in coastal areas, including many First Nations communities, who have intergenerational knowledge of past tsunamis, such as the one in 1964.
"These 'boots on the ground' tsunami experiences provide insights into the location, extent of damage, and evacuation routes for past tsunamis, and the adaptation measures that exist today as a result," said the studies' Indigenous liaison, Pieter Romer.
The data also incorporate the effects of sea level rise on tsunami behaviour, showing it would have a negligible effect on the height of the wave, but could mean the wave runs farther inland, resulting in worse flooding and damage.
The results will inform risk assessments and disaster preparedness plans for many coastal communities.