Opposition to a tent city for the homeless at Topaz Park is growing among area residents and park users.
About 60 people concerned about the tent-city proposal gathered in the park Saturday morning.
"This is not an appropriate place for setting up camp," said Debra Doerksen, whose children use the park. "It's really sad that the ball is being dropped."
The City of Victoria is considering allowing homeless people to set up a temporary designated tenting area, managed by a partner organization, in a municipal park. City staff have identified Topaz Park, at Blanshard and Finlayson streets, as the most likely site.
The city hopes to have the tenting area in place by October. Users would be able to leave their tents up, rather than having to pack up their belongings each morning, as is required in parks now.
Victoria Coun. Chris Coleman said the notion of using Topaz Park for a tent city is not a done deal, and is just one of a number of measures put forward to council on the issue of homelessness.
People living near Topaz Park are already well aware of the homeless population, said Doerksen, who lives on Finlayson Avenue.
"We're compassionate people trying to actually, tangibly make a change," she said. "We've never made one complaint about a few tents being out here in the park, because people struggle. They need a place to be, but collectively having over a hundred people camping in this park is not a solution."
Doerksen said safety and security are her main concerns.
In 2009, the B.C. Supreme Court ruled that, in the absence of shelter beds, it's unconstitutional to deny a person the right to pitch a tent in a park. The city has since amended its bylaws to allow people to pitch tents in parks from dusk to dawn.
City officials estimate several hundred people now routinely stay overnight in city parks and green spaces. The annual cost is estimated at more than $600,000, including police, bylaw and parks staff time.
The baseball diamonds at Topaz Park were quiet Saturday, but the park was still a hub of activity. Several people were running their dogs, parents and children were making good use of the playground areas, and a number of families were enjoying an afternoon of barbecuing and bocce.
The prospect of a tent city in the park does not sit well with Scott Wood, president of the Greater Victoria Mixed Slowpitch Association.
"Is it going to be safe?" he asked. "Is it going to be somewhere you can still bring your family?"
He said a tent city would bring a level of uncertainty to softball players — the association has up to 500 members — who already have problems finding enough fields.
The proposal for the park raises a number of questions, Wood said. "Where are they doing this in other communities? Has it worked in other communities?"
He worries that problems at the camp could spread to other parts of the park, even with security measures in place. "How do you manage something that's outdoors?"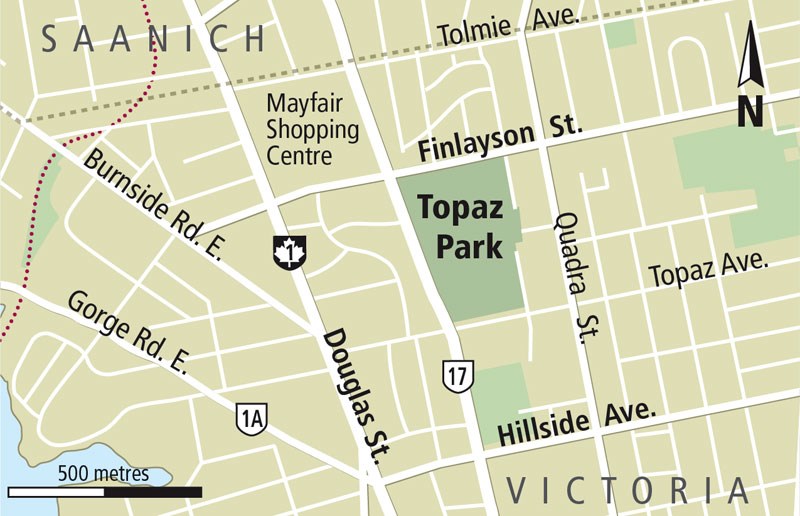 Why Topaz Park?
In the report to council, city staff say:
"At this point in time, the southwest corner of Topaz Park appears to have the greatest potential due to the presence of tennis courts that are currently
closed, nearby washrooms, distance from residential areas and the proximity to transit as well as access to the downtown and services."