By the time an expansion at Royal Bay Secondary School is complete next year, it will go from being too small to being the largest high school on Vancouver Island, with 1,400 seats.
Education officials gathered on Tuesday at the Colwood site to celebrate the recent start of construction, which will eventually mean an end to the school's cluster of 10 portables — needed because the building is at 120 per cent capacity.
The school was new in 2015 with an 800-student capacity, but hasn't stopped growing since. It now houses about 1,000 students.
"When the school was built, none of this was in yet," said Sooke School District superintendent Scott Stinson, gesturing to surrounding homes. "And then, almost immediately, it started growing, and now Colwood is anxious to get going on the second phase of it, as well."
Education Minister Rob Fleming said it has been clear from the school's early stages that it had to be bigger.
"This was a known, outstanding issue, that this school — as beautiful as it is — was simply built too small," he said. "And we had portables proliferating on-site immediately."
Despite being a "young" school, Fleming said, it has already earned a solid reputation for its sports and academics.
But something had to be done to accommodate growth, he said.
"If we simply did nothing as a government, I think within a couple of years from now this school would be at 177 per cent capacity."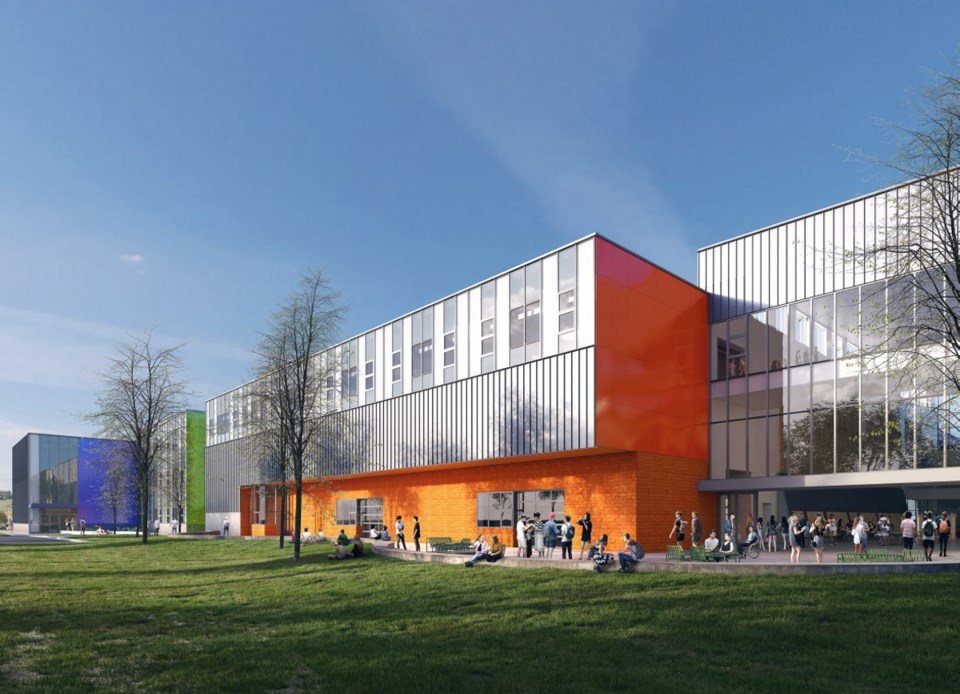 The expansion will include about 600 more seats and 21 additional classrooms, along with another gym "to further cement the sports legacy of this growing dynamo of a sports school," Fleming said. That gym will have artificial turf for sports such as soccer and lacrosse.
The $29.9-million budget includes $27.3 million from the Ministry of Education and $2.6 million from the Sooke School District. Completion is planned for August 2020, so the expansion can be ready for the 2020-21 school year.
Fleming said the ministry is trying to tackle growth in a similar way across the province.
"There are so many communities that are fast-growing in B.C. like this one, where kids are languishing in portables for their entire school career, and it's time to get caught up."
School board chairman Ravi Parmar said the Sooke district is B.C.'s fastest-growing per capita.
"I expect we'll hold that title for many years to come," he said. "When you drive through Langford and you drive through Colwood and even Sooke, it's a very fast-paced area."
It is anticipated the district will grow by 300 to 400 students annually for the next 10 years.
Grade 10 student Ryker White said he and his peers are thankful for the work being done at Royal Bay.
"I'll be here for when the expansion opens and am looking forward to seeing everyone under one roof," he said. "I've only known the school to have the rows of portables that you see outside today."
White also pointed out that the community around the school is growing.
"Our hallways seem be getting more and more crowded each year, as we welcome more students in."
White said it is important that every student has an equal opportunity to enjoy school facilities such as the theatre and the training kitchen.