B.C.'s housing minister has released the names of 10 municipalities that will be required to hit yet-to-be-established targets on new home construction or risk having the province force through higher density.
The cities include those that have welcomed some measure of density, such as Victoria and Vancouver, and those more historically resistant to it, such as Oak Bay and the District of North Vancouver.
The Housing Supply Act sets housing targets for municipalities using a carrot-and-stick approach. The carrot for municipalities that meet targets comes in the form of provincial cash for amenities, such as parks, bike lanes and recreation centres. For those that don't meet targets, the stick is the threat of being overruled by the province, which has the power to rezone entire neighbourhoods to create more density.
During a news conference in Vancouver on Wednesday, Housing Minister Ravi Kahlon said the first 10 municipalities were selected using a weighted index based on factors that include urgency of housing need, projected population growth, land availability and housing affordability.
"In B.C., we have some communities that have taken on growth … we have some communities that have hidden from growth," Kahlon said. "But that's just not acceptable when you're in a housing crisis."
The 10 municipalities are Saanich, Victoria, Oak Bay, Abbotsford, Delta, Kamloops, Port Moody, Vancouver, and the districts of North Vancouver and West Vancouver.
The province hasn't yet set the housing targets. Kahlon said that when they're released this summer, they will include not only the number of units, but also the type, including townhomes, condos and single-family homes.
Victoria Mayor Marianne Alto said she welcomed being part of a first wave of communities being challenged to accelerate building homes.
"I'm happy we're in this first top 10 because it's been a challenge for this council and the former council to bring new homes for the people who need them — and we've been making progress with a number of policies streamlining that process," she said.
Alto said she supports Victorians who have made their homes here for decades, but added: "We also have to think about our children and their children" who will live and work in the city in the decades to come.
Alto said densifying residential living won't only involve going vertical with more towers, but also using strategies like increasing the number of living units on single-family lots.
Oak Bay Mayor Kevin Murdoch did not return calls for an interview but issued a statement saying the district welcomes the opportunity to collaborate with the province to develop housing targets and explore options for more diverse and affordable housing options that "align with Oak Bay's heritage and unique character.
"As the smallest community of the 10 municipalities, capacity remains Oak Bay's biggest challenge," said the statement. "Oak Bay council has undertaken foundational work toward advancing council's housing priority and has already identified related projects."
Oak Bay consistently has among the lowest housing starts in the Capital Regional District, with 27 new homes approved in 2021 compared with 1,741 approved in Langford, according to data from CMHC.
Saanich Mayor Dean Murdock called the provincial housing push a "positive step" in creating creating homes of different types for more people who want to live in Saanich.
He said Saanich has a housing needs report that identifies some of the gaps in what's available as more people look to find homes in Saanich. "So I think that we're well-positioned to ensure that we're going to meet those needs and we've got strategies and policies in the works to ensure that we continue to move forward."
Murdock said several areas have been designated for high-density zones, including along Shelbourne Street, at Quadra and McKenzie, the Uptown area and Quadra-Royal Oak., where there is a high concentration of businesses and services such as transit. Single-family lots along main corridors will also start to see multi-family dwellings, said Murdock.
Saanich has a population of about 120,000 and is one of the largest in terms of area on the South Island, said Murdock, so there is room for more density.
Kahlon acknowledged there are communities on the list that don't want to be there, but he hopes they'll co-operate in approving the required housing. "In seven months, we may find communities that are on the naughty list," he said.
If communities aren't meeting the targets, the province will bring in an independent adviser to "help them make progress," Kahlon said. "And if we find that progress still isn't being made, then we have the ability as a province to step in and make the decisions we believe are necessary to ensure affordable housing and communities."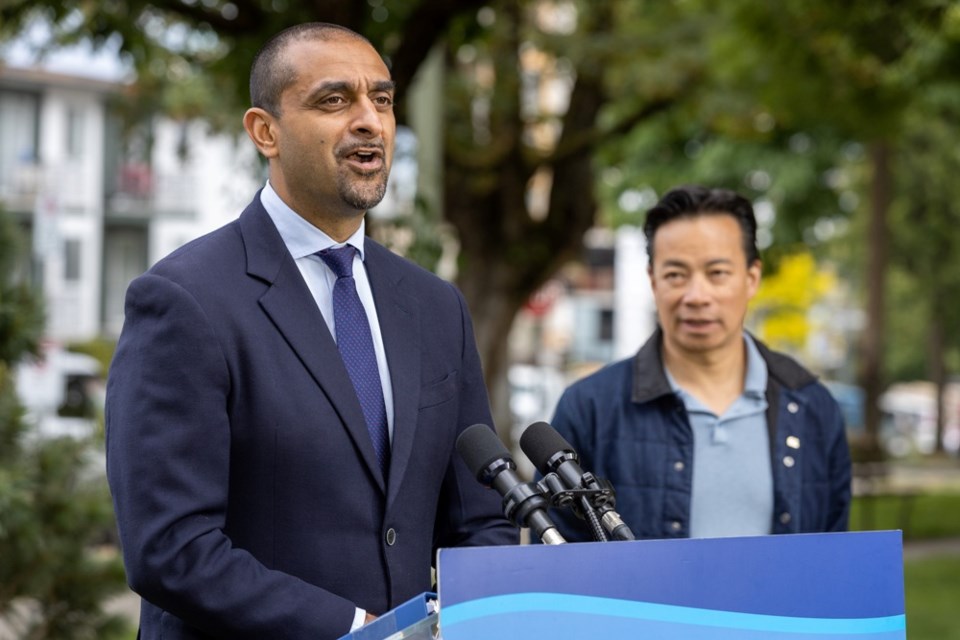 B.C. United party housing critic Karin Kirkpatrick questioned how the B.C. NDP government can impose housing targets on municipalities when it hasn't met its own.
"I think that No. 1 on the naughty list based on this should be the NDP government," said Kirkpatrick, MLA for West Vancouver-Capilano. "I'm just finding it very hypocritical that after six years and two terms, this government hasn't been able to meet their own housing targets."
Jill Atkey, CEO of the B.C. Non-Profit Housing Association, said during the news conference that non-profit housing providers are often frustrated when affordable housing developments are delayed by lengthy and expensive rezoning processes at the municipal level.
"By establishing targets in these first 10 high-impact, high need communities, we anticipate that these barriers will be reduced," she said, adding she's hopeful the new housing targets will increase the supply of affordable housing.
Another 10 municipalities will be added to the housing target list later this year.
Eby has shown he's willing to override municipalities and neighbourhood groups opposed to density in order to get new housing built.
In April, Eby and Kahlon announced the province will overhaul municipal zoning rules to allow for more so-called "missing-middle" housing, such as townhomes and multiplex homes on single-family lots. Effective this fall, the province will also introduce a flipping tax and legalize all secondary suites.
The province also passed legislation to push through a controversial supportive housing development in Vancouver's Kitsilano area and circumvent a court challenge by a neighbourhood group. The Kitsilano Coalition is challenging that legislation in court, saying it strips their constitutionally protected right to access the legal system.
>>> To comment on this article, write a letter to the editor: letters@timescolonist.com