Premier Christy Clark has all but endorsed Victoria businessman David Black's plans for a $25-billion refinery project near Kitimat.
In a statement to the legislature, later published on the premier's Facebook page, Clark called the project a "game-changer" for future generations, and said Black was not to be underestimated.
"This is a credible proposal from a credible B.C. businessman," Clark said of the newspaper magnate. "And without question, this would be the largest single private sector investment in the history of our great province."
Clark told the legislature the government has "been working constructively with Mr. Black in his quest to identify a suitable location on which to build a potential refinery.
"Our government wants to use every tool at our disposal to move the proposal forward where it can be judged on its merits by a robust, rigorous and, most importantly, independent environmental process free from political influence."
The premier's comments come a day after Black announced he had verbal commitments to fund the project — $16 billion for a refinery, $6 billion for a bitumen pipeline from Alberta, a $2-billion natural gas pipeline to fuel the refinery and $1 billion for tankers to transport refined fuels to buyers in Asia.
Black said the government's support means a lot as financiers "want to know the government is behind projects like this."
He said he has kept Clark's office and the Prime Minister's Office abreast of developments. "This thing is so good for B.C. I wish it were apolitical, I wish all parties would endorse it and we could move ahead on that basis."
Black's plan would see Canada's first new refinery since 1986, and says it could be in service by 2020. He sees it as an alternative to shipping to Asia bitumen sent through Enbridge's proposed Northern Gateway pipeline.
John Horgan, NDP energy critic, said he and caucus chairman Shane Simpson expect to discuss the plan with Black on Monday.
"Mr. Black has an accomplished record as a newspaper baron and I'm confident if he can generate that kind of capital for an investment we certainly want to listen to it. But there's a long, long way to go," Horgan said.
"The people that I'm talking to in Calgary don't see this as a viable option. If they were going to see refining capacity in western Canada, it would probably be closer to Edmonton or Fort Saskatchewan."
Black said he understands the skepticism over his plan because of its size and scope and because he's seen as an outsider in the energy industry. "But it's one of those situations when you spend some time with it, you do get comfortable with it because it is such a strong business case."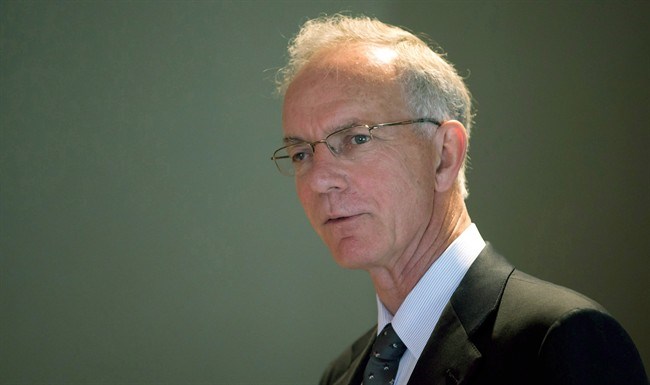 Victoria businessman David Black.