From atop a steep slope looking down on a narrow portion of the Jordan River, Ken Farquharson points to two saplings making their way out of the crumbly earth near his feet.
The saplings are an unusual shade of yellow-green and they're the only things growing on land the Ministry of Environment recently confirmed as "high risk."
"See these little ones, they're not very happy," Farquharson says.
For the Metchosin resident, cleaning up the toxic site — a former copper mine dump — is vital if salmon are going to return in full force to the Jordan River below. The retired engineer has made it a personal project since 2012 and now, it looks like it might happen: A responsible party has been identified, a site-risk assessment has been conducted and an remediation plan is due by June 2017.
But the process has raised questions about why it took one motivated individual, with help from the University of Victoria's Environmental Law Centre, to make it happen.
"It's a really good news story, because I think the people of Victoria can look forward to the return of salmon in Jordan River," the law centre's legal director Calvin Sandborn said.
"But then there's a terrible news story. And the terrible news story is why government didn't get on this a long time ago."
The site
The following timeline is based on information collected from Farquharson, the UVic Environmental Law Centre and SNC-Lavalin's site investigation report.
Cominco acquired rights to mine copper and gold at the site now known as Sunro Mine in 1919. Those rights were later leased to other companies. In 1956, dumping of waste and other materials began on the east bank of the river. Coho and chum died out around 1957.
A total of 1,329,034 tonnes of ore was mined and milled underground between 1962 and 1978.
In 1963, a mine and millroom flooded and a large volume of contaminated material was washed into the river.
The last pink salmon were recorded spawning in the uncontaminated water below B.C. Hydro's plant in 1971, when the plant moved from the east to west side of the river.
Despite evidence today that shows the site is still contaminated, the Ministry of Energy and Mines wrote in a 1993 letter, "final reclamation carried out and found satisfactory." Cominco requested and received written confirmation that the property could be returned to the Crown and surrendered all claims.
The property is now partially owned by Western Forest Products.
Farquharson became aware of the former copper mine in 2012 as a board member on B.C. Hydro's coastal fish and wildlife compensation program.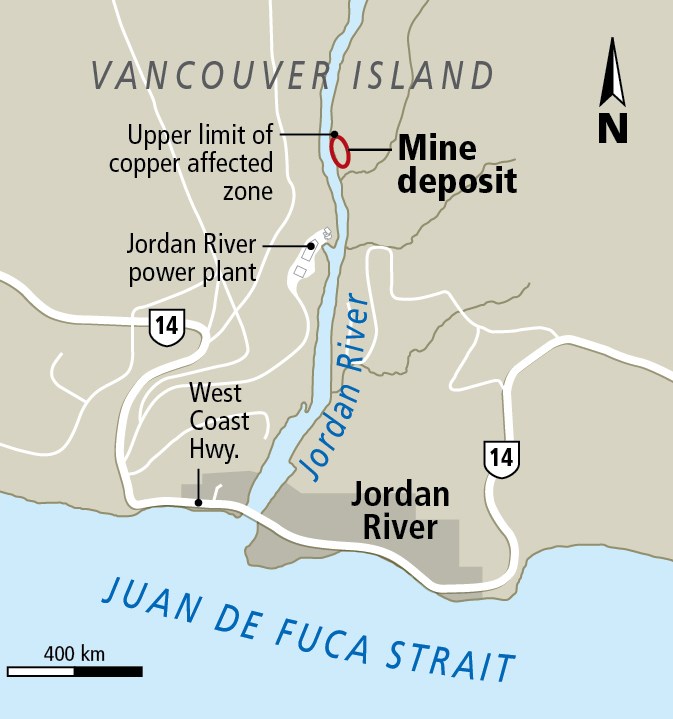 "I had attended a meeting of parties interested in the future of the Jordan River to find that everyone was very pessimistic about its future due to the long-term contamination by copper from the mine waste dump. More worryingly, nobody seemed interested in getting the situation corrected," he wrote in a letter to the law centre.
The law centre agreed to help him and in June 2012, student Matthew Nefstead identified the responsible company to be Cominco, now owned by Teck Resources Ltd.
"If one company gets folded into another company, they not only take the assets, but they also take the liability," Sandborn said.
Teck is the same company that in 2012 was ordered to pay cleanup costs, when byproduct from its smelter in Trail ended up in the Upper Columbia River. Cleanup costs have been estimated in media reports at up to $1 billion, but have not been determined or agreed upon.
At Jordan River, Teck has been very co-operative, Farquharson said. It met with interested parties in 2013 and commissioned a preliminary risk assessment of the site in partnership with Western Forest Products, under the Ministry of Environment's instruction. The report, conducted by SNC-Lavalin and completed this June, confirmed three main sources of copper contamination in the river, including two waste rock piles and water discharging from a tunnel portal, the law centre said.
The Ministry of Environment, which was unaware the property was still contaminated until it was approached with concerns about the salmon, said levels at the site exceed ministry standards, classifying it as high risk.
The ministry has asked Teck and Western Forest Products for a remediation plan and schedule by June 2017.
"Teck is now working cooperatively with the current property owner, former property owners and regulators to assess existing environmental conditions and any potential restoration that may be recommended," Chris Stannell, senior communications specialist with Teck Resources Ltd., said in an email to the Times Colonist.
Western Forest Products did not respond to a request for comment in time for deadline.
The context
For Calvin Sandborn, lack of political will to remediate a contaminated mine site feeding into a potential salmon habitat is part of what the auditor general's office meant when it said in a May report that "business as usual" can't continue.
The auditor general came down hard on B.C.'s environment and energy ministers for slack compliance and enforcement, in the wake of the Mount Polley tailings-dam failure.
"Why wasn't the government acting on this? Why was it left to a law student to document this and bring to its attention — hey, actually, Teck is the legally responsible party and they should be acting to remediate. This is very disquieting because we don't have enough law students in the province to clean up the rivers that need cleaning up," Sandborn said.
"There's an urgent need for government to do comprehensive review of all the salmon streams in this province that are downstream from old mines."
He said it fits with other examples, like the Banks Island gold mine, which was only inspected after a whistleblower brought it to the province's attention. But Jordan River could also join other good news stories. Pinks and chinook salmon have started to return to Britannia Creek, where the province is spending about $1.5 million to decommission six dams.
In its report, the auditor general emphasized the risk of "regulatory capture," implying regulators wind up serving the needs of industry. It also found major mines are under-secured by more than $1.2 billion.
Asked who would be obligated to pay for the Sunro Mine cleanup, the Ministry of Environment responded that under its contaminated sites regulation, "any former or current land owner is responsible for any clean-up costs associated with environmental contamination (i.e., polluter-pays principle)."
The province accepted the auditor general's recommendation, committing to act on 16 of 17 of them — all but the call for an independent body to take charge of regulation, instead of the Ministry of Energy and Mines, which is also responsible for promoting the industry.
In response to the Times Colonist's request for an interview with Minister Bill Bennett, the Ministry of Energy and Mines said he was unavailable and offered a written statement. It was not delivered in time for deadline.
What's next
Efforts to restore salmon to the Jordan River were already underway involving both the Pacheedaht First Nation and B.C. Hydro, when Farquharson set his sights on the contaminated mine property.
Their efforts have involved focusing on improving river water quality and habitat without taking on the mine.
In 2008, B.C. Hydro began fish-flow releases to ensure steady flow, as part of its water use plan. Before then, flow was dependent on rains, so dry times meant higher concentrations of copper.
Fisheries biologist David Burt said B.C. Hydro now releases 0.3 to 0.4 cubic metres per second from its Elliott Dam. And fish are returning: Rainbow trout and some coho fry have reappeared in the river — it's just not known what happens to them once they leave.
The missing piece of the puzzle has been copper cleanup.
"The quandry is that, though they are surviving in there, we still have the copper flowing into the river and it's still basically unchecked," Burt said.
"Just because [the fish] are in there doesn't mean that they're not being compromised."
At its peak, an estimated 5,000 salmon spawned in the Jordan River, Farquharson said.
"At one point, it supported a whole First Nations village. It was once amazingly productive," Burt said.
For his part, Farquharson is prepared for a potentially long wait. He'll look forward to the remediation plan and go from there.
"The province has to approve it, then it has to be funded, then it has to be done," he said.
"If this is done by 2020, I'll break out a bottle of champagne, I think."