Three new coastal oil spill response vessels — costing $5.8-million each — are now moored at Nanaimo's visiting vessel pier but they'll mostly sit idle and when they'll go into service is unclear.
The vessels are waiting for the future of the Trans Mountain oil pipeline expansion to be sorted out.
They were already built by ASL Shipyards in Singapore when construction of coastal bases for emergency response was put on hold last year, said Mike Lowry, spokesman for the industry-funded Western Canada Marine Response Corp.
They were to be among 40 new vessels stationed along the coast as part of requirements for the pipeline project, ready to respond in the event of an oil spill. So far, four smaller workboats, one skimming vessel and the three response boats have been delivered.
The pipeline expansion would allow for the transport of more oil from Alberta to a sea terminal at Burnaby, and then onto tankers for export overseas. Concern about increased tanker traffic prompted the plan to build coastal emergency response bases.
Given that the pipeline expansion has been halted amid legal and political tangles, the vessels will remain moored in Nanaimo for the time being, Lowry said Friday.
"Basically we will be running them periodically to make sure that they are in good condition and maintain them." But there isn't the money right now to hire crew and bring them into service, Lowry said.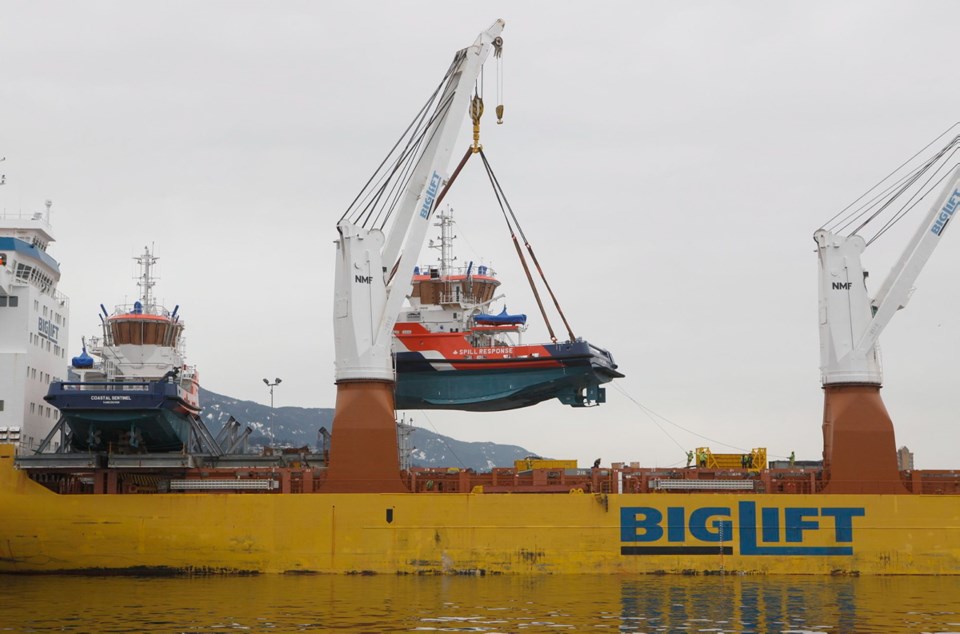 Each sturdy response vessel is 82 feet long and 294 gross tonnes. Each will be equipped with $1.1 million worth of equipment, including a 2,500-foot-long self-inflating offshore containment boom. The vessels have 26 cubic metres of space for recovered oil.
They were delivered via the Happy Dynamic cargo ship to Nanaimo and lifted by on-board cranes into the water. Two were secured onto the deck and the third was carried in the cargo area.
If the pipeline project proceeds, the Gulf Sentinel will be based in Nanaimo, the Strait Sentinel will be in Beecher Bay, and the Coastal Sentinel will go to Ucluelet.
Their top speed is 10 knots. "One of the things that we wanted to bring in was a vessel that could really handle the heavier weather on the coast," Lowry said. "They are sort of slow and steady and they will get there."
They were also designed to serve as platform vessels at a spill site, where they could provide a staging area for equipment.
Arrival of the vessels this week is only part of the new activity at the Nanaimo Port Authority, which is staging a grand opening March 20 for its $19-million B.C. Vehicle Processing Centre.
Beginning this month, the facility will take delivery of about 10,000 European-produced vehicles annually. Vehicles will be distributed on Vancouver Island and the mainland initially and likely later expanded through Western Canada.
The Nanaimo Port Authority, Western Stevedoring and its affiliate organization, the auto division of SSA Marine, teamed up to build, pay for and run the terminal. The federal government is chipping in $6.3 million.
Ian Marr, port authority chief executive, said the facility is almost complete. It includes a 60,000-square-foot building.
Winter weather delayed required paving, he said.
The first shipment of about 200 vehicles comes in on March 8 in something of a trial run for the project. The opening ceremony is planned for the second arrival of vehicles.