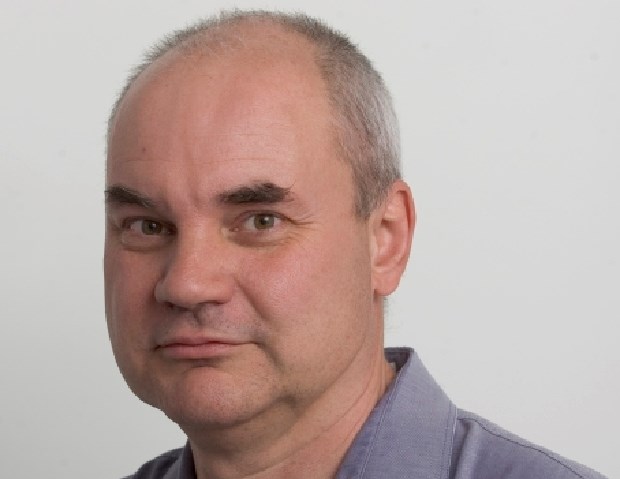 For what seems like forever, a large freighter has anchored off the Colwood waterfront, floating high and empty.
No truth to the rumour that it will be the next portable classroom at Royal Bay Secondary.
The school, which opened in 2015 with classroom space for 800, has 1,100 students today. Ten portables, six of them added this year, handle the overflow.
So there were smiles all round Friday when Education Minister Rob Fleming stood in the gym to announce an expansion that will increase capacity to 1,400, making Royal Bay one of the biggest schools on Vancouver Island.
The province will pay $23.2 million for the extension, which is expected to open by the fall of 2020. The Sooke school district will put $2 million into the three-storey addition, which will include 21 classrooms and a second gym.
There's plenty of second-guessing, though, about why the school was built so small in the first place, when the rising enrolment in the rapidly growing West Shore was obvious. The explanation is that the Education Ministry's policy of the day was to only build schools large enough to meet existing, not future, demand. That mirrored the reality of several years of declining enrolment around B.C., where more often than not the debate was over which half-empty schools to close, not whether to erect new ones. (On Friday, Colwood Mayor Carol Hamilton harked back to the 2000s, when locals fought to keep schools open.)
Things have shifted. An overall slight increase in provincewide enrolment over the past three years masks a sharp contrast: Student numbers are still dropping in some places but soaring in others. Chilliwack, Abbotsford and Langley are stressed. In Surrey, 7,000 students are stuck in portables. Even within districts, variations are stark, Fleming says. Richmond has some schools that are nowhere near full, while those near SkyTrain stations are packed. Overall, Vancouver enrolment might be flat, but there has been a surge in the West End, reflecting the higher number of families living in condos.
The Greater Victoria district, which closed seven elementary schools in the 2000s as the city greyed, has added portables.
The West Shore continues to boom. The Sooke district's enrolment, which was 8,272 a decade ago, hit 10,800 this year and is projected to increase by a further 1,800 over five years.
That includes 350 next fall, when board chairman Ravi Parmar expects five portables to be added districtwide. Parmar, who graduated in 2012 from the old Belmont Secondary (which differed from a sardine can only in that sardine cans don't have duct tape covering the cracks in the hallway floors), says one of the portables might go to the new Belmont.
That school was built for 1,200 students when it opened in 2015 but already has 1,344. That's frustrating.
Some of the squeezing is due to the 2016 Supreme Court of Canada decision that restored B.C. teachers' 2002 contract language on class size and composition.
Smaller class sizes translate to a need for more classrooms, which is one reason 10 of the district's elementary school computer labs have been converted.
Some of the cramping could have been avoided, though, had Royal Bay and Belmont been built for the growth everyone could see coming. Royal Bay is a gorgeous building, bright and airy, built to LEEDS energy-saving standards. It features a state-of-the-art cafeteria, a rooftop basketball court, floor-to-ceiling windows with a view of the strait (and that freighter). The students seem to realize what they've got. Not a scrap of trash was evident Friday. No tagging. No vandalism.
Yet three years in, it's too small. "It was baffling to us students when the staff lounge was turned into a classroom," Grade 11 student Maddy Morrison said Friday.
No more, Fleming says: "We've got to stop building undersized schools."
The province has budgeted close to $2 billion over three years for seismic upgrading, replacement of old schools and the addition of more spaces in fast-growing areas.
In December, the province announced it was giving the Sooke district $23.3 million to buy 16 acres in Langford's Westhills development for a middle school and an elementary school.
Construction hasn't been announced, though it's worth noting that Fleming praised the way in which the Sooke district and its municipalities work together to deliver projects on time and on budget.