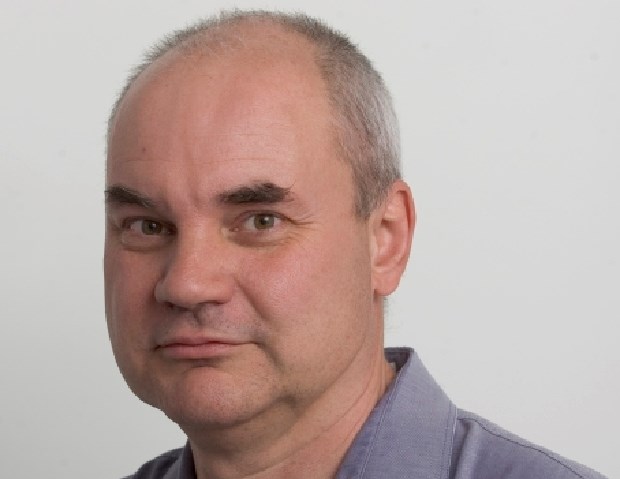 Jean Ives turns 70 this year, husband Jim Griffith turns 75 and their son Paul Griffith turns 50. What better way to celebrate than to throw themselves off a 15-storey building?
Oh, and might as well send Paul's wife Sue over the side, too, along with their daughters Jillian, 13, and Rachel, 15.
OK, "throw" is not the word Paul would choose. The Nova Scotian is the founder of Over the Edge, which stages events in which people rappel down tall buildings to raise money for charity.
It happens that his parents live in Victoria, so when the Vancouver Island Make-A-Wish chapter decided to hold a Rope for Hope event in the capital, it seemed like a good opportunity to bring the whole clan together for what would be, as far as they knew, the first time three generations of one family rappelled together.
So down they went Wednesday, descending the CIBC building on Douglas Street — at 160 feet, it's about the same height as Niagara Falls — a day ahead of today's Make-A-Wish fundraiser at which, starting at 9 a.m., more than 30 brave/terrified souls are expected to make a vertical journey that for most is waaay out of their comfort zone. (Even Paul feels that way: "I'm not a big heights guy.")
Jim and Jean certainly had the wobbles. There's nothing in their background that screams Indiana Jones. They moved to Victoria in 1989 when Jim took a post as an administrator at the University of Victoria. He went on to become the founding president of the Canadian College of Performing Arts. Jean spent 14 years as a counsellor at St. Michaels University School.
Jean thinks she was the one who came up with the idea for the grandparents to rope up.
"It's usually me who's stirring Jim into doing something he doesn't want to do."
That's the way it was when they went ziplining in Whistler a couple of years ago. For Jim, the only thing worse than following Jean on these adventures would be trying to live with himself if he didn't.
Not that Jean appeared keen to hurl herself into the void Wednesday. Hanging off the ledge, gathering the gumption to take that first step as the wind whipped around her, was the hardest part, she said.
You can hear all the reassurances — 700 events without once having to scrape any of the 60,000 participants off the sidewalk — and see all the safety measures, but the truth is you're going backward off a skyscraper when every nerve in your body is telling you it's the worst idea since Jaws II. "Everybody has that visceral fear of going over," she said.
But, she said, facing your fears is good. Facing the wall and not looking down is even better.
Also, there's the cause, the real reason for descending: Together the family raised $10,000 for Make-A-Wish, which grants wishes to children living with critical illness.
Simone Conner certainly understands the cause. The director of Make-A-Wish on Vancouver Island, she got involved with the organization after it helped change the life of her son, Ryan Rowlinson.
Ryan was just seven years old when he was diagnosed with neurofibromatosis, a disorder in which tumours grow along nerve pathways.
There is no cure, just a series of surgeries. In Ryan's case, that has meant four major operations — "two brain, two spine," he said — and a merry-go-round of other medical procedures.
Imagine being a kid enduring that. And imagine being 13-year-old Ryan when, in 2011, Make-A-Wish flew him, his brother, mother and father to the U.S. capital to meet his hero, Washington Capitals star Alexander Ovechkin. It was an all-expenses-paid luxury trip in which a limo ferried the family to the Capitals' practice facility, where Ovechkin himself gave Ryan a tour.
Then came the game against the Edmonton Oilers. "I told Ovie he was going to get at least a goal," Ryan said.
Instead, with Ryan watching from Ovechkin's arena seats, the Russian scored two goals and an assist.
"It felt like he was playing for Ryan," Simone said. After the game, a 5-0 Capitals win, Ovie signed his game stick for Ryan and all the players signed a jersey. Then team owner Ted Leonsis invited Ryan to use his own seats at another game two days later.
"It was unbelievable," Ryan, now 20, said Wednesday. "It lifts your spirits. It helps you forget about all the surgeries."
Those memories are why, with the Capitals eliminating Tampa Bay for a berth in the Stanley Cup final Wednesday, no one on Vancouver Island was cheering Ovechkin more loudly than he.
And they're why Ryan's mother, Simone, her gratitude trumping her terror, joined the Griffith family in rappelling down the CIBC building.