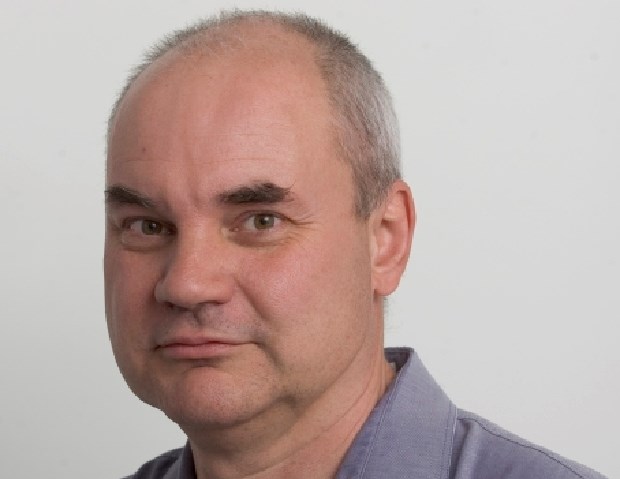 Gold, frankincense and Moderna?
No, the Mayne Island Magi come bearing gifts of calm, kindness and safety — fitting, seeing as one of them is Dr. Bonnie Henry.
"I call them the wise ones instead of the wise men," says Lance Shook. He's the Mayne carver who inserted the good doctor into a Christmas scene he just created in the village centre.
"So many people have told me they love it," Shook says of the display, which stands in a grassy spot near the Sunny Mayne Bakery Cafe and Tru Value Foods. "It's uplifting for the community to have something like that, and it's a statement as well."
Statement? Yes, the carvings were Shook's reaction to a series of bad-news stories: violent opposition to pandemic protocols, an anti-masker thumping out a Walmart employee in northern B.C., threats against Henry herself.
"I thought 'this is terrible.' That's what motivated me to do it."
Shook, a retired Vancouver firefighter, figured some pushback, some reinforcement of Henry's gentle message, was needed. Including the provincial health officer among his Magi — the educated people of their day, ones who were, literally, wise — seemed appropriate. "That's what Bonnie Henry is," he says.
So Shook began shaping some fallen red cedar from friends' property. A chainsaw did the rough cuts. Then came a die grinder, followed by a Dremel rotary tool for the finer work.
It took just three days to fashion the other four figures in the scene, but two to create Dr. Bonnie's recognizable likeness. "You can't just do a general face," Shook says. Her glass eyes were set in place with epoxy and sawdust.
The result was one of the more unusual tributes to Henry, though it was hardly the first. Her image has popped up on socks, masks and mugs, on portraits in gallery windows and in guerrilla art (shades of Che Guevara!) on construction-site hoardings.
We just learned that on Dec. 15, a giant Pacific octopus named in her honour will be released off the west coast of Vancouver Island by Sidney's Shaw Centre for the Salish Sea. Musicians in Qualicum Beach, Nanaimo, Central Saanich, Sidney, White Rock and East Vancouver have celebrated her in song. At Halloween, pint-sized Dr. Bonnies collected candy while scary, skeletal versions loomed on lawns. There's a Dr. Bonnie Henry Fan Club on Twitter
Her name has been invoked to benefit good causes. A line of Dr. Bonnie F*cking Henry T-shirts raised $20,000 for Esquimalt's Rainbow Kitchen. Similarly, food banks benefited when designer John Fluevog, whose footwear the doctor favours, came out with a Dr. Henry shoe (though the initial wave of customer demand crashed his website). Science World, hard-hit by the pandemic, plastered a school photo of seven-year-old Bonnie on posters with the message "The world needs more nerds."
Opponents of Henry's measures might chafe at all this, but even they must admit that she didn't ask for this rock-star treatment. It came from the ground up. Henry has neither sought nor, apparently, been distracted by the adulation. As befitting a former naval officer, she keeps on an even keel, her focus fixed on the job.
And, good lord, what a job. She's the one stuck trying to navigate between those who refuse to change their behaviour and those who want to scuttle the ferries and jail/horsewhip the heretics.
The learning curve might have brought a few course corrections, inciting the critics, but almost a year into the pandemic, the woman with the most pressure-packed position in the province continues to epitomize grace. In a nervous, noisy time, she remains reassuringly quiet, never confusing volume and anger with leadership. Dunno what Henry thinks of when she turns out the lights at night, but she has helped the rest of us sleep more soundly.
"She's everything you'd want," Shook says. He has created a lot of carvings — several on Mayne's disc golf course, and a three-metre-tall firefighter in full turnout gear next to the Vancouver department's training centre — but this Christmas scene feels special.
jknox@timescolonist.com