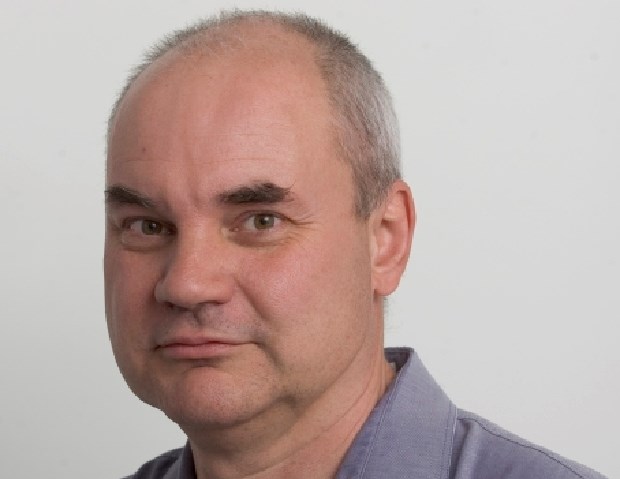 Easter, being about renewal, seems a good time to talk about Robin Lamprecht's road back from 9/11.
The Saanich man struggled for years to come to terms with the incongruities of that brilliant blue, horrible day, when so many perished so violently yet he somehow survived. But by the time he died on Feb. 22, he had found a measure of peace.
"It took time," says his wife, Liz. Time, plus moving to Victoria. And being surrounded by family.
"He returned to himself."
- - -
Robin Lamprecht would have turned 80 on April 1.
His story has appeared here before, told to the Times Colonist's Sandra McCulloch on the fifth anniversary of 9/11 and Katie DeRosa on the 10th.
At 8:46 a.m., Sept. 11, 2001, senior vice-president Lamprecht was addressing other Aon Corporation executives on the 103rdfloor of Tower Two of the World Trade Centre when a hijacked jet slammed into Tower One.
"I'm into my talk about five minutes and I see the plane over there, and it's a giant plane," he told McCulloch. "The next second, the plane went into the building. The fireball came out the other side. It was right in front of me.
"The fireball came out and it was eight storeys high."
Lamprecht returned to his office to grab some things. "I was in a bit of shock. I forgot my cellphone and my briefcase, but I got my wallet and my jacket."
He could see black smoke billowing out of Tower One. "I didn't feel in danger, but I knew [the plane] had killed all kinds of people. It hit around the 92nd floor and everyone above that was trapped."
Many of his colleagues made for the elevators, but a wonky lift in Lamprecht's childhood home in Durban, South Africa, had left him with a distrust of the conveyances, so he chose the stairs. Doing so also freed him of the need to get off at the 78th floor to board a larger elevator to get to the lobby.
He heard later that his boss, while waiting for that second elevator, had turned around and gone back up to his office to retrieve a laptop computer. He was among 175 Aon employees killed.
"Once he went back up, he was done. From the moment the plane hit WTC One, we had 15 to 20 minutes to get out of our building, because the second plane hit at 9:05 a.m. If you hadn't gotten out or below it by that time, you were trapped."
Security announcements kept repeating that all was safe and people should return to their offices, but Lamprecht kept walking down the narrow stairs. He had made his way to the 40th floor when an explosion rocked the building. He thought it was a bomb. No, a plane had slammed into his tower between the the 78th and 82nd floors, killing those waiting for the elevators.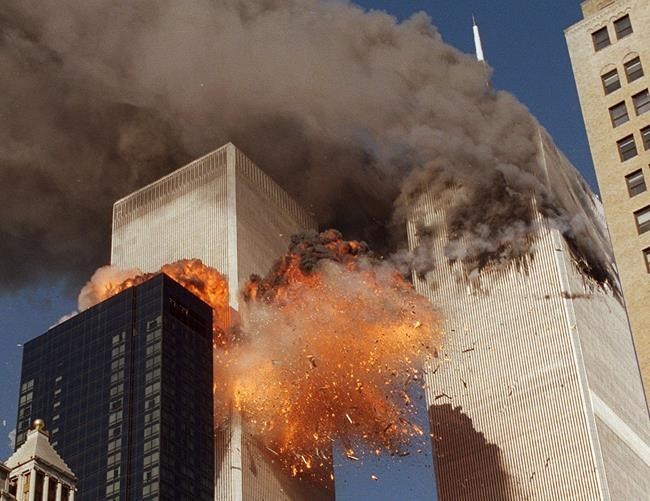 The stairwell filled with smoke and more people. Lamprecht prayed to his late mother.
"I said: 'Mom, I'm in trouble. Please let me get out,' " he told DeRosa.
At one point, Lamprecht paused to tighten his tie and put on his Armani jacket. It was the influence of his favourite movie, Zulu, in which British soldiers sharpened themselves up while facing annihilation. In the moment, dignity seemed important.
After 35 minutes descending, Lamprecht emerged into the lobby.
Meanwhile, in their home in suburban Scarsdale, Liz was distraught. She had been with Lamprecht since way back in their Vancouver days, when she met the 27-year-old on the Arbutus Street bus. They had moved to the U.S. in 1967.
For 45 long minutes after the first plane hit, Liz was in a panic. "I didn't know where he was," she recalled this week. Lamprecht had told her he had a big meeting, but she didn't know whether that meant big as in important, or big as in a bunch of people in one of the downtown hotels.
To add to the confusion, the TV kept talking about the North and South towers, not One and Two. The Lamprechts had a son in Chicago and two daughters in Vancouver, but Liz couldn't tell them whether their dad was safe.
At one point a friend called, a woman who was within sight of the towers. As they spoke, Liz heard a woman in the background scream. "I said, 'Diane, what's happening?' She said, 'The other building has been hit.' That was a dreadful moment."
When her husband finally found a free telephone from which to call, she was so desperate to hear from him that she couldn't be sure it was his voice. "I wanted it to be him so much."
As was his custom, he turned to humour at a trying time: "He said, 'You've got to stop spending the insurance money. I made it out.' "
Liz pivoted to a neighbour who been standing at the entrance to the Lamprechts' house: "It's Robin."
"That man literally dropped to his knees and cried."
Lamprecht, having worked his way through the crowds, had made his way to Chinatown when he turned around to see Tower Two pancake to the ground. He was never really the same after that day, but who was?
- - -
In 2005, Liz persuaded Lamprecht to retire to the cottage on the Cordova Bay waterfront that they had bought when their son went to UVic in the 1980s.
Victoria, leafy, peaceful Victoria with the view of the water from their front porch rocking chairs, proved a good antidote to the trauma.
"Time is good, and moving away from New York was good," Liz now says. "In New York, you lived it every day.
"Living here and not being surrounded by it all the time helped. People were so much calmer."
Being surrounded by family — daughter Catherine, her husband Erik and their kids, plus Liz's sister and her husband — was important, too.
Recovery wasn't like flipping a switch, though.
In 2006, Lamprecht thought he could get through the interview with McCulloch without becoming emotional, but kept welling up in tears. As he mopped his eyes and nose, he joked that photos of his crying would ruin his stoic image.
"My daughter said I've become more surly," he said. She had also suggested he was "haunted," which Lamprecht acknowledged might be true.
Similarly, in 2011 he told DeRosa that it was hard to get closure when he kept seeing the faces of the people who died, while he was lucky enough to get out alive.
He remembered the young firefighter who, while ascending the stairs, helped Lamprecht as he slipped on some coffee on his way down.
"His words to me were just, 'Take your time, sir. You'll get out of the building.' Undoubtedly, he died."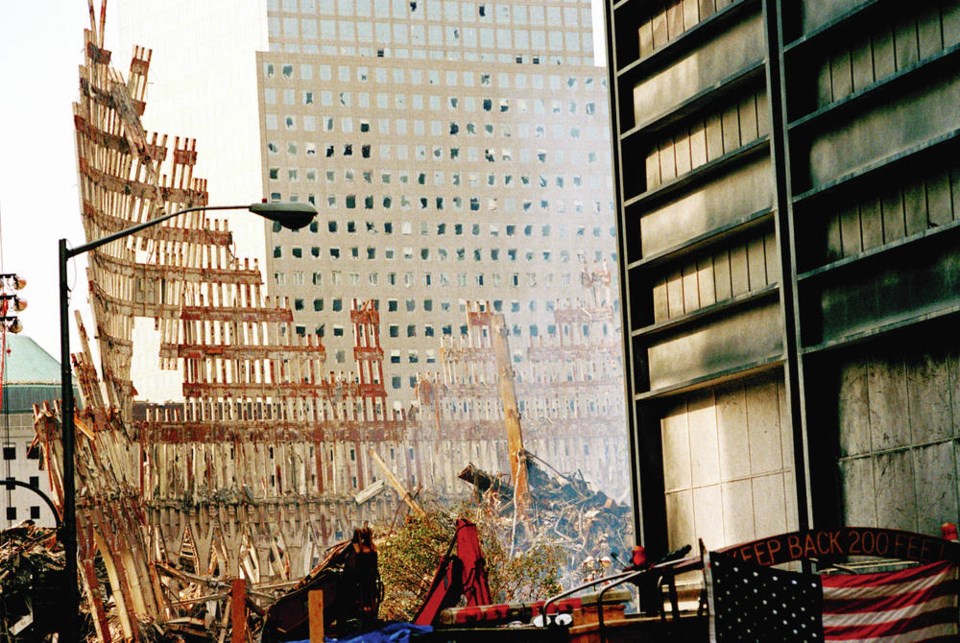 Lamprecht remembered a police officer with fiery red hair who, as he exited Tower One, directed him where to go. Liz says it initially annoyed him that she wouldn't let him go where he wanted. What he didn't know was she was guiding him away from where bodies were falling to the sidewalk. She died when the tower fell.
He remembered the family members who brought hairbrushes and toothbrushes to a booth at Chelsea Pier, hoping DNA samples would help identify remains.
He remembered a neighbour whose young children would run out to greet the man as he got off the commuter bus that he and Lamprecht both rode. After 9/11, the route was changed so that the children wouldn't have to see the bus pull up empty.
When the Lamprechts visited New York a decade or so ago, he had no desire to visit the museum at Ground Zero.
Eventually, though, a sense of peace returned. Lamprecht's wounds never fully healed, said his son-in-law Erik Magraken, but in his final years he found a sense of calm.
Liz says it was around the time of the 10thanniversary that the couple realized they no longer tensed up as September arrived. On the last Sept. 11 they shared, neither brought it up at all.
In 2013, a chance encounter with police officer Jon Cawsey resulted in Lamprecht being invited to speak to the Saanich department's annual dinner. Talking to a roomful of cops about how he felt about the bravery of the New York police on 9/11 proved cathartic.
"Speaking to them really did something for him," Liz says. "It was a release… That may have closed the door for him. After that, it was OK."
Cawsey was so impressed by Lamprecht's humility and honesty that he made a point of visiting the couple on subsequent 9/11 anniversaries.
The Lamprechts began going to St. David by-the-Sea Anglican church in Cordova Bay, which was something new (Lamprecht's mother had raised him to be wary of organized religion). "I just felt it was time," Liz says. She went first, told her husband he didn't have to join her, but he did anyway. "He only went because I was going, but then he found he liked it."
Over time, she says, things improved for the man whose life was so drastically changed that day 20 years ago. "They absolutely got better."
jknox@timescolonist.com