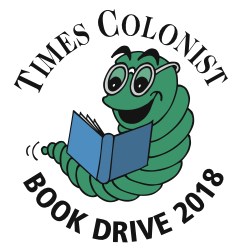 It's Times Colonist Book Drive time!
You know what that means, Victoria: We need your books (and your backs).
Once again, we're asking readers to donate gently used books for our annual book sale for literacy. We would also like some help with the lifting.
The event works like this: Readers donate good-quality used books at a drive-through drop-off. Volunteers then sort the donations for resale to the public, with the proceeds going to literacy-related causes on Vancouver Island. As has been the case since 2010, both the book collection and book sale will be held at the Victoria Curling Club at 1952 Quadra St.
The book drop-off will be Saturday, April 21, and Sunday, April 22, from 9 a.m. to 3:30 p.m. If you want to donate, please pack books in boxes or bags that you don't want back. No encyclopedias, textbooks, magazines, medical books, outdated reference works, Reader's Digest condensed books or National Geographics, please.
It's a volunteer-driven event. If you would like to help out, particularly with a bit of the heavy lifting on the collection weekend, please contact Bruce Cousins at bcousins@timescolonist.com.
The sale itself will take place Saturday, May 5, and Sunday, May 6, from 9 a.m. to 5 p.m. each day.
The prices remain unchanged: Hardcovers $3, softcovers $2, pocketbooks and children's books $1. Payment is by cash, debit, MasterCard, Visa or American Express; no cheques, please.
Pay parking is available in the lot that serves the curling club and Save-on-Foods Memorial Centre. There is free parking along Quadra, but parking on some of the nearby side streets is for residents only. The No. 6 bus goes along Quadra Street.
On Monday, May 7, representatives of schools and non-profit groups may take away as many of the leftover books as they want, for free.
Since the first event in 1998, the people who volunteer for, donate to and shop at the book sale have allowed $4.7 million — including $1.8 million in matching funds from the provincial government — to be distributed among schools and non-profits doing literacy-related work on the Island.