Highway 4 remained closed east of Port Alberni on Wednesday due to an out-of-control 140-hectare wildfire on the bluffs at Cameron Lake, with the only alternative for motorists a four-hour detour route.
Drivers were encouraged by the Transportation Ministry to avoid travel in the area.
Those affected by the closure included 50 students and their chaperones from the Nanaimo-Ladysmith School District who were returning home from a field trip to Tofino on Tuesday and became stranded overnight in Port Alberni. They were put up at Alberni District Secondary School and left on their bus Wednesday using the detour route.
"They had space for us, and they had blankets and pillows for those who didn't have them already," said school district spokesperson Dale Burgos.
The detour takes traffic from Port Alberni to Lake Cowichan via Bamfield using forest-service roads and privately owned industrial roads.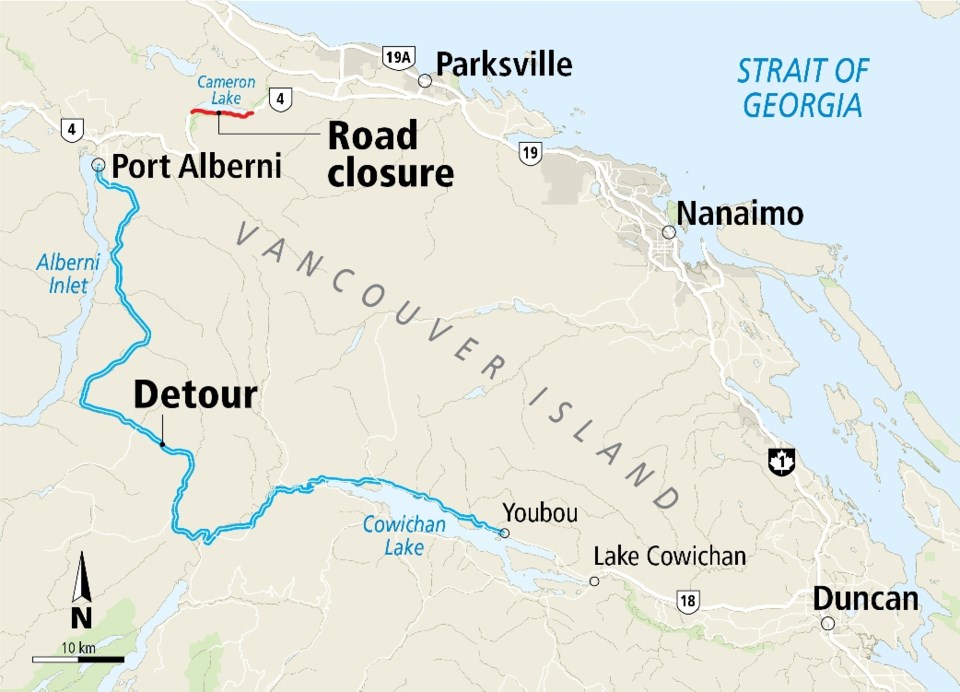 The gravel route has narrow sections, sharp curves and single-lane bridges, the ministry said, and no cell service, gas stations or washrooms along the way.
Vancouver Island RCMP reported heavy traffic in the Lake Cowichan area as a result of the detour.
Regular passenger vehicles like cars, vans and commercial vehicles weighing under 14,500 kilograms are allowed to use the route, but no overheight or overweight vehicles are permitted. The route will be regularly patrolled by government workers and maintenance contractors.
Debris from the fire is affecting the highway, the ministry said, noting that, combined with slope instability, means the road closure is likely to last longer than the fire itself. Slope-stability experts have been brought in by the ministry.
Randy Harrison, of Whiskey Creek, was stranded in Port Alberni with son Patrick on Tuesday night because the fire blocked their route home.
Harrison, owner of Above and Beyond Randy's Bobcat, was in Port Alberni to put gravel on the Ministry of Forests site. They had to leave a bobcat and trailer with a friend.
They spent the night in their dump truck, sleeping in the back at first and moving to the front seat when the temperature dropped in the middle of the night.
At 7:30 a.m. they were allowed to take their truck on a "really rough" three-hour trip on the detour to reach home.
It doesn't make sense that there is only one paved route for communities on the west side of the Island, including Tofino, Ucluelet and Bamfield, Harrison said. "It is absolutely insane in this day and age that we have one escape route."
Harrison, who lives about six kilometres from the fire, is watching the situation closely.
"We are just going to get fire-ready and maybe load the motorhome up and get a couple of things ready in case we have to get out of here."
A neighbour has a fire pump prepared to pull water out of a nearby creek and Harrison may use it too if necessary.
Highway 4 runs from Qualicum Beach to Port Alberni, Ucluelet and Tofino, and now has signs and traffic-control workers positioned to alert the public to the closure. There are also information checkpoints in Lake Cowichan, Coombs, near the Port Alberni Visitors' Centre and east of Whiskey Creek.
Port Alberni Mayor Sharie Minions said Wednesday that the fire's proximity is less of a worry than the road closure.
"Obviously no detour route out of Port Alberni is going to be an ideal route for people to be travelling," she said. "We're just asking people to stay put wherever possible."
The biggest priorities for using the detour are safety vehicles and commercial vehicles carrying supplies into Port Alberni and points west, Minions said.
Tofino Mayor Dan Law said the opening of the detour route means food and other essentials can get through, which will "take the heat off."
"Having said that, we know that businesses are wondering how long it's going to be for the main road, Highway 4, to be shut and, of course, they're concerned," he said, noting the height of the tourist season in Tofino is about to arrive.
"We're looking at about 70 per cent occupancy right now, so that allows us to certainly make sure that anybody that's stuck here and can't leave has a place to stay."
Five helicopters and 26 firefighters supported by air tankers were at the fire scene Wednesday, said Coastal Fire Centre information officer Kimberly Kelly.
The fire is in steep terrain and crews are being challenged by rolling debris, she said.
The fire is about four kilometres east of Cathedral Grove, but Kelly said the park is not currently threatened, and there are no evacuation warnings or orders.
A heavy-duty Sikorsky S61 helicopter from Victoria-based VIH Helicopters Ltd. is one of the five in use at the fire, said VIH director of operations Shane Palmer. The company has been contracted by the B.C. Wildfire Service.
Palmer said the helicopter began working with fire crews on Tuesday, and a base is being set up near Coombs.
He said the fire is just above the highway. "There's steep ground right near the highway so burning trees and things pose a hazard to any traffic," said Palmer, noting the company has six heavy-duty helicopters at fires around the country — one in Quebec, two in Alberta and one near Dawson Creek.
Meanwhile, campfires on both public and private land are banned as of noon Thursday on Vancouver Island and the central coast.
Kelly said fire officials rely on the public for early wildfire detection, and urged anyone seeing a fire to call 1-800-663-5555 or *5555 on their cellphone.
She said forests are getting drier and there is no significant rain in the forecast
For up-to-date highway information, go to DriveBC.ca.
jbell@timescolonist.com
with file from Carla Wilson

— Video edited by Alanna Kelly
>>> To comment on this article, write a letter to the editor: letters@timescolonist.com