Making ends meet is getting more difficult for working families in Greater Victoria.
The Victoria Community Social Planning Council, which crunches cost-of-living numbers annually, estimates that in a two-parent family, both adults need to earn a minimum of $18.73 an hour — what it considers a "living wage" — to maintain an adequate quality of life.
That is an increase of 3.7 per cent from last year, largely driven by the rising cost of housing — up six per cent — transportation, child care and food.
"The living wage has gone up almost four per cent and that's almost triple the inflation rate for Greater Victoria," said Marika Albert, research and development officer for the non-profit council.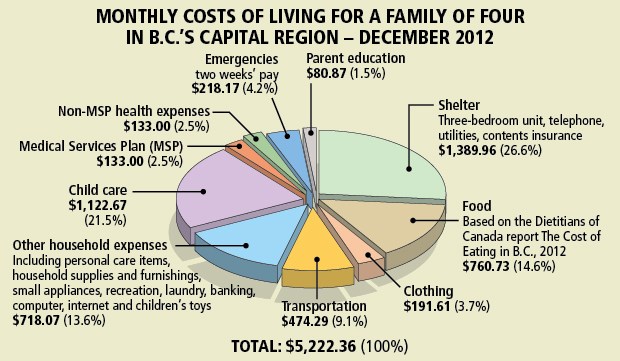 The calculations, based on a family renting a three-bedroom home, with a seven-year-old, a four-year-old in daycare and both parents working 35 hours a week, show they need an annual family income of $68,177.
"A household income of almost $70,000 sounds fairly comfortable, but it's not," Albert said.
According to Statistics Canada, the median income in Victoria is $71,000, which means half the families in the capital region are struggling, she said.
A family income of $68,177 is enough for adequate food, clothing and shelter, but not sufficient to save for a home, children's education, holidays or retirement. Neither is it enough to pay credit-card bills or care for an elderly relative, the report said.
"Some families have to make decisions on what utility bill to pay this month or when to buy shoes that a child needs," said Albert, who wants family poverty to be an issue in the upcoming provincial election.
"Social policy has a profound impact," she said.
Employers can help by paying a living wage instead of the minimum wage of $10.25 an hour, or by providing flexible schedules or bus passes, Albert said.
Kelly Newhook, executive director of Together Against Poverty Society, said the report highlights the struggles of people trying to make ends meet on minimum wage or income assistance.
"People are making horrific decisions, such as taking their children to food banks. There's so much shame involved," she said.
"One of the biggest [concerns] is if you get hit with any kind of disability. In this day and age, it's hard to maintain any kind of quality of life if you become disabled."
Governments need to ensure no one falls through the cracks, said Victoria Mayor Dean Fortin.
"[The report] speaks to why I think government involvement in affordable housing is so important, why government involvement in the provision of public transportation is so important and, frankly, why government involvement in creating jobs is so important," he said.