Most owners of single-family and strata-titled homes in Greater Victoria will see their property assessments slide by two to five per cent this year.
It follows a similar drop of between two and six per cent in assessments the previous year.
The latest assessments reflect changes in the market between July 1, 2012, and July 1, 2013, said Reuben Danakody, assessor for the capital region for B.C. Assessment. Assessments reflect the estimated market value of a home as of July 1 of the previous year. That means your 2014 assessment shows what appraisers figured it was worth in mid-2013.
Slumping assessments mean the region's roll value has declined to $88.8 billion this year from $90.5 billion the previous year. Close to $743 million in this year's value is due to subdivisions, rezoning and new construction.
Assessment notices are going out this week to more than 145,000 properties in Greater Victoria and the southern Gulf Islands.
Notices were in the mail on Tuesday and will arrive any day. To compare property values online, go to evaluebc.bcassessment.ca. It's free.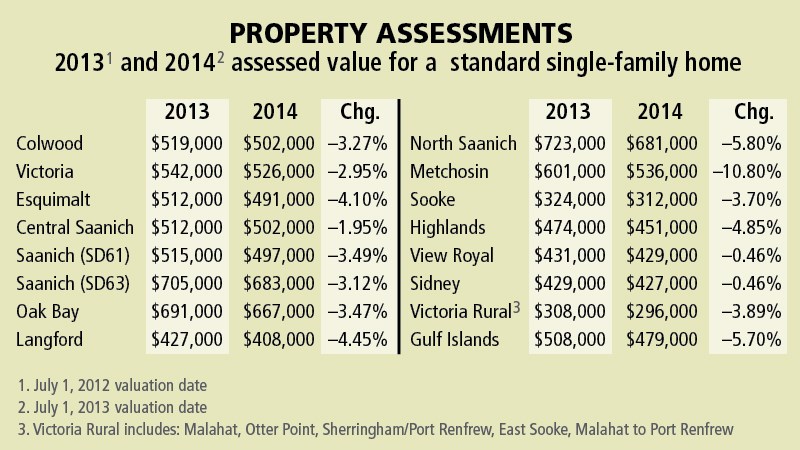 >> PDF: Top 100 assessments in Greater Victoria
>> PDF: Top 10 assessments by jurisdiction
- - - - - - - - - - - - - -
Assessed values for standard homes in every area of the captial region and for the southern Gulf Islands decreased this year over last.
The largest percentage decrease was in Metchosin, which is down by 10.8 per cent to $536,000 for a standard home from $601,000 last year.
North Saanich saw the next largest percentage decline, at 5.8 per cent. A standard home moved to $681,000 from $723,000.
The highest assessed value for a standard home in Greater Victoria is in the east part of Saanich, in the area falling within School District 63, at $683,000.
And the lowest assessed value for a standard home in the capital region is in the area called Victoria rural, at $296,000, which includes the Malahat, Otter Point, and Sherringham/Port Renfrew.
Meanwhile, commercial property values increased from two to six per cent.
"The strength of the commercial property market is being driven by longer-term investor confidence and the entry of new and major tenants into the local market," a B.C. Assessment statement said.
Assessed values do not necessarily reflect the market value of a particular property.
In November's statistics released by the Victoria Real Estate Board, the benchmark value for a typical single-family house in Greater Victoria was $482,300. The benchmark condominium for the region was $280,600.
B.C. Assessment appraisers take into account factors such as the age of the home, its condition, location, size and whether there is a view. It also factors in local services as well as current sales values.
When checking your assessment, bear in mind that it is generally intended to reflect its market value as of July 1, 2013.
Property owners who feel that their assessment does not reflect that or see incorrect information on their notice should contact B.C. Assessment as soon as possible in January, Danakody said.
The Capital Region Assessment office is at 102-3350 Douglas St. During January, office hours are 8:30 a.m. to 5:00 p.m., Monday to Friday.
Property owners can contact B.C. Assessment toll free at 1-866-valueBC (1-866-825-8322) or online by clicking "connect" at www.bcassessment.ca.
"If a property owner is still concerned about their assessment after speaking to one of our appraisers, they may submit a notice of complaint [Appeal] by Jan. 31, for an independent review by a property assessment review panel," Danakody said.
Property assessment review panels are independent of B.C. Assessment. Panel members are appointed annually by the province, and meet between February 1 and March 15 to hear formal complaints.
Assessment facts
Total number of properties on the 2014 roll is 1,954,445, an approximate 1 per cent increase from 2013.
Total value of real estate on the 2014 roll is $1,141,848,449,910, a 1.35 per cent increase from 2013.
Total amount of non-market change, such as new construction and development: approximately $17.54 billion, an increase of 5.38 per cent from the 2013 roll of $16.64 billion.
In B.C., approx. 87.7 per cent of all properties are classified with some residential component. This equates to more than $864 billion of the value on the total provincial roll.
More than 98 per cent of property owners accept their property assessment without proceeding to a formal, independent review of their assessment.
Assessments are the estimate of a property's market value as of July 1, 2013 and physical condition as of October 31, 2013. This common valuation date ensures there is an equitable property assessment base for property taxation.
Changes in property assessments reflect movement in the local real estate market and can vary greatly from property to property. When estimating a property's market value, B.C, Assessment's professional appraisers analyze current sales in the area, as well as considering other characteristics such as size, age, quality, condition, view and location.
Real estate sales determine a property's value which is reported annually by B.C. Assessment. Local governments and other taxing authorities are responsible for property taxation and, after determining their own budget needs this spring, will calculate property tax rates based on the assessment roll for their jurisdiction.
B.C. Assessment's assessment roll provides the foundation for local and provincial taxing authorities to raise more than $6.2 billion in property taxes each year. This revenue funds the many community services provided by local governments around the province, including the public school system.
B.C. Assessment's website provides a listing of property assessments and sales to help property owners understand their property's market value and provide comparable sales information. Go to www.bcassessment.ca and click on the e-valueBC link. Copies of neighbourhood assessments are also available at local area offices and most municipal halls and government agent's offices across the province.
[Source: B.C. Assessment]