The Malahat First Nation and Steelhead LNG Corp. confirmed Thursday that they want to build a floating liquefied natural gas processing plant in Saanich Inlet, on the foreshore at Bamberton south of Mill Bay.
Costs for the plant and the pipeline that would be needed to bring natural gas to the Island for both the Bamberton LNG plant and Steelhead's other proposed LNG plant near Port Alberni, and the proposed payment to the Malahat First Nation, were not disclosed at a news conference.
The Malahat First Nation bought the 525-hectare Bamberton site last month.
Steelhead said the facility would be able to produce six million tonnes of LNG annually and result in 200 long-term jobs on top of hundreds of jobs created during construction.
Malahat First Nation CEO Lawrence Lewis said benefits are already starting to flow to the area as a result of work on the deal in the past 13 months, but he stressed the process is in its early stages and it's unlikely anything will be built for at least five years.
"This is another step forward and another indication that the nation is open for business," he said.
"So it is designed for the beneficial interest for Malahat citizens first and foremost, second for our brothers and sisters inside the Coast Salish traditional territory and third, but not least, the greater community.
"The nation is very clear that its traditional ownership, traditional jurisdiction, traditional use of land and traditional access to resources must be protected first and foremost, and in fact should be designed to enhance those things."
He said the Malahat First Nation is prepared for protest from a community that has repeatedly fought, often alongside the nation, against development at Bamberton.
The LNG project caught many area residents off guard.
Lori Iannidinardo, who grew up in Mill Bay and is Cowichan Valley Regional District director for Cowichan Bay, said the first she heard of it was online on Wednesday. "I'm absolutely caught off guard and absolutely surprised." She said she expects that as the community hears of it, there will be plenty of outrage and protest.
Adam Olsen, interim leader of the B.C. Green Party and a member of the Tsartlip First Nation, which looks across Saanich Inlet at the Bamberton, said it's concerning that few people knew about the project until the news conference was announced.
"They are 13 months into the process and this is the first we're catching word of it? That's a problem. There are four First Nations that need to be consulted across the way, and as a member of one of those, I'm staunchly against this."
Olsen said he does not believe the project will ever see the light of day. "It's not a project I see happening."
Anne Bomford, a former CVRD director for Mill Bay, who was part of the fight against David Butterfield's Bamberton development plans in the 1990s, said the LNG project is a massive concern for locals.
Saanich Inlet is not the place for this kind of industrial development, she said.
"I'm wondering how much this company has looked at this body of water. It can't take [industrial use]. It was shown to be fragile when studies were done 20 years ago. This is a huge concern given the amount of work done to fight [development] here."
Steelhead chief executive Nigel Kuzemko said there will always be opposition when new projects are announced, and community concerns will be taken into account.
Kuzemko said the Malahat project will improve the economic argument for the much larger $30-billion Sarita LNG project, located on Huu-ay-aht land at Sarita Bay near Port Alberni.
"Even though [the Malahat] project is modest in terms of other LNG projects in B.C., the required infrastructure for such projects is significant," he said. "The ability to link the Malahat LNG project and the Sarita project together helps to make such investments viable.
"The regulatory process for the pipeline is probably going to take slightly longer than the facility, so our next step is to get into that process," he said. That will mean coming to terms with First Nations along a proposed route. "That will be what we're doing from today onwards."
Kuzemko said they were not put off by cancellation of the Strait of Georgia crossing pipeline in 2004. Despite spending $50 million over four years, B.C. Hydro scrapped a $340-million pipeline that was to fuel gas-fired electricity generation on Vancouver Island. That plan was killed because it was deemed too expensive and didn't fit the Island's energy needs.
"A lot has changed in the last 12 years. Demand for energy is different. demand for cleaner energy such as natural gas is certainly stronger than it was 10 to 12 years ago and technology has gotten better," he said.
aduffy@timescolonist.com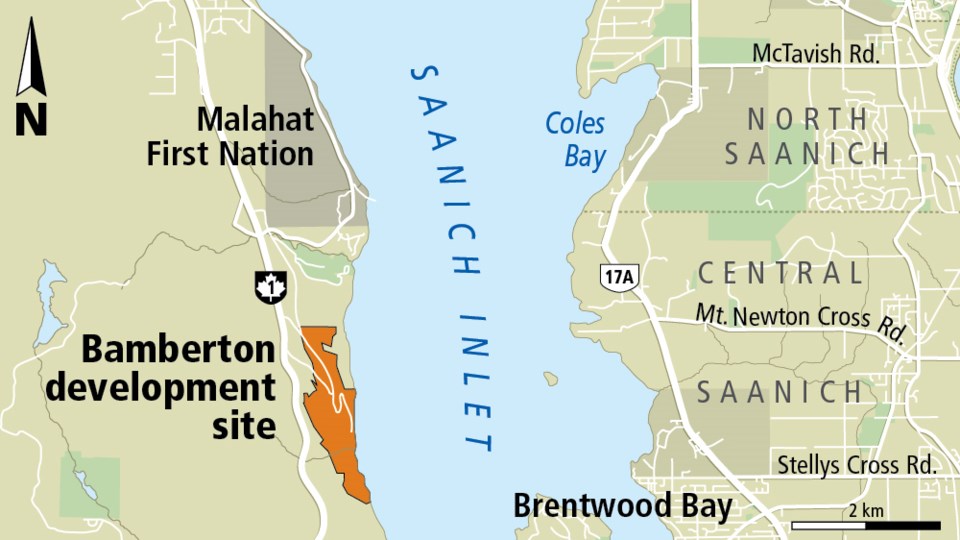 - - -
Earlier story:
The Malahat First Nation and Steelhead LNG have called a news conference for today to announce a proposed new liquefied natural gas project for Vancouver Island.
Steelhead spokesman Greg Descantes offered no details, but confirmed the project is separate from the company's plan to build a $30-billion facility near Port Alberni in partnership with the Huu-ay-aht First Nations.
"It's not a replacement," Descantes said of the Malahat proposal. "It's an additional one."
The location for the proposed Malahat plant was not released, but last month the First Nation purchased the Bamberton development site from Bamberton Properties LLP for an undisclosed price.
A former cement quarry, the 525-hectare site has five kilometres of waterfront on Saanich Inlet. It has been eyed for a number of development schemes over the past two decades.
Malahat First Nation CEO Lawrence Lewis said at the time that several light to heavy industrial uses would be explored for the site.
He was unavailable for comment Wednesday.
Lewis, acting chief Tommy Harry and Steelhead CEO Nigel Kuzemko are expected to be on hand for the LNG announcement at the Kwunew Kwasun Cultural Resource Centre in Mill Bay.
There are 20 LNG proposals at various stages of development in the province, each facing a long list of regulatory hurdles.
The B.C. government issued a brief statement Wednesday, saying only that the Malahat project is in the early stages of review and that "additional engagement with the Malahat First Nation as well as other affected First Nations will need to be undertaken as the project moves forward."
NDP critic Bruce Ralston said it's too early to comment on the project's potential.
"I mean, it's only in the starting gate. It's not even out of the starting gate," he said. "So it's very hard to predict where they would go or how successful they might be."
But he said the project will likely face significant questions about its potential impact on Saanich Inlet.
"Obviously, the issue that I think would arise would be on the environmental protection side."
The NDP voted against legislation last month that is expected to pave the way for a $45-billion deal with Malaysian-led Pacific NorthWest LNG to build a plant on Lelu Island, near Prince Rupert.
Natural gas would be delivered by pipeline to the plant, liquefied and loaded onto tanker ships for export.
The project has yet to pass a federal environmental assessment, but the province projects that, if it proceeds, it will create 4,500 jobs at peak construction and generate more than $8 billion in provincial revenue by 2030.
The NDP argued that the Liberal government failed to secure job guarantees, protect the environment or get a fair return for the public.
The Malahat First Nation, meanwhile, is preparing to announce the project with its governing council in turmoil following the resignation last week of Chief David Michael Harry. His uncle, Coun. Tommy Harry, took over as acting interim chief, but he and the two remaining councillors have since announced their resignations and called a general election for Nov. 2.
In a letter posted on the Malahat website, Tommy Harry says he will continue in the role of acting interim chief until the election.
"Elections were originally scheduled to take place in January," he said.
"However, in light of Chief David Michael Harry's recent resignation, we feel it is important to provide the community with the opportunity to vote for a chief and council this fall that is fully endorsed by the community."
A separate statement on the website says: "David Michael Harry is in support of the election being called and will not be running."
He stepped down amid allegations that he had received a consulting fee from the operators of a contaminated-soil dump near Shawnigan Lake.
The allegations, which have not been proven in court, were contained in a court filing by the Shawnigan Residents' Association, which is fighting to shut down the dump. The former chief could not be reached for comment.
The dump's owner, Cobble Hill Holdings, says the residents' association is using documents and information out of context and that the company will respond to the allegations in due course.
— with files from Bill Cleverley
lkines@timescolonist.com