Thousands of residents and visitors descended on downtown Victoria on Monday to take part in Canada's 146th birthday celebrations.
For 20 years, Cynthia Stork has come to the Inner Harbour to celebrate Canada Day, but this is the first year she decided to dress up and take part in the living flag on the lawn of the legislature.
"I've seen everybody else dress up in the red and white, and I wanted to this year," she said, wearing a bright red mask, tartan scarf and long red dress. She described taking part in the 3,000-person living flag as "exhilarating" and hopes to do it again next year.
Cherie Kidd, the mayor of Port Angeles, made a quick appearance at the living flag and encouraged participants to cheer and sing O Canada.
Cyclists, drivers and kayakers made the trek to the Inner Harbour to people-watch and celebrate the holiday.
"We can watch everybody have fun," said Beverly Van Druten-Blais, from her vantage point in a kayak.
She and husband Guy Blais have kayaked to the Inner Harbour for Symphony Splash before, but this was the first time they made the trip from their home in James Bay for Canada Day.
Crowds of sightseers were entertained by a mix of jugglers, magicians and musicians.
To help manage the crowds, Victoria police brought back the #VicPDhelps Twitter hashtag, urging residents to report non-emergencies — such as public drunkenness or lost relatives — over Twitter. One user reported a man passed out in front of the Bay Centre mall, while another tipped police off to beach fires on Dallas Road.
"We saw with the Stanley Cup riots that people are willing to take a stand and say 'enough is enough,' " said Const. Mike Russell. "We're giving [people] that outlet."
As part of the crackdown on misbehaving revellers, police once again teamed up with B.C. Transit to ban liquor on buses, with some passengers facing searches. In the evening, police officers set up a roadblock on Douglas Street, near Pembroke Street, to check bus passengers on the way into downtown.
Passengers on a double-decker bus cheered as a group of drunken teens was taken off the bus and questioned by police. Many revellers heading to the Inner Harbour appeared to be under the legal drinking age. Reinforcements from Saanich and Oak Bay police were drafted to help with crowd control.
The official downtown partying ended with a fireworks show, with the finale set to O Canada. Most of the crowd, encouraged by police, dispersed as the smoke cleared, but a scattering of people lingered to continue the partying.
nwells@timescolonist.com
- - -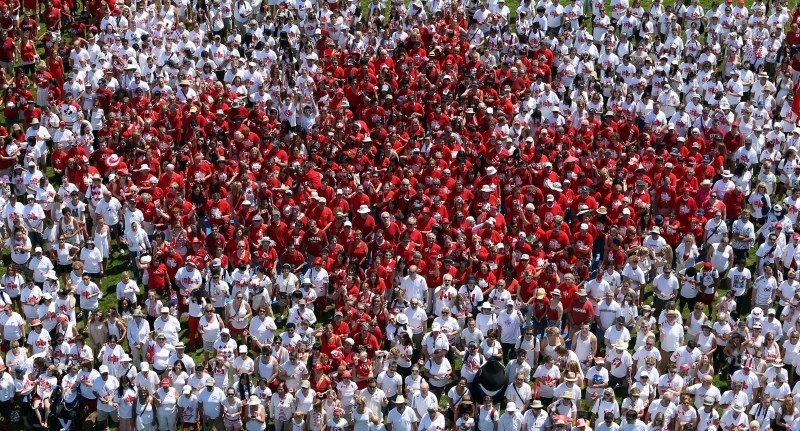 - - -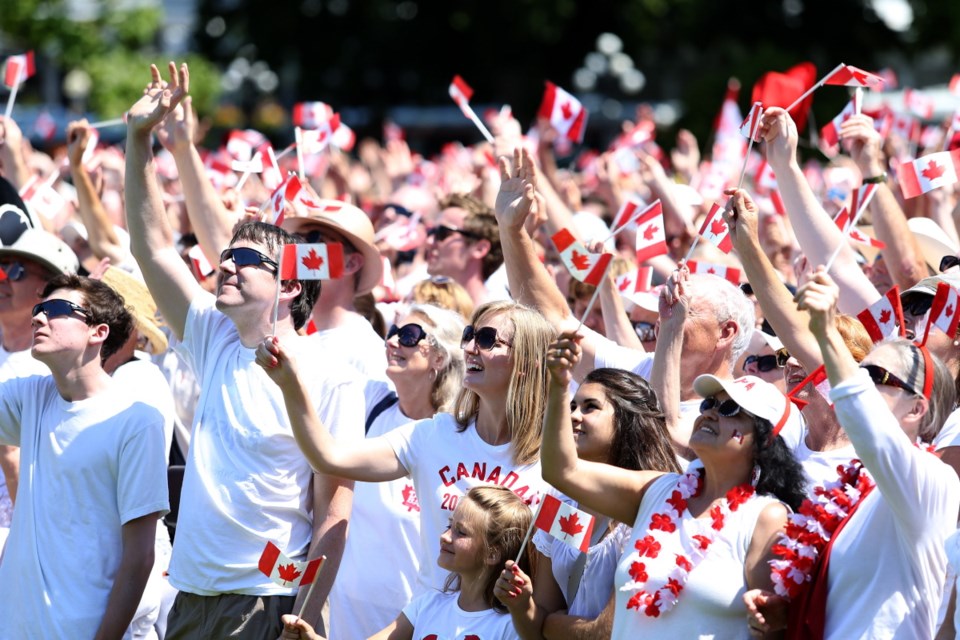 Participants forming the living flag gather on the lawn of the legislature on Canada Day.
- - -
Canada Day events on Monday
• Musical entertainment begins at noon at Ship Point; kids' zone on the legislature lawn at noon.
• Living flag at 2 p.m., legislature lawn. Musical entertainment on the lawn at 3 p.m., with Le-La-La Dancers, Caracol, Acres of Lions, Kathryn Calder, Hey Ocean among others.
• Old-Time Penny Carnival with egg-on-spoon race, fishing pond and other games, noon-4 p.m. at Royal B.C. Museum grounds surrounding Helmcken House and St. Ann's Academy. Full schedule at victoriacanadaday.ca
• Sidney: Lions pancake breakfast, 9 a.m. at Mary Winspear Centre; Sidney Canada Day Parade, starting 11 a.m. at Beacon Avenue and Resthaven Drive. Family Fun Fair, Iroquois Park, starting at noon. Slegg Lumber Build a Boat in Beacon Park at the end of Beacon Avenue, with The Launch Boats Race, 4:45 p.m. in front of Sidney Waterfront Inn at Glass Beach. Details at peninsulacelebrations.ca
• Gorge Picnic, along the Gorge Waterway on Gorge Road between Tillicum and Admirals roads, 8:30 a.m. to 4:30 p.m., featuring Gorge on Art, family parade, kids' activity area, road hockey, classic car show, artisans market and Morris dancers. Main stage entertainment at Koapsum Park with by West My Friend, Brishen, Cookeilidh, Reynolds R&B Band, Vancouver Island Scottish Country Dancers and Jennifer Louis Taylor. Details at gorgecanadaday.ca
• Fort Rodd Hill and Fisgard National Historic Site: live music, birthday cake and children's activities, 10 a.m. to 5 p.m.
• Inner Harbour fireworks at 10:20 p.m
- - -
A little planning will go a long way to ensure celebrants will have happy memories of Canada Day, one of the most event-filled days of the year in the capital region.
With road closures and thousands of people heading downtown this weekend, it's a good idea to leave the car at home and take the bus instead. B.C. Transit will be adding extra buses to accommodate revellers expected to make their way to the Inner Harbour to take in the two days of Canada Day festivities.
Bus service will be operating at Saturday service levels on Monday, with late-night runs on routes No. 4, No. 6 and No. 14.
There will be a number of road closures on Monday. Belleville Street from Menzies to Douglas will be closed from 10 a.m. to midnight.
Government Street from Humboldt to Superior will be closed from 4 p.m. to midnight, along with Wharf Street from Humboldt to Broughton Street.
Riders should watch for street signage to indicate special-event boarding locations along Douglas Street. People staying to watch the Inner Harbour fireworks on Monday, beginning about 10:20 p.m., are urged to quickly make their way to buses after the event.
Alcohol is prohibited on buses. In co-operation with the Victoria Police Department, bus riders might be asked to show they are in compliance. For more information, go to bctransit.com/regions/vic.
The Victoria Police Department is advising the public it can make non-emergency calls on Canada Day for service on Twitter, with the hashtag #VicPDHelps.
The police department introduced this tool last year as a way to engage the public during the celebrations downtown.
Information and pictures sent to the police were responsible for police being aware of a man brandishing a knife, disturbances, open drinking and drinking on buses.
They were also able to locate a missing 90-year-old man with crowd-sourced information.
"Having this tool available for the Canada Day celebrations is just another example of our commitment to ensuring these celebrations continue to be a fun-filled family time," said Staff Sgt. Darren Laur.
The police department will have a full contingent of officers and reserves throughout downtown.
#VicPDHelps will be monitored from 3 to 11 p.m. Canada Day only. People should still dial 911 for emergencies.
For more information, go to vicpd.ca.