Food sightings from 11 a.m. to 1 p.m. on a sunny Friday in downtown Victoria:
A woman walking and eating salad from a plastic bag, much as you would eat potato chips.
- - -
Hernande'z, the Central American place at St. Andrew's Square, on Yates near Douglas, has really expanded since I last strolled through many months ago. It has sprawled across to the other side of the concourse, with kitchen on one side and ordering counter on the other. There are many signs written in a clear script admonishing this and that: don't bother the kitchen staff, plates are extra, etc. Meals arrive on a sheet of paper, and they look good. It was really crowded when I strolled through at 12:30 p.m. -- all the seats were taken and people were in line waiting to order. I'm not sure what you do if you order and then can't find a place to sit. Some people seemed to be negotiating seats with strangers. There's a lengthy explanation of what they're all about at their website.
- - -
Souped Up is in the same St. Andrew's concourse. They serve soup, stews, chili and sandwiches. And hot oatmeal, too, a sidewalk sign said. There was the enticing aroma of curry when I wandered through. All eight tables (each big enough for four if you squished) were taken.
- - -
There's a clothing store near Souped Up and Hernande'z. I wonder how its stock fares amid all the food smells.
- - -
I encountered the Puerto Vallarta Amigos Mexico food truck at the corner of Wharf and Yates. It was a bit of a startling sight, since Victoria isn't known for its food trucks. An article in the Diversity Reporter newspaper says the truck is operated by the Espinoza family, who have experience running restaurants in Mexico, in Acapulco and Puerto Vallarta. They were bustling when I spotted them around 12:20 p.m. A dozen people were clustered in front of the truck, some standing and eating, some waiting for their orders. I spotted two chairs. Four people in red shirts were in the truck taking orders and preparing the food.
Their website says they're parked at Wharf and Yates, Monday through Friday, from 11 a.m. to 3ish. They've also been known to set up shop on weekends to serve the late-night bar crowd.
On the menu: tacos, $6; quesadilla, $6; torta, $6; combo, $8.
- - -
At the Red Fish Blue Fish fish-and-chip stand, where the lineups stretch to 30-40 people during the summer, 11 people were in the lineup at 12:26. Another 20 or so were eating,
- - -
Pagliacci's on Broad Street was packed, but there was no line out the door, as there often is.
- - -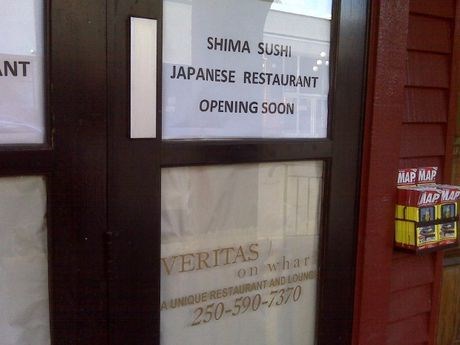 Veritas on Wharf is gone, and the sign says Shima Sushi is moving in. The Times Colonist's Pam Grant checked out Veritas back in July and gave it a so-so review.
- - -
And, some sightings on a Sunday evening: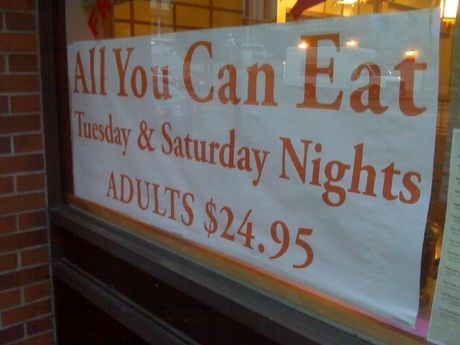 Yokohama, the long-established Japanese restaurant on Blanshard at Broughton, has an all-you-can-eat offer for $24.95 on Tuesday and Saturday nights. The all-you-can-eat menu includes tempura, teriyaki, tofu and noodles, shabu soup, and a large assortment of rolls and cones. A very limited selection of sushi is included.
- - -
More food places are adopting late-ish hours, especially on weekends, including the semi-new Beirut Express on Fort, near Blanshard. I haven't tried it yet. A couple of colleagues dropped in and said they liked it. Darron Kloster wrote about Beirut Express for the Times Colonist business section in July.
- - -
At 6ish Sunday, the new Zambri's, on Yates near Blanshard, in the Atrium building, was packed, with a short lineup inside. (They don't take reservations.) The outdoor tables weren't being used — a little too chilly. I strolled past again after 9, after seeing The Girl Who Kicked the Hornets' Nest, and they were still busy, though not as packed as at 6. The selection of restaurants open on a Sunday at 9 is pretty limited; it's nice to know Zambri's is an option. Their website says they are open until midnight daily.
- - -
A colleague reports that the new Moon Under Water brew pub, in an industrial area at 305-B Bay Street, near the Bay Street bridge, is in the midst of a soft opening. The Times Colonist had a story about it in August. Moon Under Water has a blog. And there's a review here from lordpork.
Their menu offerings include fries, onion rings, nachos, salads, burgers, sandwiches, curried chicken, pork chop, chicken pot pie, and salmon.
- - -
The BBC has a video report on the food truck culture in Los Angeles.
- - -