Food package labels, it turns out, are sometimes a little loose with the truth.
In the U.S., the Food and Drug Administration is warning the makers of Canada Dry Sparkling Green Tea Ginger Ale and Lipton Green Tea 100% Naturally Decaffeinated to stop making health claims about their drinks. Claims about health benefits from "antioxidants" are improper, the agency says. latimes.com has a story. The packaging for the Canadian version of the Green Tea Ginger Ale doesn't make health-related claims. The slogan on the case only makes this modest statement: A Refreshing Blend of Green Tea & Ginger Ale.
- - -
A study by the Canadian Food Inspecton Agency found that claims for many packaged foods are overstated. But it doesn't name names. Don't judge a cookie by its packaging, CFIA finds out in testing - at timescolonist.com
- --
Eric Akis is writing a series about Greater Victoria chefs and is inviting them to share favourite recipes. The first story is about David Mincey, executive chef and owner of Camille's. At timescolonist.com
- - -
If you're in Britain, in Yorkshire, you can go on a bus daytrip where the main event is a visit to a pub restaurant. I'd be interested in doing this, I think. The cost is £21.95. The  version for the Red Lion Inn at Thornton Le Dale offers these main courses: roast beef with Yorkshire pudding, roast turkey with stuffing, ham and pineapple, cod, chips, peas and salad, and vegetarian nut roast with cranberry and port sauce. Check it out at Drive and Dine at the Red Lion Inn. An aside: I've noticed that a lot of places in Britain have Lion in their names, such as Blue Lion Inn East Witton, Lion Inn Blakey Ridge, White Lion Inn in Cray, Ye Olde Red Lion Holme upon Spalding, and Golden Lion Ferrybridge  -- all in northeast Yorkshire.
- - -
Three of us recently ate at the Flying Otter Grill, at Victoria's Inner Harbour. And by harbour, I mean on the harbour, in the floating building that also serves as Harbour Air's floatplane terminal.
The mushroom pizza, for $12, has lots of mushrooms and lots of cheese.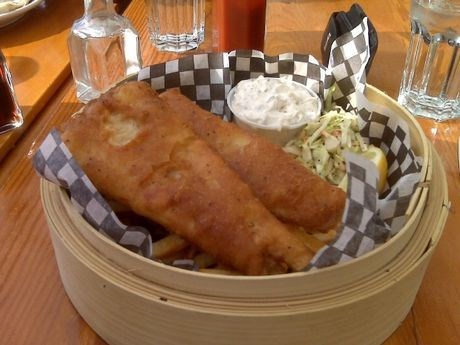 Fish and chips - two-piece cod version is $13. It comes in a bamboo steamer basket. The fish has awfully straight lines (made in a factory?) but tastes good. Batter was crispy, fish was moist.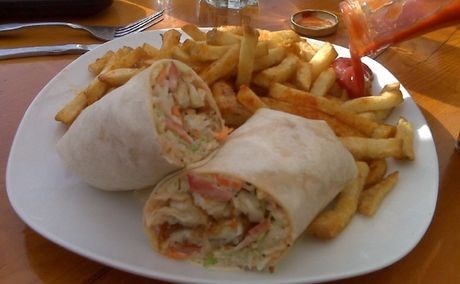 The halibut wrap, for $12, was generous with the halibut.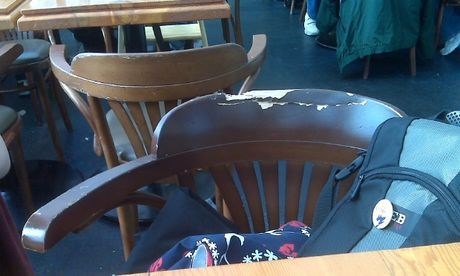 Some of the furniture has seen better days.
- - -
.