SOCHI, Russia — The snow report. Ticket sales. Train times. Terrorist threats. Construction problems. Civil rights.
In this Olympic winter, there's plenty to talk about here. But if your host is translator and guide Anna Trotsenko, those topics probably aren't where the conversation is going to begin.
"We're not Istanbul," Trotsenko said earlier this year, leading me through the heart of the town of Sochi. "We are not St. Petersburg. We are not Moscow. ... We are just a small resort city that is not very old. ... A very special city."
This demure introduction might not be what you'd expect for an Olympic destination handpicked by arm-wrestling, glider-flying, crossbow-brandishing Russian President Vladimir Putin, then bolstered with an estimated $50 billion in construction spending. But Sochi, host of the Games that will begin Feb. 7, isn't your typical Winter Olympics city.
Greater Sochi (population: about 400,000) extends for more than 60 miles along the edge of the Black Sea. There are palm trees and beaches. Moscow is about 1,000 miles north. Though the commanding Caucasus mountain range begins just inland, the coast is subtropical with average winter highs in the 50s and lows in the high 30s.
Boosters used to call it the "Caucasian Riviera." Until 2007, when it was selected to host the Olympics, Russians knew Sochi best as the summer spa city where Joseph Stalin vacationed in the 1930s and Putin vacations now.
Now, after years of labor by more than 60,000 workers (and a quadrupling of the original cost estimate), the south end of the city has sprouted half a dozen Olympic indoor sports venues, along with housing for athletes and VIPs. Thirty miles inland in the mountain zone known as Krasnaya Polyana, another cluster of venues and resorts will host outdoor sports. To transform the 30-mile drive from coast to mountains into a 30-minute commute, Putin and company have built a new road and railway.
The Adler Rail Station, which opened Oct. 28, will handle up to 15,000 people an hour as they move between the mountains, the coastal Olympic Park and the international airport that went up in 2010. Not long after the Olympics, Formula 1 racing is due to arrive. And in 2018, Sochi hosts the FIFA World Cup soccer tournament.
But what if this winter's production goes poorly? The world could turn away.
After weeks of wrangling over press credentials, flight reservations and a visa application, I spent four days in Sochi last winter. In central Sochi, you'll find Michael Archangel Cathedral, one of the few buildings in town from the 19th century. The 1950s Marine Passenger Terminal includes a towering spire and the Chaika restaurant, whose patio is a fine place for a fruit tart in mid-afternoon. If it's chilly, your waitress will bring you a blanket.
Elsewhere in town, fishermen gathered under a seaside gazebo to cast for bottom-feeders. Couples meandered on a bluff-top promenade near the crumbling Primorski Hotel, which once must have been wonderful. There are art and history museums, a sprawling dendrarium (arboretum), a '50s train station, and restaurants specializing in sushi and khachapuri, or Georgian cheese pies.
In many respects, Sochi and Long Beach could be siblings — and so they are, through a Sister Cities pact signed in 1990. The city turns up on some Black Sea cruise itineraries and attracts as many as 4 million Russian travelers yearly, depending on who's estimating. But since the rupture of the Soviet empire, many heat-seeking Russians have headed to Turkey and beyond.
After this winter, who knows? About 25 miles south of central Sochi stands Sochi Olympic Park, built in the once-lonely Adler area. The checked blue pattern of the Iceberg Skating Palace is striking, as are the slanting lines of the Shayba Arena, the curvaceous Bolshoy Ice Dome (a hockey venue) and the split dome of Fisht Stadium, site of the opening and closing ceremonies.
The coastal Olympic Village, still populated by construction workers during my stay, will hold about 3,000 people (half of the athlete contingent) in several dozen Mediterranean-style buildings. International Olympic Committee officials will stay at the Radisson Blu Resort & Congress Centre, where I hope they get timely, tasty room-service meals, and the front desk keeps its taxi reservations and payments straight. (Those things didn't happen for me, but the hotel was just 3 months old when I was there.)
It's easy to forget that about five miles southeast of all this Olympic infrastructure, Russia ends, Abkhazia begins and the region's instability becomes clear.
Russia recognizes Abkhazia as an independent country that used to be part of Georgia. But Georgia and the U.S. still consider Abkhazia to be Georgian territory. Meanwhile, the U.S. State Department notes that terrorist bombings and hostage-takings "continue to occur in Russia, particularly in the North Caucasus region, which is less than 100 miles from Sochi."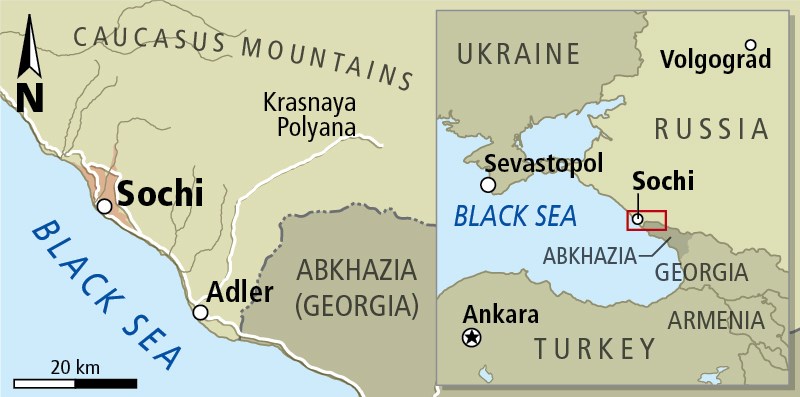 In a July 4 video, Islamist leader Doku Umarov, who has claimed responsibility for several fatal bombings in Russia, urged followers to use "maximum force" to prevent the Olympics, which he called "satanic Games to be held on the bones of our ancestors." Russian and Olympic officials have said they are taking extensive anti-terrorism measures.
The coast-to-mountain route was far from complete during my stay, so a taxi driver and I spent 50 minutes in traffic on the old highway to reach muddy, crane-filled Krasnaya Polyana, the Laura cross-country ski complex (open since 2008) and the Rosa Khutor Alpine Resort (much of which opened in 2011 and 2012). In all there are five event venues at Krasnaya Polyana.
The valley floor is about 1,800 feet above sea level, and the peaks near 8,000 feet. World Snowboard Guide has singled out the area for "well-maintained pistes, quality apres-ski but also "overly high prices" and unreliable snow.
With historic snowfall data in short supply, organizers have set up an armada of snowmaking machines and stored an insulated reserve of snow from the year before — as much as 500,000 cubic meters. So the powder I saw in February 2013 may yet see skis in 2014.
In Rosa Khutor, I couldn't help but think of a Potemkin village, the fabled, false-fronted Russian town that was built to impress strangers. And it's true; Rosa Khutor is an instant European village: several blocks of hotels and restaurants, complete with a clock tower, bridge over the River Mzymta, all in service of the gondola lift to the mountaintop. When I arrived, lamp posts and park benches were stacked on sidewalks, awaiting placement. But it's not a false village, just shiny and new.
"I don't know what it was like five years ago, but it must have been so different," said Noah Hoffman, 23, a cross-country skier from Colorado on the U.S. ski team. "My family wanted to come, and I told them, 'Don't.' It's just so expensive."
Outside the Park Inn, I came across the Austrian Nordic combined team, which had come for World Cup competition, clowning with a soccer ball. Not far from there, the New Zealand team was checking in.
Sochi's boosters "have got this vision for the future," said Ben Sandford, 33, who was preparing for his third Olympics as an athlete on New Zealand's skeleton team. "But who's going to come here? It's so expensive. ... They have to be able to grow this resort from inside the country."
The village's hotels, traditional on the outside, bold and modern on the inside, include the three-star Tulip Inn (148 rooms; this month, $175 a night and up), a five-star Radisson Hotel (this month, $215 and up) and a four-star Park Inn by Radisson (this month, $185 and up). The nearby Red Fox restaurant's dining room is crowded with antler chandeliers, chrome animal heads and leather armchairs. If Andy Warhol had a hunting lodge, this would be it.
I had a light dinner of mushroom soup — frothy and wonderful, but for $18, there wasn't enough of it.
Still, there's no denying the beauty of the snow on the slopes. While some of the world's top athletes were preparing for their World Cup races at the Laura complex, I stood alongside the cross-country course, watching lithe figures blur past in their national uniforms, cutting twin ruts through brittle snow, as background chatter echoed in half a dozen languages.
In that moment, greater Sochi looked its best and felt Olympic indeed. Then the race began, and the competitors stowed their winning smiles and lurched up the path. Like Sochi itself, they were on their way, stakes high, results anybody's guess.
———
IF YOU GO
Sochi is 12 hours ahead of Pacific Standard Time.
In early December, the Russian ruble was trading at about 30 per Canadian dollar.
Entry requirements: Passport, plus visa to be obtained before leaving Canada.
TELEPHONES
To call the numbers below from the U.S., dial 011 (the international dialing code), 7 (the country code for Russia), 862 (the city code for Sochi), followed by the local number.
TICKETS: For information about tickets, go to CoSport.com
WHERE TO STAY
Peak Hotel, 77 Zashchitnikov Kavkaza, Krasnaya Polyana, Sochi; 259-5999, www.peakhotel.ru/en. Four-star government rating. Two restaurants, two pools, spa, 92 guest rooms, five chalets, five villas. Ten-minute drive from nearest ski lifts. Buffet breakfast included. Rooms for two $160 to $180 in winter (already booked for the Olympics).
Tulip Inn, Rosa Khutor Resort, Krasnaya Polyana, Sochi; 243-0000, www.lat.ms/1htxocC. Three-star government ranking. 148 rooms, restaurant. Two-minute walk from the resort's ski lifts. Completed in 2011. Rooms for two $175 to $250 in winter (already booked for Olympics).
WHERE TO EAT
Chaika, 1 Voikova St., Sochi; 241-8164, www.bosco.ru. In the handsome Marine Passenger Terminal along Sochi's coast. European and Russian dishes. Large patio with sea view. Run by the retailer Bosco, which designed Russia's uniforms for the Games. Lunch and dinner. Most main dishes $13 to $21.
Red Fox, Building 13, Lavanda 3, Rosa Khutor Resort, Krasnaya Polyana, Sochi; 274-4444, en.redfoxsochi.ru. French and Russian cuisine, regional ingredients, high style. Named for a rare animal in the mountains. Seats 117. Opened November 2012. Main dishes $16 to $36.
TO LEARN MORE
Olympics guide: www.sochi2014.com/en/
City guide: www.sochicityguide.com/