If someone who loves to cook is on your Christmas gift list, they might enjoy unwrapping a new cookbook filled with delicious recipes.
Here are four books by B.C. authors that cover a range of topics, from soup to brunch and Greek cuisine to sexy side dishes. I've included a sample recipe from each book.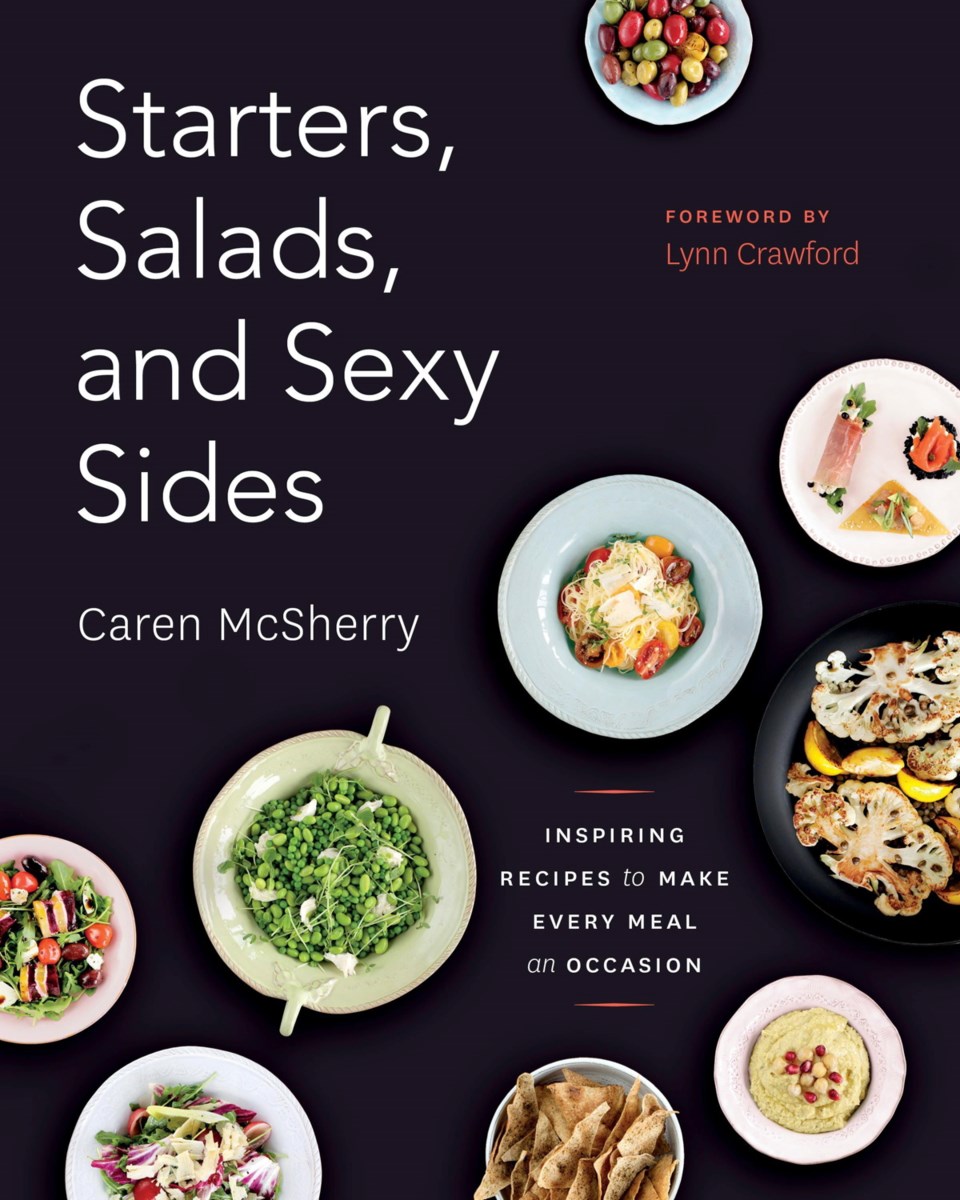 Starters, Salads, and Sexy Sides: Inspiring Recipes to Make Every Meal an Occasion (Appetite by Random House, $24.95)
This photo-rich 176-page book is by Caren McSherry, owner of the Gourmet Warehouse (gourmetwarehouse.ca), an impressive specialty food and houseware store in Vancouver. In it, McSherry solves a problem home cooks face when preparing a meal for a special occasion: deciding what to serve before and with the entrée. She provides a diverse range of delectable recipes for appetizers, festive salads and side dishes that would be suitable for a buffet, a sit-down dinner or a small-plates-style meal. They include rice cakes with smoked salmon, pesto caprese cups, southwest salad baskets, layered beet salad with burrata, and cauliflower steaks with capers and caramelized lemon.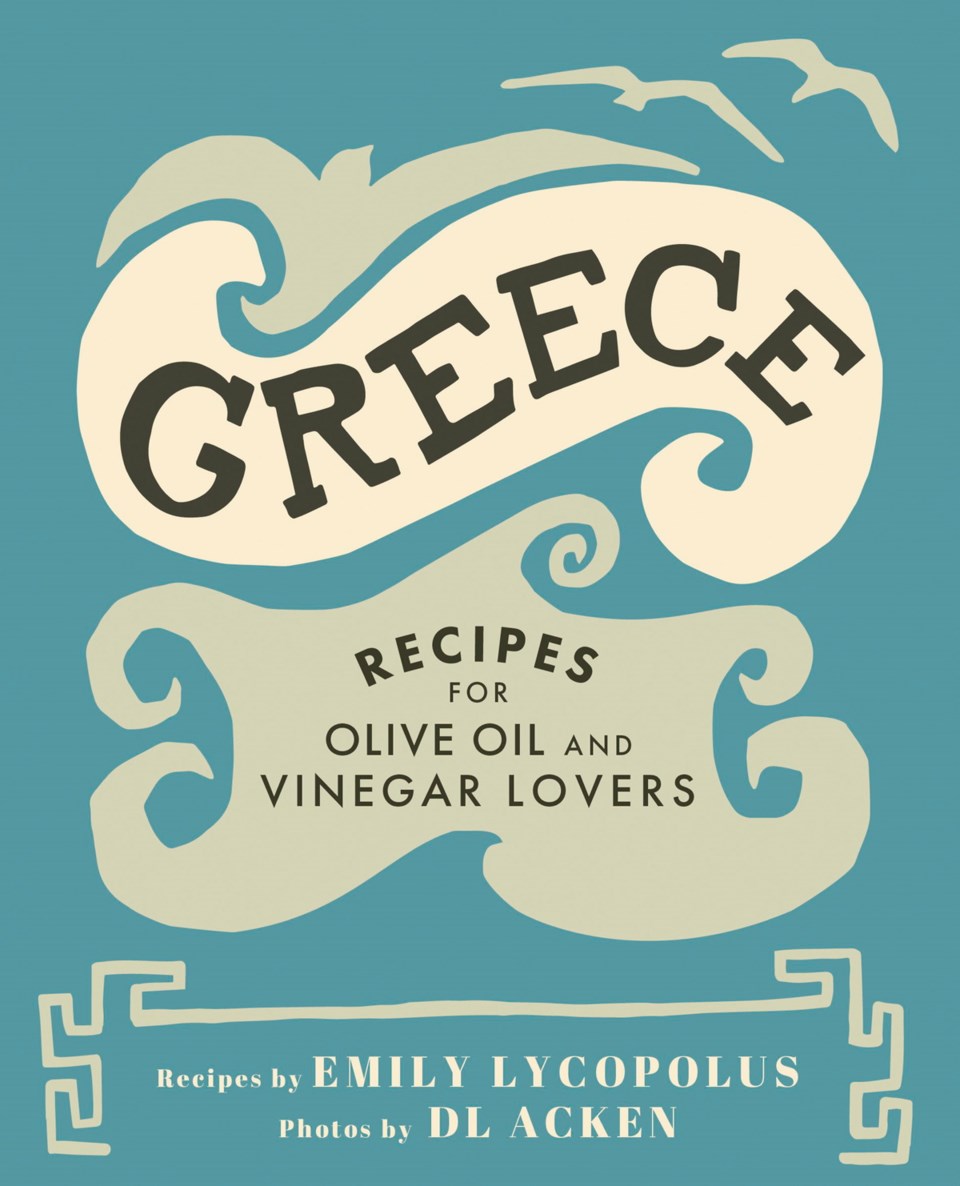 Greece: Recipes for Olive Oil and Vinegar Lovers (TouchWood Editions, $22).
This compact 162-page book is the second in a series of cookbooks being written by Emily Lycopolus. Two of her other titles are, respectively, dedicated to Italian and Spanish cuisine. This book, of course, is packed with flavourful Greek-style recipes. Lycopolus is owner of Olive the Senses (olivethesenses.com), an olive oil and vinegar-tasting room and shop in Victoria, so you won't be surprised to discover that her recipes are all enhanced with splashes of — often flavoured — olive oil and/or the specialty vinegars she sells. Some of her yummy recipes include fresh leek and olive salad, chicken and apricot pie, pumpkin yam moussaka and Greek New Year's cake.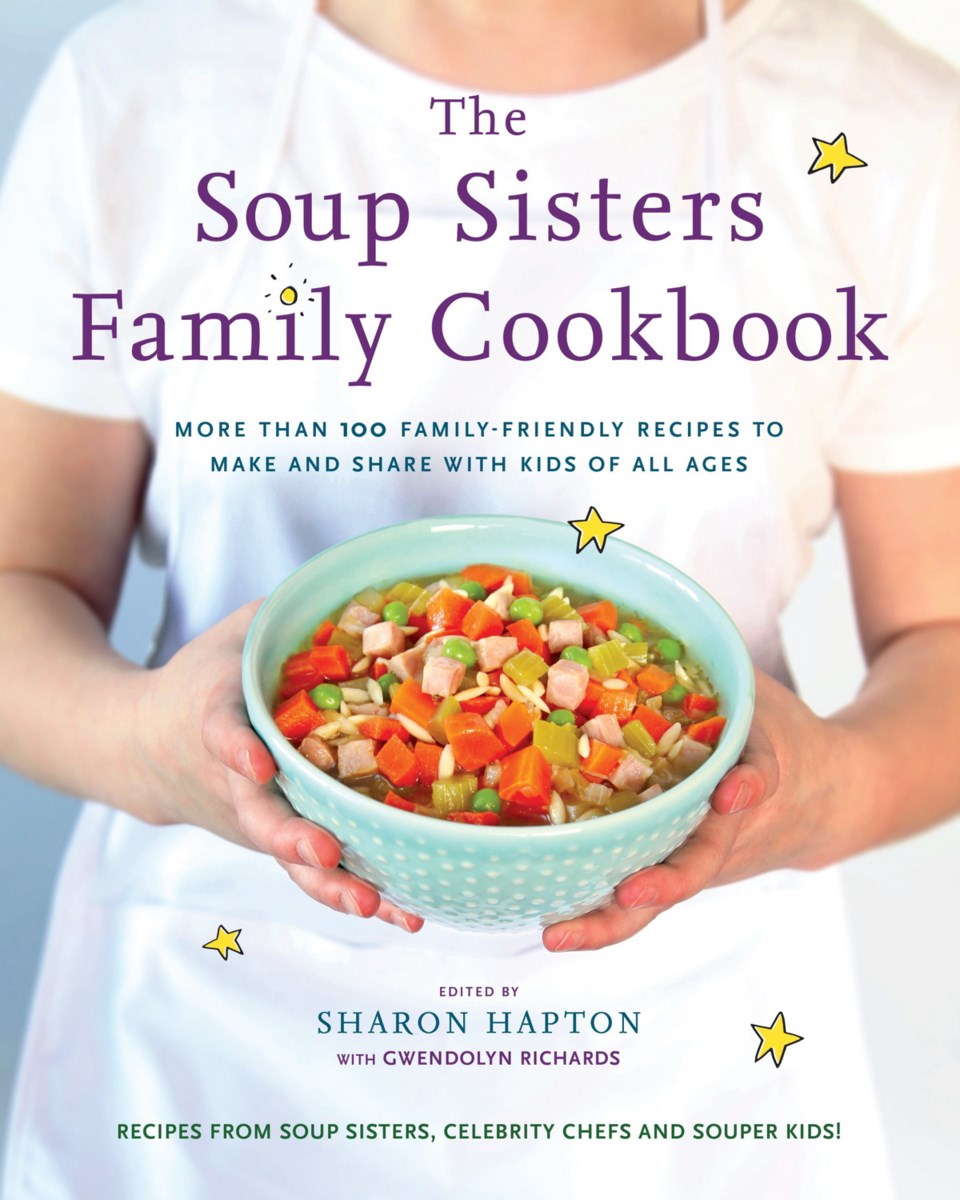 The Soup Sisters Family Cookbook (Appetite by Random House, $24.95)
This is the third cookbook in the bestselling Soup Sisters series. Its subtitle says it contains more than 100 family-friendly recipes to make and share with kids of all ages. Those recipes are, of course, for splendid soups and many were created by food and media celebrities. They include Middle Eastern minestrone by Nigella Lawson, real Greek egg lemon soup by Christine Cushing, and miso corn chowder with blistered peppers by Tara O'Brady. Children from across Canada who enjoy cooking also contributed recipes to the book, such as chèvre onion soup by Matthew Sherbeck, 12, and pumpkin-pie-spiced carrot soup by Arton Hemming, six. When buying this book, you'll be supporting Soup Sisters (soupsisters.org) initiatives across Canada that support women, children and youth in crisis.
First, We Brunch: Recipes and Stories from Victoria's Best-Loved Breakfast Joints (TouchWood Editions, $30.00).
If you enjoy brunch, whether at home or at a local eatery, this beautifully designed 309-page book is definitely for you. It's written by food writer and photographer Rebecca Wellman, who also took the marvellous photos in the book. The book features dozens of recipes from Greater Victoria's most beloved brunch spots. It also tells the stories of the talented people operating those diners, bistros, cafés, bakeries and other locations, serving up this late morning/early afternoon meal. The diverse recipes in the book include Revive brunch smoothie, bacon and egg brunch caesar salad, sausage and smoked cheddar strata, Blue Crab benny and the Ruby's skinny hash. The book also provides great information for finding the ingredients used in the book's recipes.
Aged Balderson Cheddar and Paprika Crisps
This recipe is from Starters, Salads, and Sexy Sides: Inspiring Recipes to Make Every Meal an Occasion (Appetite by Random House, $24.95). The author, Caren McSherry, says these crisp little cheese coins burst with flavour and pair perfectly with wine. You can also make them ahead and freeze them unbaked. When the occasion calls for crisps, simply slice and bake without a mess.
Makes: 60 crisps
6 Tbsp unsalted butter, room temperature
1 cup unbleached all-purpose flour
2 tsp smoked Spanish paprika
2 cups grated aged Balderson cheddar, or other tangy cheddar
• fleur de sel, for topping (see Note)
Place the butter in a medium bowl and, using an electric mixer, beat until light and creamy, about five minutes. Add the flour and paprika and continue to mix until combined. Add the cheese and continue to mix until smooth and evenly incorporated throughout.
Turn the mixture onto a lightly floured board and knead until it forms a cohesive and smooth dough, about 10 minutes.
Divide into four equal pieces and roll into one-inch-diameter logs. Wrap in plastic wrap, squeeze the ends tight to ensure you have even logs, and chill for one hour. At this point, these can be frozen for up to two months.
When you are ready to bake the crisps, preheat your oven to 400 F.
Slice the chilled logs into 1/4-inch disks, and place them on a cookie sheet lined with parchment paper or a nonstick baking mat. Top each with a pinch of fleur de sel, and bake in the oven for seven to 10 minutes. You want them cooked through but not browned. Remove and place on a wire rack to cool. The crisps will keep for three to five days in an airtight container, and can be frozen for up to one month.
Note: Fleur de sel is French-style sea salt that is good for sprinkling and sold at many supermarkets.
French Baked Eggs with White Truffle Cream
This sumptuous recipe is from Rebecca Wellman's book First, We Brunch (TouchWood Editions, $30). The recipe came from Tonolli's Deli in Central Saanich (tonollisdeli.com). Wellman says this delicious and decadent dish is great for the weekend or a special occasion. Serve with toasted baguette to scoop it all up.
Makes: Four servings
12 oz. thinly sliced cotto ham
4 oz. Brie, sliced into 4
8 large eggs
1/2 cup shredded white cheese (mozzarella, Edam, white cheddar are all good options)
1/2 cup table (18 per cent) cream
2 tsp white truffle cream (see Note)
2 Tbsp finely chopped curly parsley
Preheat the oven to 400°F.
Line four 10-inch ramekins on the bottom and up the sides with the thinly sliced ham. Place a slice of Brie in the centre of the ham slices.
Crack two eggs and place one on either side of the Brie in each ramekin. Sprinkle the shredded cheese over the eggs, carefully covering each yolk completely.
Whisk the cream and truffle cream together and pour it gently over the eggs and cheese in each ramekin. Place the ramekins on a baking tray and pour about 1/4 inch of water around the ramekins. Bake for 12-15 minutes. The eggs are cooked soft to medium when the cheese is bubbling and lightly browned on top. Add about five more minutes if you prefer a well-done egg. Remove from the oven, let sit for five minutes and sprinkle with parsley before serving.
Note: The white truffle cream is imported from Italy and available for purchase at Tonolli's Deli. But if you can't find it, replace it with an extra 1 Tbsp of cream plus 2 tsp of white truffle oil, sold at many specialty food stores.
Maple-roasted Squash and Apple Soup
Sweet-tart apple combines with mild butternut squash and a hint of maple syrup in this creamy soup. This recipe is by David Robertson, owner of the Dirty Apron Cooking School in Vancouver. He was one of dozens of food personalities who contributed recipes to the Soup Sisters Family Cookbook.
Makes: about two servings
10 oz. butternut squash, peeled, seeded and coarsely chopped
2 1/2 Tbsp maple syrup
1 Tbsp olive oil
1 large shallot, coarsely chopped
2 cloves garlic, minced
1 Granny Smith apple, peeled, cored and chopped
6 1/2 Tbsp apple juice
3 Tbsp white wine
1 1/2 cups vegetable stock
6 1/2 Tbsp whipping cream
• juice of 1/2 a lemon
• salt and white pepper to taste
Preheat the oven to 450°F. On a large rimmed baking sheet, toss the squash with the maple syrup until the squash is well covered. Spread the squash on the baking sheet, then roast until it browns slightly, about 15 minutes. Remove from the oven and set aside.
In a medium saucepan over medium heat, heat the olive oil. Add the shallot and garlic and cook, stirring, for 2 minutes. Add the apple, apple juice and white wine, then let it bubble until the liquid has reduced by half.
Pour in the vegetable stock and bring the soup to a boil over medium-high heat.
Add the roasted squash to the pot, making sure to scrape all the pieces and juices in. Add the cream, reduce the heat to medium-low and simmer, uncovered, for about 5 minutes.
Remove the pot from the heat. Using an immersion blender in the pot, blend the soup until smooth. Stir in the lemon juice and season with salt and pepper to taste.
Baked Feta
This recipe is from Greece: Recipes for Olive Oil and Vinegar Lovers (TouchWood Editions $22.00). The book's author, Emily Lycopolus, says this dish is warm and delicious and great to serve before almost any meal.
Makes: four to six servings
1 cup cherry tomatoes
1/2 cup Kalamata olives, pitted
1/4 small red onion
1/4 cup garlic infused olive oil
2 tsp lemon juice
2 tsp chopped fresh oregano leaves
1 tsp sea salt
1/2 tsp cracked black pepper
1 lb block feta cheese
Preheat the oven to 375°F.
Slice the tomatoes and olives in half, roughly chop the onion, and add them all to a mixing bowl. Drizzle in the olive oil and lemon juice and sprinkle with the oregano, salt and pepper. Toss to evenly coat.
Line a small baking tray or shallow baking dish with parchment paper. Place the block of feta in the middle of the paper. Top the feta with the tomato mixture, piling it high and allowing some to fall to the side. Scrape out the bowl that the tomato mixture was in, drizzling any residual oil and seasonings over the top of everything.
Bake, uncovered, for 20 minutes, until the tomatoes are starting to caramelize and the feta has softened. Feta cheese doesn't melt, but as it warms, it softens and becomes spreadable. Serve warm with pita, crackers or fresh crusty bread.
This can be stored in an airtight container in the fridge for up to three days.
Eric Akis is the author of eight cookbooks. His columns appear in the Life section Wednesday and Sunday.