Pulled pork poutine for $9 at Pig BBQ Joint in Victoria.
A bunch of us sampled the fare at the new Pig BBQ Joint in the Atrium building, at the corner of Blanshard and Johnson. There was plenty to like, and only a little to second-guess:
-- The fried chicken is good. I'm guessing that most people don't do fried chicken at home, and opt for the commercial chain stuff (as in KFC). Pig's version is very not KFC, and close to what, for me, is ideal fried chicken. The coating has a slight kick and isn't overly salty; the chicken is moist; the greasy level is low.
-- Several people had high praise for the beef brisket, pulled pork and smoked chicken sandwiches, which are a bargain -- $6 for the pork, $6.50 for the chicken and beef.
-- There were mixed reviews for the fried crispy mac and cheese. It's a chunk of mac and cheese with a crispy coating. You might mistake it for a piece of fried chicken. There were some frowns, but also a scattering of praise from people who shared some pieces.
-- I had the pulled pork poutine for $9 -- good fries smothered in cheese curds, gravy and pulled pork. The portion was huge. I tried to share it because it was clear that there was no way I'd be able to eat it all by myself. But my health conscious colleagues were in a ridiculing mood, and kept talking about getting clogged arteries at the very sight of it. The poutine is a dish for two people, maybe three, and being just $2.50 to $3 more than the sandwiches, another bargain. I found it to be a little weird, which betrays my lack of poutine sophistication. It's too salty, and definitely weighs on you. But I'd have it again, with plenty of ice tea ($1.50) to help deal with the salt.
-- One of our number wasn't in the mood for meat, so she went for a couple of the sides: baked beans and corn bread. She really liked the beans and I think (by this time I was a little whoozy from poutine overload) she even said they were among the best baked beans she's ever had. And the combo was another good value: $1.75 for the beans, $1.75 for the corn bread -- $3.50 for quite a decent meal.
-- Some logistical thoughts. The sound system for announcing numbers (you get a pickup number after you order and pay at the counter) needs help; mumble, static, mumble is what I heard. Lineup design for the order station is a little confusing for customers -- you can approach from two directions, and the result is that you can suddenly find yourself in the awkward knowledge that you're being viewed as a guy trying to butt in.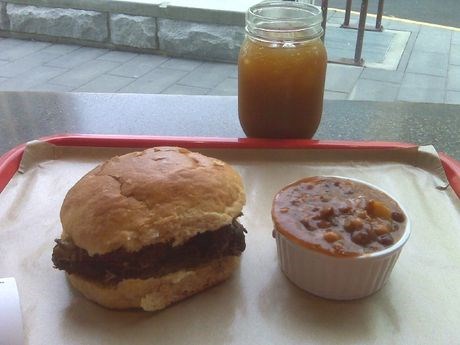 Pig's beef brisket sandwich, $6.50; baked beans (with meat), $1.75; iced tea, $1.50
- - -
A generous colleague brought back to the office a couple of KFC Double Downs for us to try. They're the much-publicized (and ridiculed) bun-less chicken sandwich -- two pieces of battered chicken with bacon, cheese and sauce in between, for $6.99. We cut up the Double Downs and shared among six people. The Double Down is OK -- surprisingly better than I feared, considering all the bad-mouthing. The chicken pieces, each one roughly the equivalent of what you'd find in a fast-food chicken burger, were decent. The chicken didn't taste weird, the way fast-food chicken can when it's injected with gosh-knows-what. But it was definitely way too salty. The biggest turnoff with the Double Down is the salt. It would be much improved if the salt was cut by half.
The Canadian owners of the KFC franchise are looking to the Double Down to greatly improve business. They've had a tough year financially, with sales sliding. So, considering all the Double Down excitement in the U.S., they decided to import it to Canada. Judging from all the Double Down chatter I'm hearing -- two colleagues have since indulged in Double Down lunches -- they made a good decision.
A couple of articles from timescolonist.com:
Priszm earnings fall 44%, banks on Double Down sandwich for growth
You can do worse than a Double Down lunch
- - -
A Double Down update: a colleague reports that he ordered a Double Down on the weekend, ate it all by himself, and decided that it was "awesome". In reporting his reaction, he offered two thumbs up. He gave some guidance for anyone attempting to eat a Double Down: have plenty of water on hand to dilute the salt overdose.
- - -
And my colleague Jack Knox has this to say about Pig's $9 pulled pork poutine, if you eat it all by yourself (and he would know, having done just that, in two sittings, with minimal help from friends): "It's like eating a birthday cake all by yourself."
- - -