How Nando's - the spicy grilled chicken chain - conquered Britain
May 23, 2010: There's a story in the Guardian about how Nando's found its stride in the U.K. thanks to "a new breed of confident young multicultural Britons" and a generous sprinkling of celebrity fans, like Jay-Z and Chipmunk.
In Greater Victoria, Nando's hasn't conquered yet. The downtown outlet, at Government and Pandora, is often emptyish when I stroll by, even at noon. (But the Langford outlet has been bustling on the four occasions I've eaten there or picked up takeout.) One issue might be the prices. People haven't quite figured out where to slot Nando's - is it a fast food joint or a little more up-scale than that? So, $11 or $12 for a meal can feel steep for a place where you have to order at a counter and pay in advance (though the food is brought to your table). Contrast that with, say, Fifth Street Bar and Grill, where you get full table service and half a roasted chicken with salad or fries for $10.
And, to clarify - I like the chicken that Nando's serves. It's spicy (if you order it that way - I go for medium), has a satisfying grilled taste, and even the white meat is moist.
- - -
KFC's Double Down is staying on U.S. menus
May 22, 2010: The much-criticized (unjustly I've always thought) KFC Double Down is staying on menus in the U.S. due to popular demand. Here's the press release from the KFC people.
KFC describes the Double Down: "The one-of-a-kind Double Down features two thick and juicy boneless white meat chicken filets (Original Recipe(R) or Grilled), two pieces of bacon, two melted slices of Monterey Jack and pepper jack cheese and Colonel's Sauce. And no bun, of course."
Healthy-eating advocates have been giving the Double Down (still no sign of it coming to Canada) a hard time.
- - -
Where hungry people go for a late-night bite
One place, and this shouldn't come as a surprise, is the downtown McDonald's on Douglas across the street from the Bay Centre. I've been to several late-night events downtown in recent weeks, and every time I stroll by that McDonald's, it's packed. Another no surprise thing: downtown could definitely use more late-night/early-morning places that offer a decent meal. There's a business opportunity - if you can put up with the hassles of late-night culture.
- - -
As seen on TV
May 19, 2010: Grocery store ads like this appear regularly in Australian newspapers, reports an eating companion who is visiting Melbourne. The ads are linked to a popular TV show called MasterChef. Watch the show, get the ingredients to cook the featured recipes. An ad campaign for the grocery store is synced to the show's themes.
- - -
A special pop machine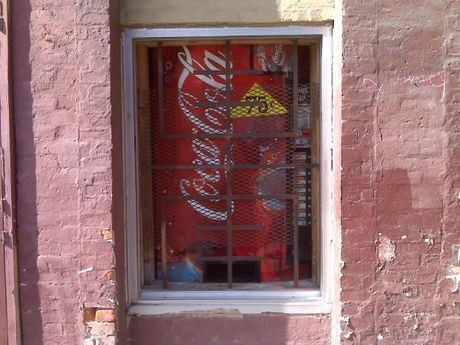 There's a pop vending machine in the window opening of an old building on Pandora Avenue near Chinatown. A metal grid protects much of its face. And, perhaps most important, it dispenses pop for just 75 cents a can.
- - -
Tamami Sushi in Chinatown closes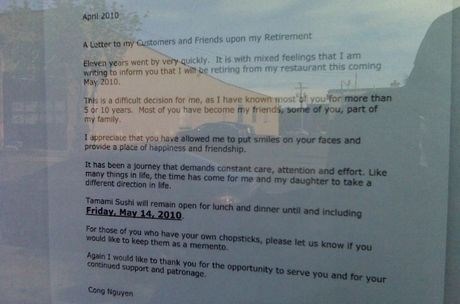 In a notice posted on the front door, the owner says he decided it was time to retire.
- - -
Meals for 2 for under $25 in Vancouver
May 15, 2010: Vancouver Sun's Mia Stainsby writes about eating tasty meals on the cheap in Vancouver. The city is rich with places to get a good meal for not a lot of money, she says. Part of that is driven by a Chinese population that is accustomed to eating out often at moderate cost.
Here's her list of 25 places to go for meals under $25 (that's for two people.). I've been to Gorilla (nice experience) and tried to go to Banana Leaf (couldn't get in; I was too impatient).
- - -
How to fry chicken
May 14, 2010: At latimes.com, Noelle Carter explores the frying of chicken - how the big name pros do it with fancy spins, how a home cook can do it with a minimum of fuss. The basic advice: use lard ("For frying, there's nothing better than lard."), pan-fry in a heavy cast-iron skillet, watch the temperature of the oil.
- - -
Eating spot prawns with minimal injury
We just had a meal built around Vancouver Island spot prawns. A box of about two dozen frozen ones with heads on cost $26 at Finest At Sea in James Bay, near Fisherman's Wharf. (The fresh ones cost more.) I boiled them for two or three minutes, scooped them out with a spider strainer, let them cool briefly, then dug in, very carefully. The shells are thick, and there are many opportunities to be injured by the sharp, pointy parts. The three of us mostly escaped injury. But the risk was worth it. The prawns were sweet, delicate, delicious, melt-in-your mouth. The tail offers the most meat, but with a little effort, you can slurp and scrape out some good eating from the heads. If you're ambitious, you can use the shells to cook up a tasty stock that you can use in a seafood bisque.
Times Colonist food writer Eric Akis recently did a feature on spot prawns. He went to way more effort than we did: Prawns hit the spot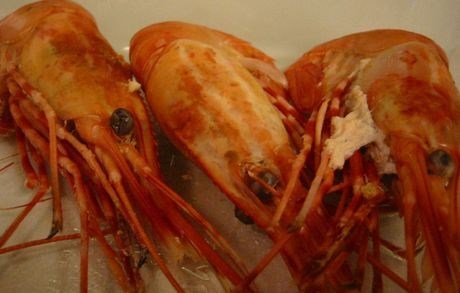 Boiled spot prawns
- - -
Seattle's Best Coffee changes its logo
May 12, 2010: They've gone from a fancy, retro-look to a spare design that, to my eye, makes the logo almost disappear. There's some reflecting about this at underconsideration.com. (via daringfireball.net)
- - -
Bread bag reflections
Thrifty Foods changed the way it bags some of its bread a while ago, and it's not for the better. They're folding back the top of the plastic bag and slapping on a very sticky label to keep the fold-back in place. As a result, opening the bread bag is an ordeal. It's almost impossible, with my fumble fingers, to get the super-duper sticky label off and get at the bread withou
t ripping the bag. I tolerate the bags because I like the bread.
- - -
High-tech mixing at the soda fountain
May 9, 2010: From a wsj.com report: Coca Cola Co. is testing a snazzy, heavily computerized, do-it-yourself soda fountain that mixes custom flavours on the spot - from Coke Zero with lemon to Caffeine-Free Diet Raspberry Coke. It dispenses near-freezing fizzy water and injects flavour doses into the water stream using technology that's also used for measuring drug doses for chemotherapy treatment. The system is packed inside a red-and-white shell created by the Ferrari racing car people. The machines are slowly being rolled out in a few U.S. restaurants and are part of Coke's effort to put more fizz into its soft drink business, which has been feeling a little parched in recent years. Here's a link to the wsj.com story; you'll need a subscription to see the whole thing since wsj.com is a pay site.
- - -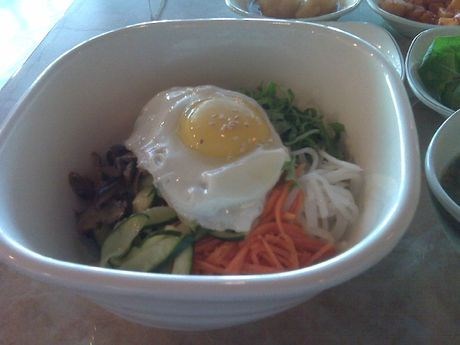 Bibimbop at Sura, on Douglas Street in Victoria, B.C.
May 8, 2010: I recently ordered the bottom-of-line (no meat) bibimbop at Sura, the Korean restaurant on Douglas near Fisgard. To my surprise, it came with five other small dishes, all for a grand total of $10.45 including tax. You get tea, too.
There was miso soup, plus a quartet of small starter dishes that they seem to serve with everything, including their most inexpensive mains. In addition to the soup, there was a a dish of cold potato chunks in sweetish syrup, radish kimchi, bean sprouts in sesame oil dressing, and a mini spinach salad with carrot slivers in a soy sauce dressing
It was all quite good, though the rice in my bibimbop wasn't all that hot. The hot sauce that is a traditional part of bibimbop came on the side in a squeeze bottle.
The restaurant can get quite busy. I arrived just before 6 p.m. and it was fairly quiet, but it filled up fast with several large groups of young people.
You can see the kitchen at work in one corner of the restaurant, hear the sounds of cooking, and smell the food – especially if someone is doing the cooking-at-the-table thing.
YouTube video about making bibimbop is here.
- - -
Going electronic for recipes
Many people in my circle are being guided in their cooking by recipes that they find online or in iPhone apps.
Mark Bittman (he's a regular at nytimes.com) has an app that's grandly titled How to Cook Everything. It's based on his book of the same name.
After using it for a week, I can recommend it. He offers simple, common sense approaches to a broad range of foods using a casual, friendly writing style. There's also a section on basic cooking techniques and core equipment (he likes his cast iron pans, he's avoiding non-sticks because of the chemical worries surrounding them).
He recommends ways to prepare soups, salads, vegetables, meat, grains, etc., and offers several recipes.
In his technique section, he encourages us to try things out, along with safety advice. In the deep frying section, he has this: "It's very important not to overheat the oil because it can spontaneously catch fire (though this has never happened to me or anyone I've ever known, so don't get freaked out here.)"
There's a glitch with the type. Letters are tightly squished together on some lines, but it's still readable.
How to Cook Everything costs $4.99 at the iTunes store.
- - -
Five artists reflect on and illustrate favourite dishes made by Mom. (At nytimes.com)
- - -
A colleague recently visited Lima, Peru, and shared some of his food photos.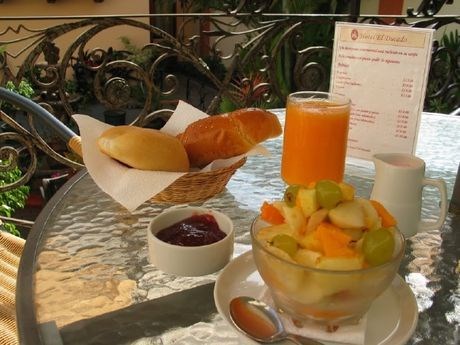 Breakfast at the hotel.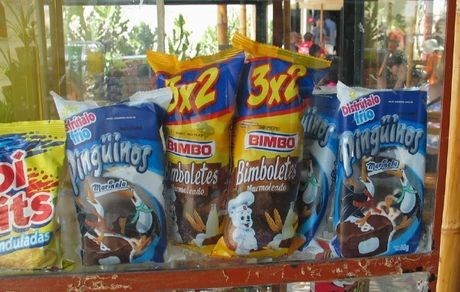 Sweet snacks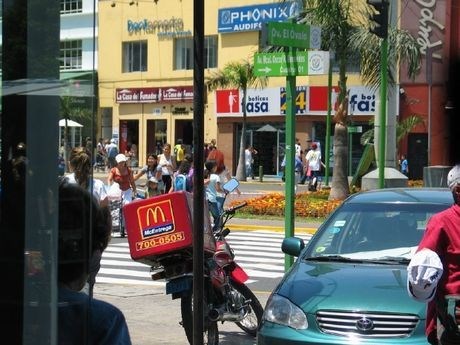 McDonald's delivers.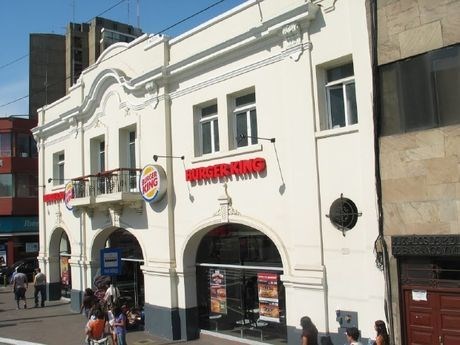 Some familiar brands.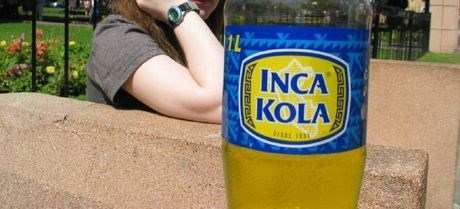 Made by Coca Cola. It tastes like bubblegum.

- - -
Obituary for veteran food critic Françoise Kayler whose opinions appeared in La Presse from 1972 to 2005. She was 81. (montrealgazette.com)
- - -