What's happening with the Turner building, that unusual curved edifice near Royal Jubilee Hospital that once housed Ian's Coffee Stop?

Will anything be built on the empty lot where the Mayfair bowling lanes once stood?

Greater Victoria has many empty lots and rundown buildings that were supposed to be new developments, but have sat idle for years.

Some, like the Janion building, have become hives of activity.

Others, however, have become topics of conversation, as passing drivers and pedestrians wonder when something is going to happen.

Anyone who lives in a city gets used to buildings going up and coming down, empty lots sitting vacant behind wire fences for years, much-publicized developments just not getting off the ground.

The Times Colonist took a look at 10 properties on major roads around Greater Victoria — sites thousands of drivers and pedestrians pass every day — to see where they stand. We chose the kind of property that makes people wonder: "Isn't something supposed to be happening there?" or "Didn't I read that was going to become a grocery store or a highrise years ago?"

Whatever has happened or not happened, we've found out. The properties include everything from condo towers to gas-station lots undergoing remediation to heritage buildings being upgraded and re-purposed. Now or one of these days.
Sometimes finding out the particulars took a quick phone call; other times, it took a dozen complicated emails to pin things down.

By no means are the updates running on these pages meant to be comprehensive. We just wanted to hit on some of the sites that seem to be going nowhere to let readers know they're still happening, to explain delays in other projects and to keep you informed on our changing cityscape.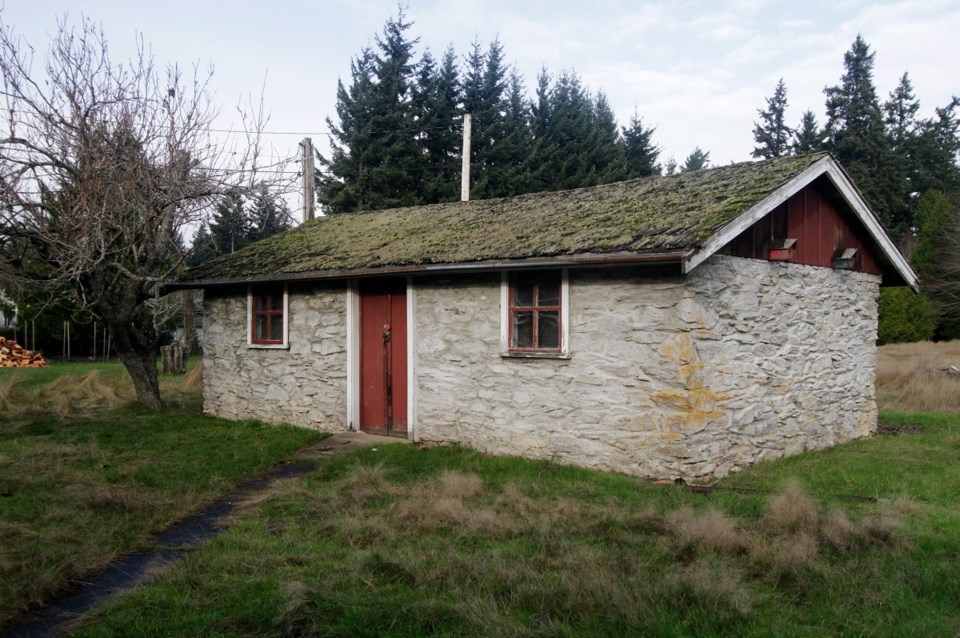 468 Goldstream Ave.
Nearly three years ago, 468 Goldstream Ave. was touted as a 100-unit condo project that would also restore the historic Colwood Dairy and Cheese House, built about 1852.

No construction has yet taken place for 468 Landmark. Developers Dave Vidalin and partner Jim McLaren downsized plans for two steel and concrete buildings as high as eight storeys. The new development permit issued last year is for two wood-frame buildings of six storeys. One building will have 34 units, the other 36, said Colwood communications manager Sandra Russell.

A building permit is expected to be filed within 60 days and construction should start shortly after, said Chuck Meagher of Century 21 Queenswood Realty.

The restoration of the dairy and cheese house is integral to the project. Colwood will have ownership of the dairy building, public-access rights and ability to collect amenity fees. Fees per unit include $250 to enhance historical content, a further $500 to fund Colwood's new fire hall, and $1,000 more for community amenities.

Adjacent to Millstream Creek, 35 per cent of the site will be turned into public park.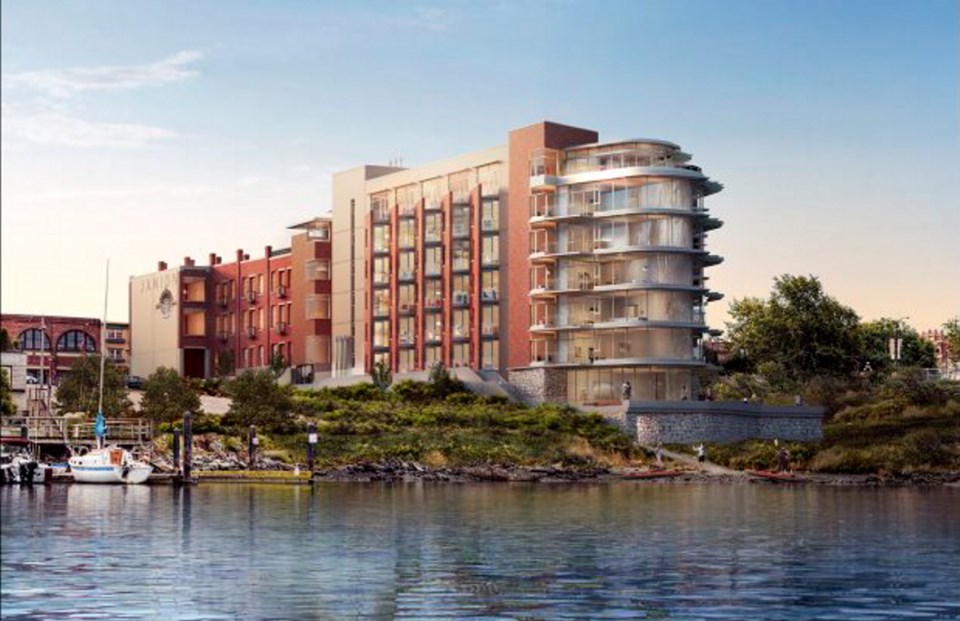 1612-1614 Store St.
Construction continues to transform and expand the heritage Janion building, a former hotel dating to 1891 that sat derelict for 35 years at Store Street and Pandora Avenue.

Vancouver's Reliance Properties is converting the building largely into micro-condos, starting at $110,000. To date, 117 of the 122 units are sold.

"The current estimated completion is between May 2016 and July 2016," Reliance president Jon Stovell said, adding he had no idea where estimates of a completion date this fall originated.

The project has been touted to cost $15 million, but Stovell said the company is not publishing its costs. Reliance bought the Janion for $2.49 million in 2012. It also bought Transport Canada land directly behind, creating a development site 59 feet wide by 302 feet long.

Two-thirds of the units will be added to the rear water side and north of the existing building at 1612-1614 Store St. The ground floor of the heritage building will be converted into commercial space — a micro-grocer is one idea.

Most of the micro-units will be 250 to 350 square feet, but some condos will be 800 square feet, and amenities will include social rooms with kitchen facilities, a rooftop deck, kayak storage, workshop and gym.
1101 Fort St. at Cook Street
  The 88-unit condo and commercial development planned for 1101 Fort St., which was expected to start construction late this summer, but has been pushed back about a year, said Sam Ganong, vice-president of Abstract Developments.

"It's nothing to do with the market. It's more to do with the projects we have on the go ... that are hitting the market ahead of that one. So as soon as our smaller boutique projects get absorbed, then we'll roll into that big one."

None of the existing nine or 10 retail operations in the 1909 structure have been asked to vacate, including Kilshaw's Auctioneers, and Abstract would be "more than pleased" if they all came back into the mixed-use commercial space planned for two storeys and 10,000 square feet, Ganong said.

Victoria council approved the atrium-style six-storey building touted to revitalize Fort Street more than a year ago. Abstract compares the $20-million project to the Jawl Enterprises Atrium building at Blanshard and Yates streets, which used the architect and landscape expert hired for the Fort Street project: D'Ambrosio Architecture and Urbanism and Murdoch de Greeff as landscape architect.

Units will be "well-appointed" and mid-range in price as opposed to "cheap, entry-level stuff," Ganong said.

The new estimate of completion — early 2017 — is too far off to set selling prices for the one- and two-bedroom condos.
The wood-frame project includes underground parking,  101 secured bike-storage spots, a green roof and commercial space that can be broken into five separate units or combined as needed.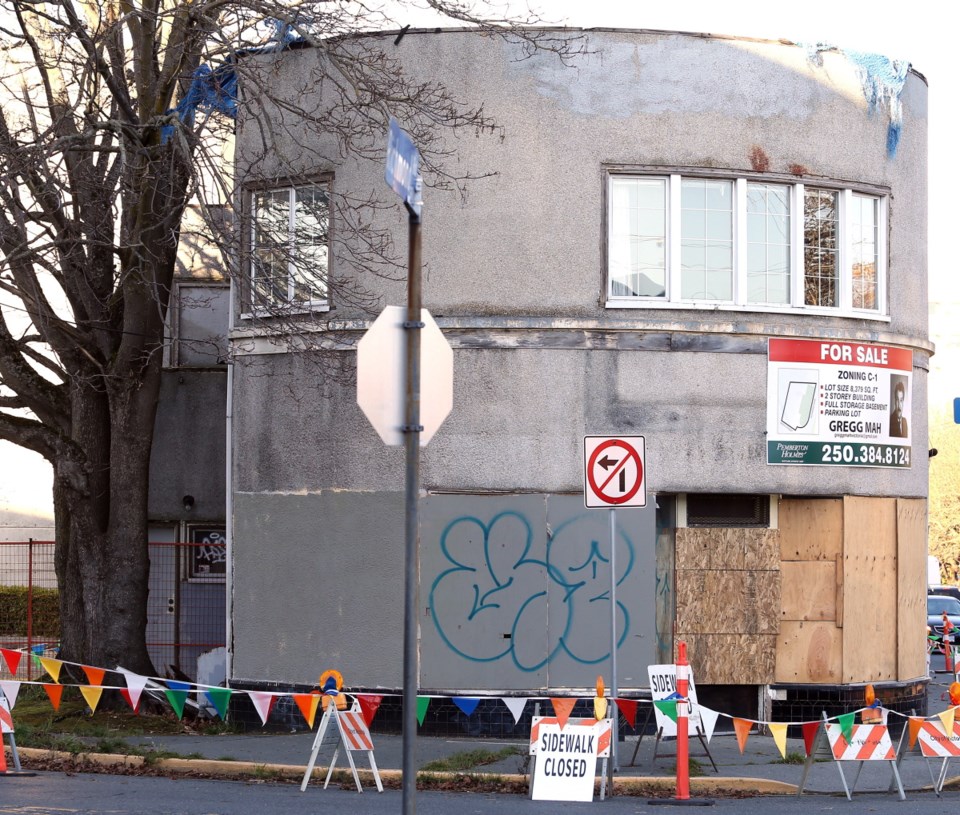 2002 Richmond Rd.
Three properties adjacent to the curvilinear Turner building at   2002 Richmond Rd. need rezoning for a planned office, retail and housing development to proceed, says architect Alan Lowe.

The Turner building must be rezoned from commercial use to consolidate the irregularly shaped site near Fort Street.

The majority of the Turner building will be saved, Lowe said, including the Richmond Road side that contained Ian's Coffee Stop for decades, and will be incorporated into a three-storey medical office building. Retail or a coffee shop is planned for the ground floor.

 "The inside would be gutted," Lowe said. If the Turner were demolished, the City of Victoria would not allow it to be rebuilt in its exact site, Lowe said, but would take 20 feet for another right-turn lane onto Fort Street.

Plans call for a second building at the back end of the site on Pembroke Street, likely consisting of four or five townhouses or some form of multi-unit housing atop underground parking.

 The Turner building was purchased by Island Cardiology Holdings Inc. in December 2013. Because of prohibitive cost, the property at 1911 Birch St. has not been purchased, leaving a Z shape to develop.

The stark concrete side of the Turner building facing Fort and Birch streets will be covered by the new development.

Lowe expects a land-use meeting with the North and South Jubilee neighbourhood associations this spring before an application to rezone can be made.

"They will provide feedback, and the owners can decide which way to proceed."

Don't expect construction any time soon.

"The rezoning process will take a year," Lowe said.

As far as Lowe knows, the Turner's red neon sign is still around.

"If we could, we would actually put it back up."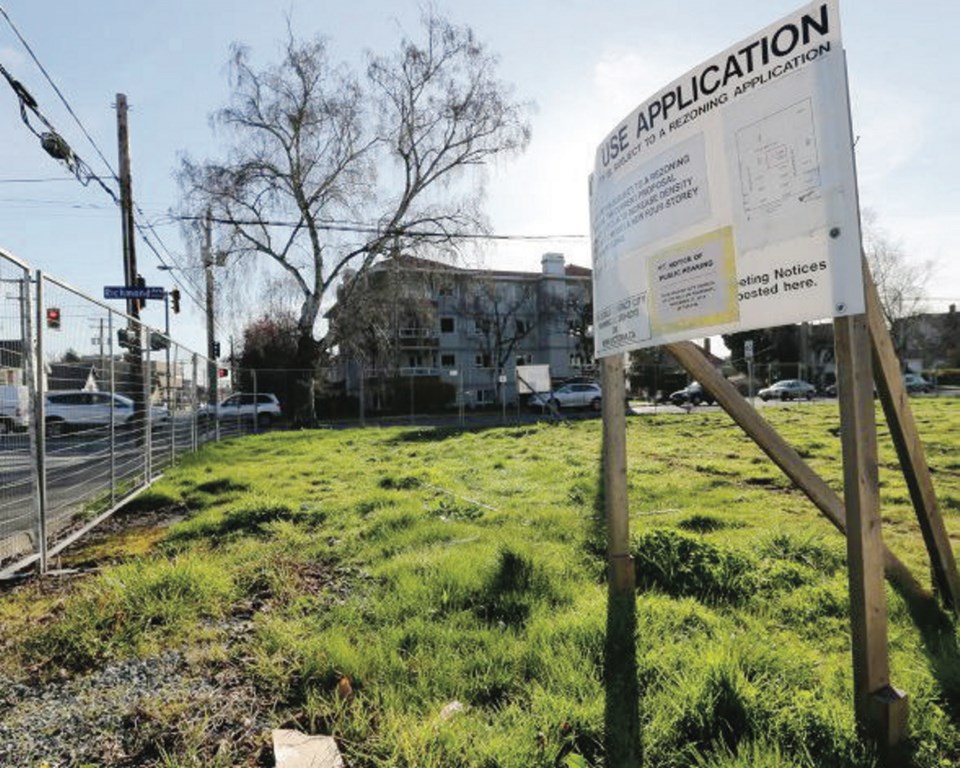 1082 Richmond Ave.
According to Victoria zoning, the condo development at Oak Bay and Richmond avenues should have been 12 units in three storeys. But changes to Victoria's Official Community Plan in 2012 allowed the Abstract Developments project to double the units to 24 in four storeys.

That was despite protests from both the Rockland Neighbourhood Association and its counterpart in South Jubilee.  Abstract earlier won a B.C. Supreme Court ruling allowing it to demolish the 1880s apartment building on the site but opted instead to sell it for $1 to Harry Newton and Michael Sweet, who had the 120-tonne structure cut in half and moved to Pemberton Road at Rockland.

A public hearing on the larger condo proposal was held and approved last year, but has not been given final adoption, said city spokeswoman Katie Hamilton. The city is waiting for Abstract to have its financial institution sign some legal agreements first.
Abstract vice-president Sam Ganong said he expects that to happen "toward the middle of the year."

Then council will consider a development permit once the rezoning application has received final reading. All parking will be underground.

Bob June, chairman of Rockland's community land-use committee, said concerns of local residents about too large a building on the lot remain, but he thanks former councillor Shellie Gudgeon for ensuring the project will be built to a Built Green Silver certificate level.

"That, I believe, sets a really good precedent," June said.

Coun. Pam Madoff noted that the community plan encourages greater densities along transportation corridors to provide for local population projections, but she did not support 1082 Richmond for several reasons. They included inadequate setbacks from sidewalk to the building that further increase the impact of its large mass, which does not smoothly transition to the single-family homes south along Richmond.

The assessed value of the land is $868,000.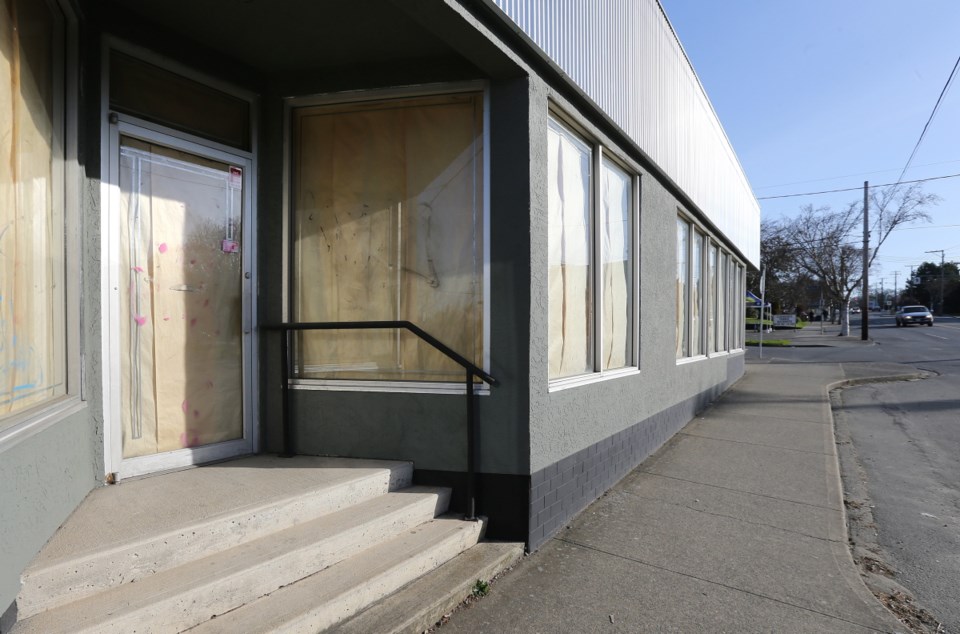 1120 Hillside Ave.
Nearly two years after the Root Cellar Village Green Grocer announced it would open another store at 1120 Hillside Ave., the one-storey building is still papered over.

Owner Daisy Orser said she did not want to comment publicly on what is or is not going on at the site.

The property is zoned R-2 — two-family dwelling district — but has legal non-conforming rights for retail on the property. The former operation was a corner grocery store.

The Root Cellar's original plan was for 4,700 square feet of shopping in response to customer demand. Two dilapidated small houses behind the property on Prior Street were demolished for parking, but remain a hole surrounded by orange fencing.

"It appears that they received all the approvals they needed to proceed with a retail use in this location, but they never advanced a building-permit application," said City of Victoria spokeswoman Katie Hamilton.

"We are not sure why they have not proceeded."

Root Cellar opened its Blenkinsop Road store in 2008.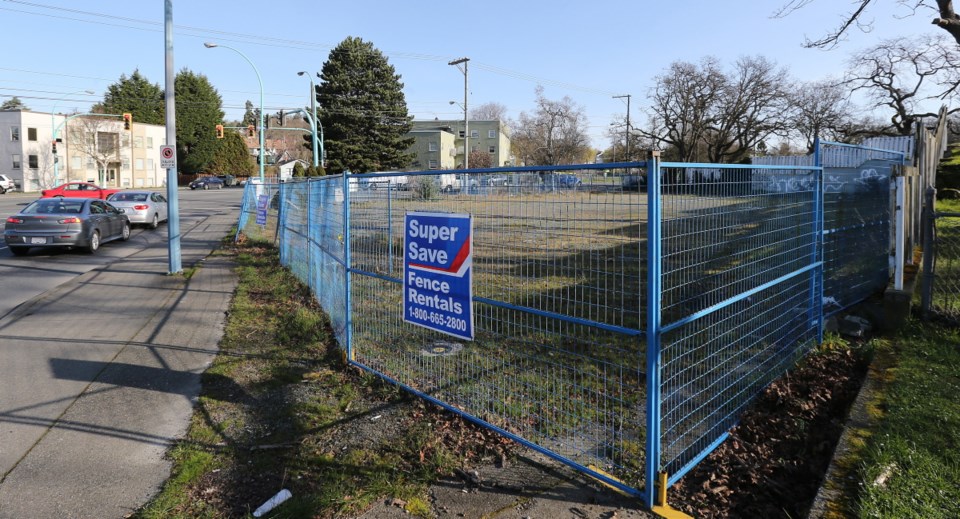 1301 Hillside Ave.
The Payless gas station that was a longtime fixture on the site was demolished in 2008, and property owner Shell Canada says remediation of the site is complete.

"As of today, all the required investigations for the site-use, as a commercial property, have been completed, so we have begun self-marketing — looking for buyers," said Shell spokesman Cameron Yost.

Contamination on the site migrated to adjacent roadways, Shell said, necessitating formal notification of the City of Victoria in keeping with B.C.'s Environmental Management Act. Work is being done on roadway areas adjacent to the site. The city is aware of the work Shell has been completing on those areas, Yost said.  

The company will pursue securing a certificate of compliance regarding the cleanup from the B.C. Ministry of the Environment even if the property is sold before that happens, he added.

Shell is working with the ministry in determining the applicable groundwater standards and other requirements for the certificate.

"This determination will dictate what the next steps are," Yost said. "We can't speculate on what those steps may be nor how long they will take until we receive the decision. That said, we have already conducted remediation on-site, as well as extensive investigation and monitoring beyond the confines of the property."

The ministry has been involved with the site since August 2013, when Shell asked it to review the adequacy of the company's groundwater investigations.  

There is no requirement for a certificate prior to the sale of a property, a ministry spokesman said.

"Anyone purchasing the site will need to do their due diligence and make a business decision they are comfortable with."

In 2014, the site was assessed at $831,000 with about $18,000 paid in city taxes that year.

There were once 55 Payless stations on the Island owned by founder Alan Vandekerkhove, who sold the chain to three Alberta entrepreneurs for a reported $43 million in 1989. The chain was bought by Shell in 1992.


3316 Quadra St.
The Shire Condominiums, a 92-unit condo project on Quadra Street near Inverness Road, was supposed to be ready this summer on the site of the old Holt house.

Construction of five-storey Building A and six-storey Building B, not far from Mayfair Shopping Centre, is expected to begin by mid-March.

"They've just had their foundation permit approved," said project marketing agent Mike Meagher. Two of the three developers, Jim McLaren and Dave Vidalin, are also involved with the Goldstream project. The third is accountant Len Wansbourgh.

All parking will be underground and the suites should have good views of faraway scenery such as the Sooke Hills.

Building C, also five storeys, is expected to get underway three months later.

One reason for the delay was a redesign to test prospective buyers' interest in three-bedroom or two-bedroom-plus-den units.

It turned out there was little interest due to a price point of about $500,000, necessitating another redesign of the buildings.

The first building's 25 units are sold, and eight of 34 have sold in the second building, Meagher said. So far. buyers are local, from Vancouver and from as far as California, he said.

"It's a very efficient building," he said, with only 15 per cent of total square footage devoted to hallways and community space to keep the strata fees down.
 
3927 Blenkinsop Rd.
The empty lot on Blenkinsop Road near Cedar Hill Cross Road was once an Esso service station, closed and demolished in 2009. The property has been undergoing soil remediation since 2011, which is coming to an end, said Imperial Oil spokesman Pius Rolheiser.

"Our goal is to obtain a certificate of compliance from the Ministry of the Environment and list the property for sale."
The company might be able to do that later this year, Rolheiser added.

The property is still zoned C-9 — local service station — but is large enough to hold up to three single-family homes, said Jarret Matanowitsch, Saanich manager of current planning.

The property was assessed at $829,000 in 2014, with property taxes of $18,050.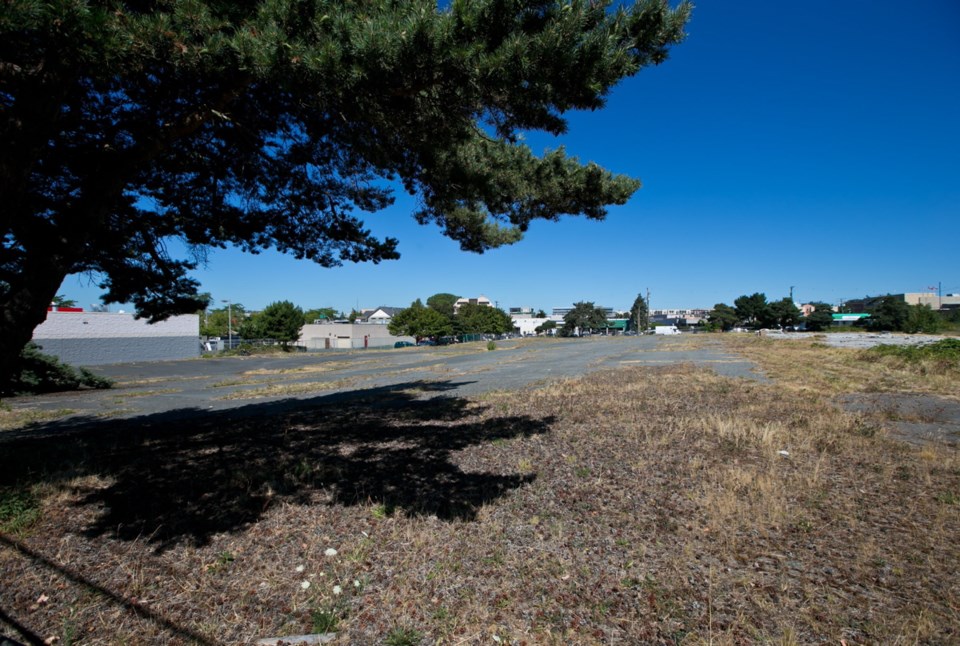 760 Tolmie Ave.

For more than 40 years the home of Mayfair bowling lanes, the property was purchased by Loblaw Companies Ltd. in 2005, which announced a Real Canadian Superstore would be built.

That was repeated in 2007, with a target opening in 2008.

The large lot is still empty, but Loblaws is making no more predictions.

 "This location is important to Loblaw," said an email from head office. "We continue to investigate our options to ensure we are making the right decisions regarding development of this property. This can take some time."

The development permit still includes a building of 8,528 square metres and a request for reduced underground parking with more above ground.

"That never came to council; they put it on hold in 2010," said Jarret Matanowitsch, Saanich manager of current planning.
The property was assessed at $11.75 million in 2014 with property taxes of $255,302 paid to Saanich. In 2005, it was assessed at $5.46 million.