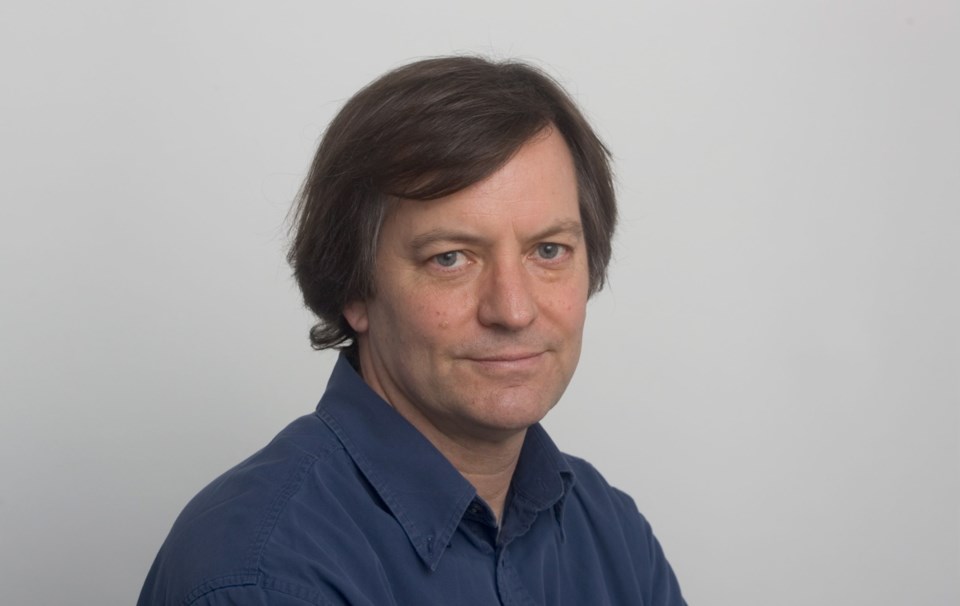 Recently, I attended the presentation of the Victoria Visual Arts Legacy Society's awards, bursaries given annually to worthy students at five art schools in Victoria.
The Faculty of Visual Arts at the University of Victoria chose Xiao Xue as their recipient, and we learned of Xiao's graduating project, a camper that can walk on six legs. The other day, I came across that camper, standing like a giant insect in the courtyard at the Visual Arts building. Along its aluminum sides was the name Slumber Queen.
It's the sort of camper that fits into a truck bed, now set up on six stubby legs that are connected by a sort of chain drive. Servo-motors are tucked up underneath, apparently powered by way of an extension cord. It might not go far or fast, but that's not the point.
Like a beetle or a turtle, it's a mobile home, and its boxy structure seems to reflect the suburban esthetic of the University of Victoria's campus. The name, Slumber Queen, brings to mind former professor Mowry Baden's installation of pink mattresses at the entrance to Beacon Hill Park, with its sign which reads "Day is for Resting, Night is for Sleeping."
There are those who would doubt that such a camper could be a work of art, but Xiao's creation is more a metaphor than a sport-utility vehicle. It's a contemporary reflection of life here in supernatural B.C.
When at the university, I always look in on the Legacy Maltwood Gallery, on the lower level of the Mearns Centre for Learning (a.k.a. the McPherson Library). About to open there is Survival by Design: The Legacy of Early Modern Architecture in Victoria, and is a project of curator Martin Segger, founding and former director of the Maltwood Art Gallery and Museum.
Segger has written "the war years and early post-war period witnessed the biggest building boom in Victoria's history … a similar boom today is reshaping that inheritance. And replacing it." The exhibit features a series of photographs commissioned from John Taylor (who is also the proprietor of Oak Bay's Eclectic Gallery), which show how the best of our modernist buildings have fared in the past 50 years.
The exhibition continues, with views of the urban landscape, at the University of Victoria Legacy Art Galleries Downtown, at 630 Yates St. Segger's show provides thought-provoking material to consider how the best-laid plans have worked out in our city. Learning from our past is a good way to prepare for the future.
Also on show at the Legacy Downtown is a collection of illustrations of First Nations "origin stories," as shown in prints drawn from the university art collections, and loans from Salish Weave, a private enterprise dedicated to supporting and encouraging local native artists.
A few weeks ago, I reviewed an exhibit at Open Space Gallery, titled Awakening Memory, which has just concluded its run. One of the three artists in the show was Marianne Nicolson, and at Open Space she presented a video visit to her home territory in Kingcome Inlet, and a mural-scale painting reflecting on the history and colonization of Kingcome. As an adjunct to that installation, now you can see a presentation of her new animated film, on show at University of Victoria Legacy Art Galleries.
In an out-of-the-way area of the gallery, the short video is playing. Nicolson's wide-screen animation draws on image-making techniques she derived from petroglyphs — paintings on the steep stone faces beside Kingcome Inlet — and button blankets. The simple visuals and her plain-spoken narration would be appropriate for a children's book, but the story she tells is chilling.
It's well-known that the native people here fell ill with diseases imported by the colonists. It is usually said that the Indians "lacked immunity" to these foreign maladies. The native people know better, and since that time have passed down a different story.
Uncontestable evidence of what happened is laid out in a recent book by Tom Swanky, The True Story of Canada's "War" of Extermination on the Pacific (Dragon Heart Enterprises, Burnaby, 2012). It was a form of genocide.
Two men infected with smallpox were brought, intentionally, on the steamship Brother Jonathan from San Francisco to Victoria on March 12, 1862. The infection of the native people was overseen by colonial administrators, and when the disease had "taken," the native people paddled away under the supervision of the police superintendent aboard a gunboat.
Those who fell by the wayside died along the shores, and those who made it home infected their families there. Between June and December 1862, more than 70 per cent of the Chilcotin people died, and the death toll in Haida Gwaii was as much as 90 per cent. The purpose of this infection was to settle land claims by means other than treaties.
Nicolson's short video, There's Blood in the Rocks, presents this truth, without pathos or panegyric. There is nothing we can do to change these sorry facts, but the "dying race" did not die out. Now it's up to us to make the future better. Facing facts is the only way we can go forward, and Nicolson's simple and elegant storytelling is an important first step.
Survival by Design: The Legacy of Early Modern Architecture in Victoria, on now at University of Victoria Legacy Art Galleries (630 Yates St., 250-721-6562, legacy.uvic.ca) until Sept. 16, and Survival by Design: The Legacy of Early Modern Architecture: The Gordon Head Campus, opening May 6 at the Legacy Maltwood Gallery, Mearns Centre — McPherson Library, UVic.
Also, Origin Stories and There's Blood in the Rocks, video installation by Marianne Nicolson, on show at University of Victoria Legacy Art Galleries (630 Yates St., 250-721-6562, legacy.uvic.ca).