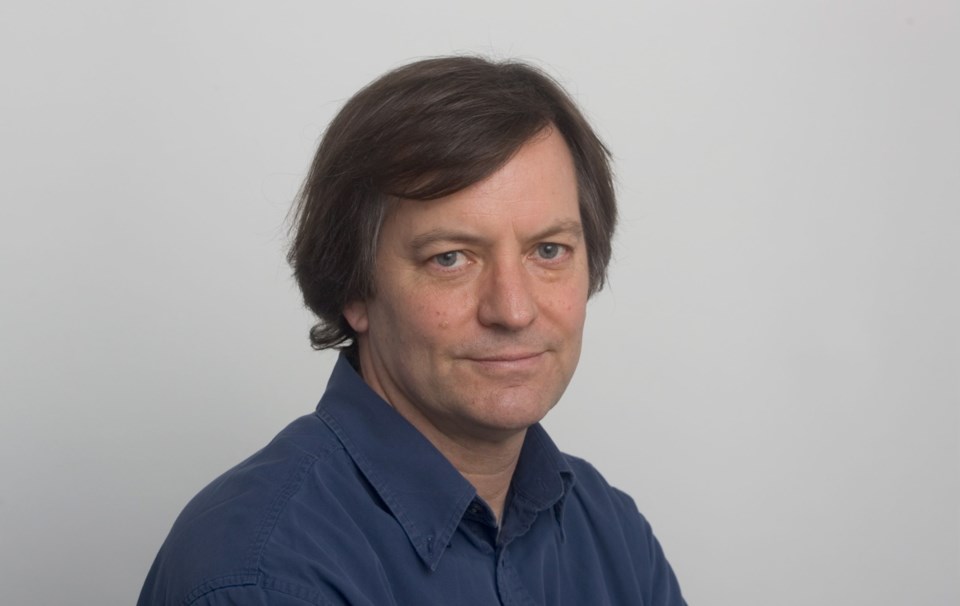 Blythe Scott. Rarely was a person so well-named. You can tell by her accent she's a Scot. From Glasgow, in fact. And blithe? My dictionary offers "cheerful, friendly, jocund, sprightly, merry, joyous, glad, happy." Her character and her upbringing are wonderfully evident in her vivacious paintings.
I stopped in at *couch Gallery (the asterisk is part of the name), at 1010 Broad St. (778-432-4777, couchartgallery.com) to take in the art and it was my good fortune to find Scott minding the store. There are other wonderful artists on show — sculptor Heather Jansch and abstract painter Michelle Miller among them — but for me Scott is the signature artist of this gallery. So I took the opportunity to ask her about her work and herself.
Scott has degrees from Strathclyde University and the prestigious Glasgow School of Art, and over 20 years she has worked, travelled and painted in many countries. A mother of two school-age children, she and her husband settled into Victoria's Fairfield neighbourhood 21Ú2 years ago.
"I derive a lot of strength from my family," she told me. They've lived in a few different communities, "and each time we move, we become a stronger unit."
Her friendly and fearless painting style speaks of a woman secure in herself, confident and adventurous. For choice, Scott loves to paint the urban — and suburban — landscape. Her themes are always readily identifiable, whether she is depicting Victoria's Inner Harbour or Chinatown, the swerve of Gonzales Bay or views she remembers from Scotland or Europe. But she is no slavish realist.
"I'm fairly rigorous in my observations," she explained, "but at some point I will throw away the photographs and yield to more of an intuitive enjoyment of the surface." She gives us "the subject matter as I hope it could be, rather than as it is. I yield to imagination, to colour and the sensation I feel when I am in that place, at that time."
As she sees it, the landscape swells and undulates, and our mundane world rises up to meet her with a swinging rhythm. She always cranks her colours up from earth tones and mist to the high-keyed cotton-candy palette she is known for.
When she lived in Scotland, she had to consciously transpose her colours to this higher key. But Victoria is not restricted like Glasgow, with its heritage-protected stone and brick. And it's not just the bold paintwork of our old town. Victoria is, in fact, a sunnier place. Scott told me that now she doesn't have to invent the colour.
"It's what I'm seeing on a daily basis. That's exciting, really, to respond to colour and not just make it up in my own head."
When she begins a painting, for the background she loves to lay on collaged buttons, wallpaper, sand, modelling paste, doilies and cut cardboard shapes. These add texture when light plays across them. Her paintings usually offer this added dimension, and we spoke about her love affair with relief.
"My dad is a painter, and my mom is a designer," Scott said. "She would be someone who would manipulate things with her hands, while Dad was all about the 2-D image. I can see the advantages of both languages, so maybe I have arrived at a midpoint. I'm happiest when I'm somewhere in the middle."
This surface inspires her imagination, and then she lays out the spaces of her world in a patchwork of touches. Next, layers of filigree are drawn across the surface, representing branches or sailboat masts … or just her free play of energy. As a young art student, her daily journey through the architecturally rich and decorative streets of Glasgow's city centre "etched my mind with elaborate Victorian stained glass and tiling, curly wrought-iron details and the weathered textures and varied palette found in stone and slate," Scott has written. She brought with her to Victoria that fanciful way of seeing and has found the holiday, toy-town atmosphere of Victoria perfectly suited to her needs.
She was still in Glasgow when the recession hit in 2008. It hit northern Britain particularly hard, and Scott reinvented herself, publishing a series of prints for the popular market and hiring an agent to distribute her work. Upon arrival here, she soon created a wonderful set of images of Victoria, but found the print market wasn't here. So she has dedicated herself to creating originals in her studio and teaching art — a lifelong love of hers — as well as mothering, and minding the desk at *couch Gallery.
"Life is one big painting for me," she said. "In the gallery or the supermarket, if I'm picking the kids up at school or working in my studio, I'm thinking about it all the time. It's all useful for me. I relate to artists who make visual connections in the world, who feel connected to everything in the world."
She enjoys this balance of activities.
"I'm a very, very intensive worker when I am in my studio, very productive. And I like it when I get away and have time to pause, to reflect and hopefully come back with a fresher eye."
Scott's many images and the range of her activities are extensively presented on her website, blythescott.com. As she says: "I have my finger in a lot of pies."
She's going to be artist in residence at the Laurel Point Inn during June, part of the remarkable Artishow movement, which is doing so much to connect artists and the public. And she is deeply involved in creating a series of views from Victoria hilltops.
The title of her new series? On Top of the World.