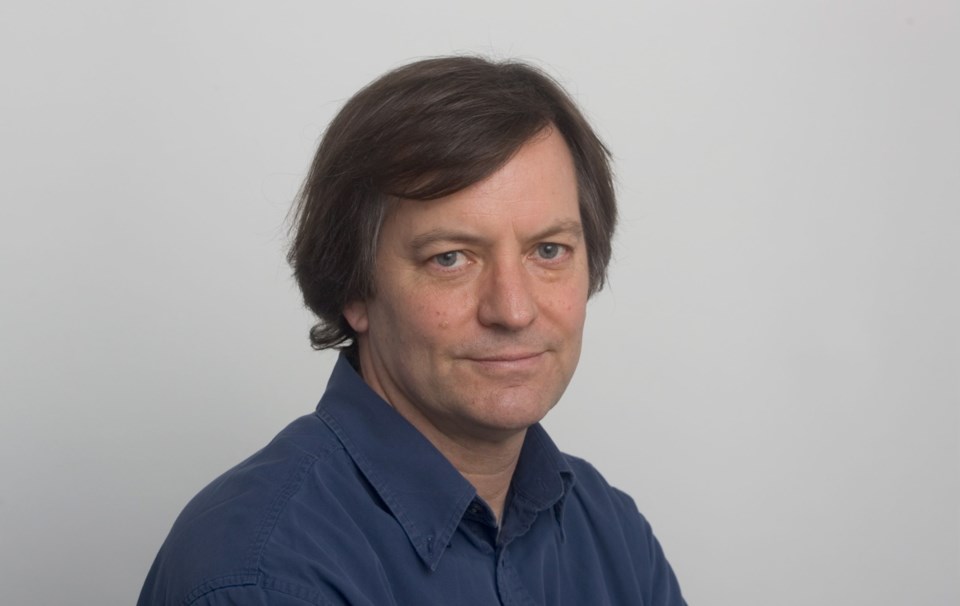 A new book entitled Fronts of Modernity is the fourth volume published by and about the University of Victoria's libraries. It was created by assistant professor Matthew Huculak, who was assigned the task by university librarian Jonathan Bengtsen in honour of the 50th anniversary of the university's Special Collections and Archives.
Who knew that UVic was so richly endowed with original source materials of literary modernism? When UVic and Simon Fraser University were founded in the 1960s, the three university libraries in the province strategized their collecting activities.
Simon Fraser concentrated on the U.S.; the University of British Columbia chose to specialize in Canadian literature; and UVic focused its attention on Britain. Librarian Roger Bishop was enthusiastic, literary lion Robin Skelton used his influence and a plucky young professor of English named Ann Saddlemyer took to the field. With good luck, good connections and a winning personality, Saddlemyer landed in the centre of a field that at the time was not properly appreciated.
Last spring, I reviewed an exhibit of the library's holdings of W.B. Yeats and his family, amassed for the university in its early days by Saddlemyer. About that time, a filing cabinet full of papers from Britain's poet laureate John Betjeman came to Victoria, and had to be properly looked into.
Reading this new book, I discovered that Victoria also has correspondence between Herbert Read and T.E. Lawrence "of Arabia"; important proof editions of the writings of Lawrence Durrell; and many original watercolours by Henry Miller.
An extraordinary gathering of materials by and relating to Wyndham Lewis, which was assembled by Cyril J. Fox over a lifetime, has already drawn scholars to Victoria. Letters and first editions by T.S. Eliot, Djuna Barnes and Virginia Woolf also have a home here, and there is an unexpectedly large cache of rare editions and early publications of James Joyce awaiting the attention of scholars.
This is Huculak's particular field of interest, and since coming here, he brought to light the original files and photographs for the picture book James Joyce in Paris, by the mid-century literary photographer Gisèle Freund, who was based in Paris from 1933 to 1967. Such are the treasures waiting to be examined by UVic scholars.
Fronts of Modernity was beautifully designed by Clint Hutzulak at Rayola Creative, and the look of the book alone makes it worthy of note in this art column. Hundreds of colour illustrations presented in an engaging layout give us a sense of the stationery, the postmarks and handwriting in these gems of correspondence.
For example, we are shown a letter from Ezra Pound typed in blue on his block-printed stationery from Rapallo, Italy. This page includes a first draft of one of his poems which has been extensively amended by the author with a fountain pen. With the advent of word-processing and email, these sorts of artifacts represent forms of communication from another age.
Fronts of Modernity, ed. Matthew Huculak (University of Victoria Libraries, Victoria 2016, 144 pp.) is not for sale in shops, but can found at the UVic Library, or can be accessed as a pdf file at no cost. Just go to http://bit.ly/2dekrWG
The Mayhew family has donated a tall bronze sculpture named Caryatid to the Royal B.C. Museum grounds. Created in 1971 by Elza Mayhew, one of the famed Limners group of artists, it joins another Mayhew sculpture named Spirit standing in the reflecting pool at the centre of the native plant garden that fronts the Provincial Archives.
Other major installations of Mayhew's work can be seen on the grounds of the University of Victoria and at Winchester Galleries.
This newspaper has already featured a story about the Millennium exhibition at the Art Gallery of Greater Victoria, but I can't resist sharing my enthusiasm for this extraordinary show.
In two large galleries, about 70 of the "greatest hits" of the Asian art collection have been selected by curator Barry Till to make an appearance, and every piece comes with a fascinating story. If you could choose just a few of our 250 pieces of carved amber or 75 beautiful ivories of age and distinction, which would you pick? There is a scroll from the Dun Huang caves, five metres long, dating from the eighth century, and it's one of three we own. A Tibetan tangka or painting on fabric is 400 years old and is unique among religious paintings in that it shows Kublai Khan.
You'll see everything from oracle bones (16th to 11th centuries BC) to ink and colour paintings by Wu Guanzhong and Zhang Daqian, two of the foremost Chinese painters of the 20th century. Sedan chair, folding screen, stone Buddhas from Afghanistan — I've visited three times already, and will return.
As Till has been threatening retirement for some time, and the gallery hopes to hear good news about its expansion and could close its doors for a while, this might be Till's swan song. It would be hard to make a more stunning exit, but I'm in no hurry to see him go. Can we hope for a show of the greatest hits of the European and decorative arts, or a survey of top picks from Canada's art history?
Last week, I wrote about the show Why Can't Minimal? at Open Space (510 Fort St., 250-383-8833), and said that Tammi Campbell's large and clever takeoff on one of Frank Stella's Notch paintings was all masking tape and no paint.
It turns out that Campbell fooled me. Helen Marzolf of Open Space wrote to set the record straight, pointing out that it's actually a trompe l'oeil realist painting in acrylic of masking tape. I'll have to go back and have another look at that one. The exhibit continues until Oct. 22.