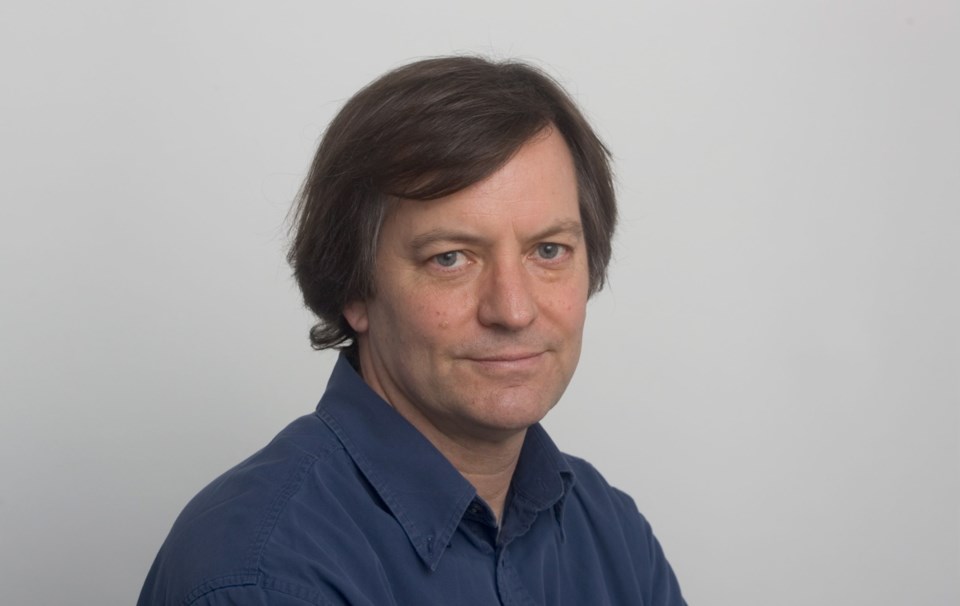 From the new show at the Legacy, I expected nothing out of the ordinary — a survey of screen prints by eight First Nations artists from southern Vancouver Island. Yet I came away with a realization: We are watching the evolution of a new generation of artists, and a culture reborn in new and still developing media.
In the footsteps of their elders — Charles Edenshaw, Mungo Martin, Bill Reid, Robert Davidson, Roy Vickers, to name a few — free and powerful young creators have moved ancient traditions into the modern world.
The artists chosen for this show by curator Andrea Walsh are no longer youngsters with crazy ideas. They are modern masters whose innovations are being played out before our eyes. Here in Victoria, we are truly privileged to see an art movement come into view.
Out of the Frame presents the work of Charles Elliott, Doug LaFortune, Angela Marston, Andy Everson, Maynard Johnny Jr., lessLIE, Chris Paul and Dylan Thomas. Each is represented by a screen print made for the marketplace, and also a look at the context and materials that led to that print.
The eight also participated in a printmaking "experiment," a collaboration merging printmaking and installation art. Working with Andy MacDougall, director of Wachiay Studio in Courtenay, the artists created a suite of banners printed on layers of translucent fabric through which light flows, creating a three-dimensional experience of printmaking.
Charles Elliott of Tsartlip near Brentwood Bay is the senior member of the group. Renowned for his creation of the Queen's Baton for the Commonwealth Games, three totem poles at Victoria International Airport and the innovative altar at St. Andrew's Roman Catholic Cathedral, he has brought to the Legacy sketches and a finished print.
Elliott's nephew, Chris Paul, is also from Tsartlip. He credits Squamish artist Floyd Joseph with inspiration, and also took two-year apprenticeships at K'san and then with Roy Vickers. Paul has applied himself diligently to the business of contemporary art, and his plasma-cut steel panel, Salish Sea, was the first purchase by Oak Bay's new public-art program. It can be seen at Turkey Head.
In this show, a beautiful time-lapse video of this piece in situ captures the sunrise through the image, and the shades of night as they obscure it. A giclee print of the design and a rusted steel version of the sculpture fill out the display.
Doug LaFortune is no youngster. A distinguished elder of the Tsawout nation, he applied himself to the teachings of Duncan's Simon Charlie and is a fine-art graduate of Camosun College. You might have seen his herons, the centrepiece of the Uptown Shopping Centre.
With remarkable candour, LaFortune allows us to leaf through his portfolio of sketches, which show a charming and light-hearted innocence. His baby bear playing with a butterfly is a tender delight, not so serious as the typical museum-quality native art.
Andy Everson, on the other hand, occupies the cutting edge. He's from Comox, has a master's degree in anthropology and asks us: Will you be a good ancestor?
"We need people to unite in defence of the things we hold dear: our children, our families, our communities, our environment," Everson writes. "We need warriors to come to the fore."
To show that he means business, he has carved armour for one of Darth Vader's storm troopers. Emblazoned with Kwakwakawak'w graphics, this indigenous warrior, a stark white, faceless individual covered with oil, "represents what will ultimately happen on our coastlines if these pipelines go through," Everson tells us. The accompanying screen print is his placard protesting the Enbridge pipeline.
Angela Marston, a Salish woman from Ladysmith, has a different approach. She's a herbalist, carrying forth traditional healing, and a basket-maker of considerable skill. On show you'll see a gorgeous cedar bark hat fit for a queen, utilizing a wide range of weaving techniques. Her prints are not the typical flat screen-printed colours, but include monoprinting, embossing, applique and inserted strips of cedar bark and copper.
Dylan Thomas is one of the youngest of these artists. He lives in Victoria, and has worked with Rande Cook, an artist who is taking Salish imagery to places it has never gone before. Thomas has learned something about the integration of discrete design units from the powerful example of Susan Point, the reigning artist of the Musqueam band. He has taken further ideas from M.C. Escher, creating Salish mandalas and positive/negative patterns that may be applied in many media as he goes forward.
Maynard Johnny Jr.'s prints caught my attention over the years at Alcheringa Gallery, and he seems to specialize in moon images. The four phases of the moon that make up his contribution to the experimental collaboration are printed in overlapping layers of filmy banners.
Central to the show is Cultural conunDRUM, a 2013 serigraph on paper, on loan from the Salish Weave collection, an initiative of local collectors George and Christiane Smyth. A visual play on the Starbucks logo, conunDRUM was created by lessLIE. This artist's fearless graphic skills and considerable education are always at the service of his Coast Salish trickster attitude.
This time, he made a circular installation of paper coffee cups, with Salish motifs printed on their bottoms. lessLIE explains that this "is intended to provoke political questions about the core-POOR-ration of Starbucks' beginning in Coast Salish territory."
It's all attractive art on the surface, and with this show you can dig deeper to the thought-provoking inspiration that drives these artists. They're the new masters.
Out of the Frame: Salish Printmaking, at the Legacy Gallery, 630 Yates St., 250-721-6562, to Oct. 1.