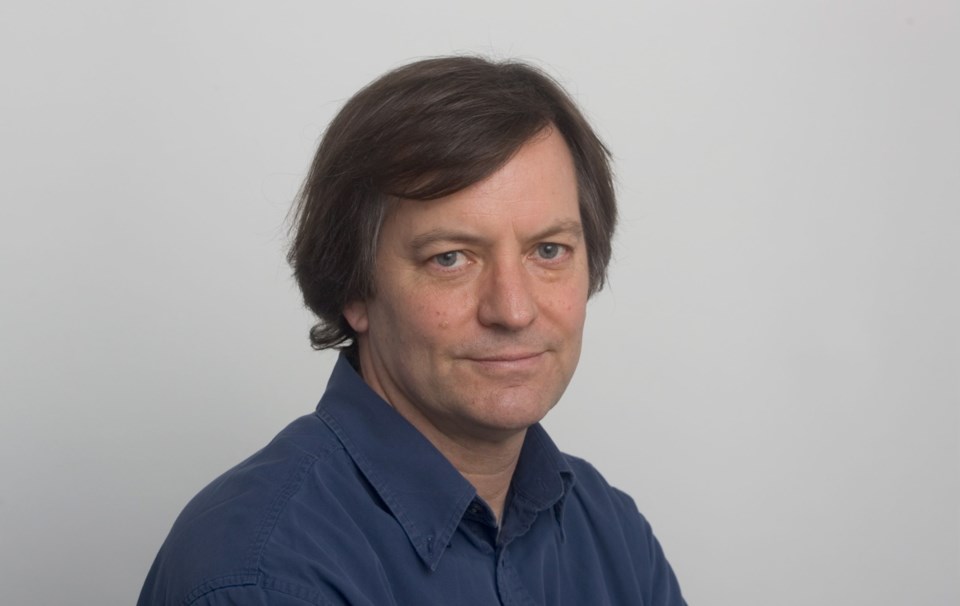 Eli Hirtle, Denendeh, Polychrome Fine Art, 977-A Fort St., 250-382-2787, polychromefinearts.com, until March 31.

Eli Hirtle is young, tall and well-spoken. In a deep and quiet voice, he welcomed me into his tiny studio on Fort Street where, on his desk, a pile of photos were being readied for his show at Polychrome Arts.

The photographs were taken with a rather primitive camera using cassettes of "expired" film. Of course, these days anyone can make brilliant exposures with a smartphone and see the results instantly. Hirtle is striving for a different effect.

"There is a special beauty in the processes and the esthetic of these shots," he told me.

"The vignetting, the soft focus very tight in the middle, the light leaks and all the accidents that contribute to the final product, not seeing it right away in the camera, but waiting until you get the roll back — I love every part of that."

What Hirtle was experiencing when he opened the shutter was more than what the lens could see. He likes the mood and the old-fashioned atmosphere these photos create. And the photos in this show are his attempt to recapture something of his heritage.

Hirtle was born in Lekwungen territory on the Saanich Peninsula. His mother was taken as a child from the Big Stone Cree Nation in Northern Alberta, part of the "'60s scoop." This was a time when aboriginal children were removed from their families and adopted into communities far away. Eight years ago, she reconnected with her biological mother, now living near Red Deer. Soon after that, a meeting with Erin Freeland Ballantyne offered Eli Hirtle a unique opportunity.

Ballantyne grew up in Yellowknife, and married Glen Coulthard, a Yellowknife Dene who teaches at the University of British Columbia. Together, they started the Dechinta Bush University at the Ballantyne family's eco-lodge, 40 kilometres east of Yellowknife. The teaching there involves traditional academic methods — reading, writing, classroom presentations — and learning from Dene elders, whose ancestors have been living on that land for thousands of years.

"The combination of those two different education knowledge systems is so rich," Hirtle said. The course he attended is accredited through the University of Alberta.

The young people who attended with Hirtle — most, but not all, First Nations — had a chance to discover traditional practices: setting snares, scraping moose hides and drying fish they netted under the ice at the lake where they stayed. These activities are useful on their own, but the most inspiring part was to participate in learning passed down in the old way — through experience, from elder to youth.

Hirtle had grown up with a mystery where his past should have been, but at Dechinta he was welcomed by seniors whose ties with their ancient traditions had not been sundered. As he patiently showed me his photos, his renewed connection with who he was and where he came from became evident.

He arrived at Dechinta by snowmobile, a 10-hour trip from Yellowknife. His photos of the flat terrain in this "land of the little sticks" are hardly National Geographic material. It was late in the winter when he got there, 30 degrees below zero. When he left, five weeks later, it was already high summer and 30 degrees above.

Students and elders augured holes through the ice on the lake to catch some fish.

"We set a huge net, checked it once or twice a day, and brought back to the camp the fish we caught, to eat fresh or prepare for drying." A double exposure shows a woman preparing a large fish, and at the centre of the picture is a brightness — a picture of sun glinting off the ice, overlaid on the photo of her preparations.

Hirtle also photographed the teepee that was their gathering place. His photograph shows its pyramidal shape, open at the top to let the smoke out. This image is overlaid with a caribou skull.

"We didn't see moose or caribou while I was there," Hirtle said, "but we learned how to tan a moose hide." Within the square format of the photo, a circle is implied. At the centre is the triangle of the teepee. And over that, the antlers make a kind of bush mandala. Smoke from the camp fire seems to pervade all these images.

"The time of contact [in Dene territory], compared to here, is so much less," he continued. "There, the language and way of life are still really, really strong." Although he speaks with the measured tones of experience and understanding, Hirtle has always lived in the city.

"Everything takes a lot of work, out in the bush," he said. "It was a recalibrating for me, an introduction, seeing it unfold."

There are 25 photos in the exhibition. Without the background stories he shared with me, these photographs would be easy to pass by. Using expired film for what he called "that timeless feel" has resulted in very drab colour prints. Low-fi focus and double exposures make for less than compelling images. They aren't journalistic, or decorative. Are they are aimed at the esoteric end of photography-as-art?

When I asked why he made such photos, he told me that his desire is to see all the photos presented together so that viewers can, as closely as possible, share the experience he had.

"It's paying respect to the reciprocity," he explained. When gathering "medicine" or setting a trap, it was proper to offer tobacco and say prayers to the plant, the tree or animal.

"It's circular — not just taking, but wanting to give back what I've learned. Maybe if people see it, they can learn from it and talk about it."
I think I have received a bit of what he is trying to convey.