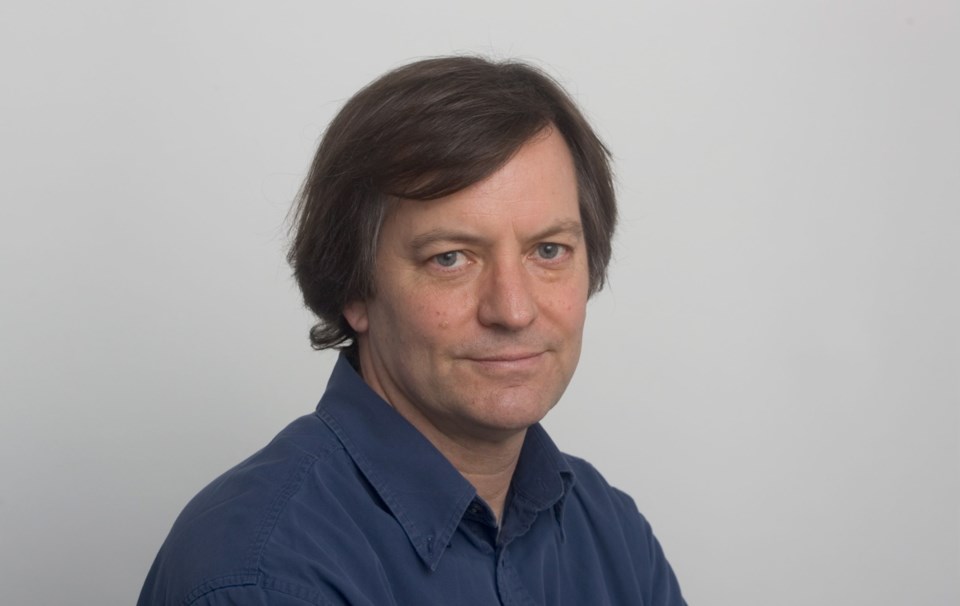 Forestrial Brain, a collaborative installation-painting by Matt Shane of Pender Island and Jim Holyoak of Montreal at Open Space on Fort Street, is the biggest, most complex and engaging artistic creation I can ever remember in that space, and on the day I visited it had only just begun. Wow!
The artists, who graduated from the University of Victoria in 2004, are both from B.C.'s Lower Mainland, and this collaboration — their 17th — is a bit of a homecoming. At the beginning of the summer, from July 1 to 8, they began the project by hiking the West Coast Trail, making sketches, taking photos and "taking our time, to absorb the trail as much as we could," Shane told me. "We wanted to feel the trail." It had been a wet spring, and all the streams and rivers were full of water.
Back at Open Space, they wrapped a room 40 metres long and almost four metres high with rolls of Italian drawing paper, creating an environment that conforms to the architecture.
"It's the best paper we could afford," Shane commented. "We like it to absorb some of the ink and water, because we use a lot of water to dilute the ink, which we build up in layers."
Considering the level of detail that they typically achieve, they're going to be working every moment right up to their "finissage" on Aug. 25.
"That duration is what we have," Shane said. "It's like a journey." Beginning with some simple tracings from digital projections, they lay in the graphic elements with ink lines, and then the tonal washes begin to build. Rather than planning out the job ahead of them, they let it evolve as they go along, giving great attention to some spots — the larger-than-life head of a Steller sea lion, for example — and letting other parts fade into the mist.
"You just throw yourself at it with everything you can bring to bear," Shane went on. The duo are masters of the positive and negative spaces, leaving out the highlights and surrounding haunting shapes that are suggested, not there at all. "On the trail, the fog would roll in and actually blur the landscapes," he marvelled. "You'd see the treetop of one area, and a faint part of the beach. The landscape was doing this obscuring naturally."
Using a water-based medium, they find their work is constantly informed by gravity. Things drip and flow, from the top to the bottom. "You have to embrace that as one of the things you work with," Shane explained. As they draw, they spray just enough water so the drawing will drip, but still maintain its structure.
These are two artists who love to draw. At a glance, the convoluted tendrils they develop seem informed by graffiti, and there is a gothic fantasy element to the organic undergrowth that attracts them. Most affecting is the influence of Oriental ink and brush techniques.
In 1999, the duo dropped out of school and together took a trip overland across Asia. In Yangshuo, the home of the mountains beloved of Chinese painters, they had a lesson from artist Sheung Ling Jiang.
"Just that one lesson really stuck with us," Shane recalled, and Holyoak followed up, a few years later, to study with Sheung for two months. "They were drawing every day, 12 hours a day," Shane marvelled. "Sheung doesn't take days off."
But the Canadians don't favour one influence over another.
"We had to find a way to make our own drawing language," Shane said. And what they create together is different from what each does in independent practice.
The experience of being on the trail was overwhelming for the two. Shane spoke of the abundance of life, and the fuzzy line between life and death.
"A tree will fall over and give life to new trees that grow up. There is so much happening, so much biomass, so much stimulus: All dying, living and reproducing at an accelerated rate. And it's all visible — the root systems like your own body's intestines, veins and capillaries, pumping water up to the branches. We tried to be aware that the other life forms are in many ways like us, on the trail. We are breathing the same air."
That immersion carried on in the painting.
"It's free form — not planned," Shane assured me. "There's a whole lot of faith involved in these projects. You give yourself over to it, and it's telling you what to do. You are a willing participant in a force of nature."
The work is carried out with a startling array of whisks and brooms. They put ink on, spray it with water, and catch the drips with paper towel.
"Spray bottles are one of the most important things we use," Shane informed me. "You really get to know these materials in an intuitive way."
The result is stunning, stimulating, and very much of this place. I wish Emily Carr could be here to see it. The final marks will be put down before the "finissage" on Aug. 25 from 6 to 10 p.m. The completed project will be available for viewing on Aug. 26. Then the artists will pull out the staples, roll up the paper and take it all back to Shane's home on Pender Island.
This remarkable painting should be permanently installed in some corporate headquarters or gallery. I was hugely impressed.
Forestrial Brain, a painting installation by Matt Shane and Jim Holyoak, at Open Space, 510 Fort St., 250-383-8833, openspace.ca, until Aug. 26.