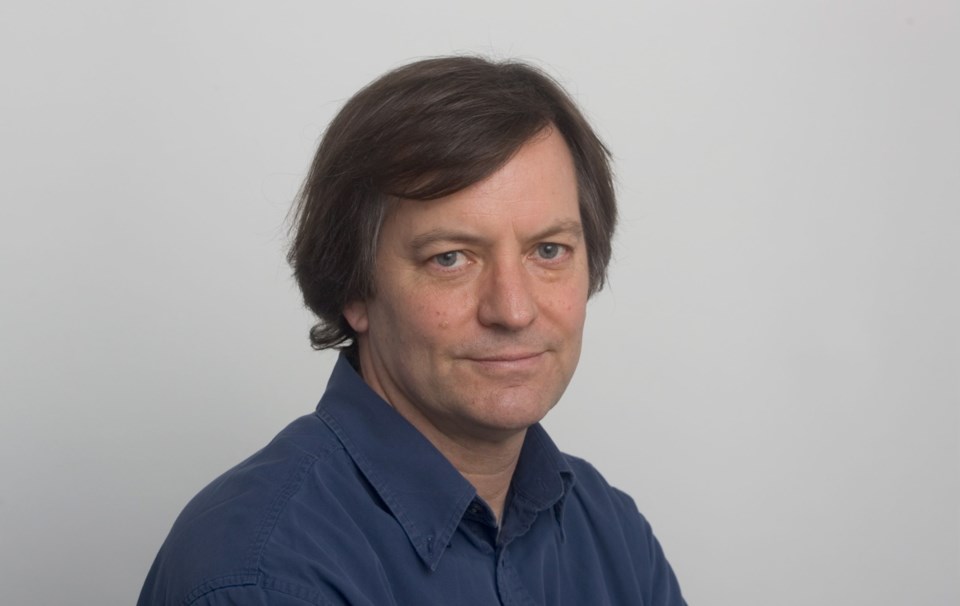 I dropped by to visit Jim Gordaneer in the hospital the other day. At this stage, Gordaneer, who was born in 1933, is a shadow of his former self. You can read about some of his trials and tribulations, which have been ably written up by his daughter, Alisa Gordaneer, in her online posting "Nil by Mouth." Despite the fact that he could scarcely speak, Gordaneer let me know he was glad I had dropped by.

Jim Gordaneer came to the coast from Ontario in 1976 when he was a teacher at the Northwest Coast Institute for the Arts, then located next to Open Space at 508 Fort St. That stellar group included Gordaneer, Jack Wise, Bill Porteous and Flemming Jorgensen. I followed those talented teachers when they moved to the Bank Street School the next year and became the Victoria College of Art, which continues there today.

In 1980, the top local artists gathered for a "painter's day" at Michael Williams' property at the end of Ten Mile Point. CBC-TV came and Toni Onley flew in. This was the seed of the Moss Street Paint-In. The resulting art works were shown at Kyle's Gallery at the Fort Street/Oak Bay junction, the location of the original Winchester Gallery, and Gordaneer's paintings were always on show.

At Victoria College of Art, among other places, Gordaneer taught oil painting. In the centre of his classroom he amassed a huge "still life," each object chosen for its interesting shape and tonal composition. Bicycle seat, tennis racket, antlers, watering can — all were stacked in a tipsy pyramid for students to come to terms with. Jim didn't care about the subject matter so much as the tone, colour and the application of paint.

Inspired by his colleague Jack Wise, Gordaneer's own paintings were at the time calligraphic play, often inspired by the landscape. Then, in 1981, the whole school took up geometric abstraction, an experiment suggested by Joseph Kyle, the school's pipe-smoking principal.

Gordaneer was genial and generous and, as a painter, utterly competent. With his background in art schools of Toronto, rural Doon, Ont., and San Miguel de Allende in Mexico, he had seen it all. In his practice, he learned from everyone, and almost every senior painter in Victoria owes something to his teaching.

He lived in the Fairfield neighbourhood with his wife Miria, son Jeremy and daughter Alisa, and I enjoyed visits to his garage studio.

Whether his subject was wrestlers or the roller derby, he brought to it the lively abstraction of Kandinsky or Toronto's Painters Eleven.

In the mid-'80s, Gordaneer created a series of large canvases depicting circus performers, which perfectly balanced his sublime colour sense with the tough, quirky drawing born of deep confidence. There is more than a touch of Matisse in these fine works, which were first shown at the Art Gallery of Greater Victoria, and then quickly snapped up from the Fran Willis Gallery, his commercial home for years. Not all of his paintings have proved so lovable, but he has never looked back.

In 1989 with theologian Raymond Lorens, he co-founded the Chapman Group, dedicated to "the topological question" and a practical exploration of physics, mathematics and spirituality. This was a rabbit hole of many years' depth and it led Gordaneer, with his accomplished skill at painting and drawing, to discover what would happen if you bent space according to the stresses and tensions of the new physics. Gordaneer suddenly began to paint highly illustrative canvases constructed upon new topological forms. His 15-panel diorama, Space Lost, Space Regained, is permanently installed on the third floor of the University of Victoria Library.

The Chapman Group included painter Mark Laver and Jim's son, the sculptor Jeremy Gordaneer, until it disbanded shortly before the death of Lorens in 1999. It was some years before the influences settled down and Gordaneer again became his own man. When I'd meet him on the sidewalk with his plein air painting setup, he'd be immersed in the local landscape. There was never much of a market for his work, but he worked on. The basement of his house on Chapman Street, and later on Carberry Gardens, was stuffed with more canvases than any other space I know.

By about 2010, Gordaneer and Miria were living with daughter Alisa and grandchildren all around. The family kept him young, despite frail health, and he painted on. He worked with curator Nicole Stanbridge to put on a true retrospective of his work at the AGGV, carefully chosen and published in a handsome book. He continued to fill rooms with canvases. Though most are so far unshown, he never wavered in his journey toward the ultimate painting.

With the support of his family and many devotees, the soft-spoken Gordaneer maintained his sincere interest in what other people were doing, and with a twinkle in his blue eyes looked forward to what was yet to be done. At his easel, he was wrestling with sexy, juicy colourful canvases more than a metre square. As I gazed at his productions, he showed me his true favourite personal subject — railway locomotives!

It seems unlikely that Gordaneer will ever get back to painting. Though he could barely lift his eyes to meet mine, he wanted to know how I was getting along with the painter's project. He will never cease to be interested in others. His questing, probing, dancing and dazzling brush is perhaps stilled, but he has left us a legacy. We can look in on what he created and share the joy in life that he has communicated in line and colour.

You can send your thoughts to Jim Gordaneer at gordaneer@gmail.com.