A groundswell of support is building for the creation of a new community space in Quadra Village.
A crowd described by organizers as "kids and families, hipsters and grandparents" gathered at the former Blanshard elementary school — it was closed in 2003 during a time of falling enrolment — and called for the City of Victoria to buy the site for dedicated community use.
The idea is to have a building with a neighbourhood gym, perhaps a library, child-care spaces and meeting rooms, along with an outside play area.
More than 100 people came out last week for the rally at the school, which organizers say will be like a "shared backyard" for the area. They advocate having the city acquire the building from the capital regional Hospital District, which completed a purchase of the school and the grounds directly around it in 2016.
In the main field area, an $86-million, 320-bed facility for seniors with complex-care needs and dementia is being built, and is known as the Summit at Quadra Village. The new community complex at the school would operate in concert with the existing Quadra Village Community Centre, on the same section of Kings Road.
"This is a purpose-built building," executive director Kelly Greenwell said of the existing centre. "So to add things to meet the demand within the neighbourhood and the wider community would be really useful."
He said the Blanshard school gym is already a community hotspot.
"Since we took that part of it over, we have a lot of different groups that come in, whether it's kids in a tennis program, cultural dancing, kindergym, daycare programs accessing it," Greenwell said.
He said he would like to keep up the gym use and bring in more offerings.
"We'd like to continue to hopefully operate a gym over there and try to meet some of the demand for child care that exists right now in the region," he said. "And also we'd hopefully partner up with other facilities that would have some benefits to folks in the neighbourhood and surrounding areas, like a library, and find ways to maintain the greenspace access that was traditionally there when the school was operating."
While the land behind the school is being used for the seniors' development, "the grounds in the front definitely represent something that could be quite meaningful if it was kept up and it was structured the right way," Greenwell said.
He said it looks as if the Quadra community has strong support from city council.
"Definitely our appeal's been heard."
He said that councillors Ben Isitt, Laurel Collins and Sharmarke Dubow "are all firmly aboard."
Greenwell said that dedicating the former school to community use would be fitting.
"Sometimes people forget the kind of community hubs that school are, the kind of spontaneous parks that they act like, as well," he said.
He said the current cost of the school site has not been determined.
Naked Bungy Jump returns this month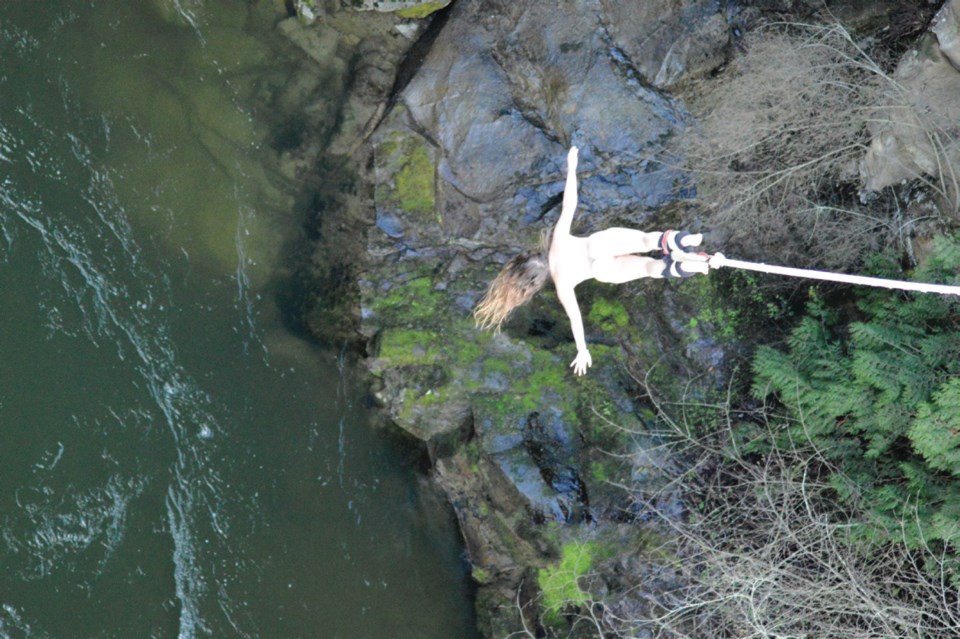 The annual Naked Bungy Jump bounces back in Nanaimo for a 13th year on March 9 and 10, from 10 a.m.-6 p.m.
The fundraising event for the Victoria branch of the B.C. Schizophrenia Society gives participants a chance to jump unclothed off a trestle toward the Nanaimo River 46 metres below. Money raised helps people with schizophrenia and psychosis.
A total of $220,000 has been raised over the years, and funds up to $25,000 are matched by an anonymous donor.
Most jumpers take part "wearing nothing but a show of support," host WildPlay Adventure Park quips on its website.
The Naked Bungy Jump is for people 18 and over, with those who have raised at least $200 in pledges invited to bungy in the buff for free. There is also an option to jump with clothes for the regular jump fee of $129.99.
About 200 people are expected to take part.
No personal photography will be permitted, but an event photographer will be provided.
Additional information is available at the society at admin.bcss@shaw.ca or 250-384-4225. Book a jump time at wildplay.com/naked-bungy/ or 1-855-595-2251.
Walk or run in Secret Marathon
The goal is to take part, have fun and don't sweat the competition Wednesday at the second annual Secret Marathon 3k run/walk.
The event is one of 16 being held across Canada during the week of International Women's Day, set for Friday. Similar events have been held in countries around the world.
Organizing the run/walk is the Victoria chapter of the Canadian Women for Women in Afghanistan. It begins at the Running Room at 1234 Government St. at 6:30 p.m.
Canadian Women for Women in Afghanistan is a non-profit group dedicated to giving Afghan women educational opportunities and improved human rights. The route for the run/walk is kept secret until just before the start, in recognition of the fact that organizers of Afghanistan's first official marathon took that measure to avoid problems with terrorists.
A documentary about that marathon is scheduled for a fall release.
The Victoria event had 97 participants in 2018. NDP MP Murray Rankin will officiate this year.
National event director Kate McKenzie said it is important that people can feel safe when they run.
"The goal of the Secret Marathon 3K is to celebrate our right to be free to run and walk in our community," she said in a statement. "Many women both here in Canada and in Afghanistan don't feel safe to run at night or alone, and we want to change that by bringing our community together to celebrate everyone's right to be free to run or walk in their community."
To register, go to thesecretmarathon.com/3krace. "Virtual participants" are also invited to take part.
Registration is $15.
100 Men back favourite charities
They describe themselves as a bunch of guys who like to do good things.
With that, a group was formed last summer with eight founding members and incorporated under the B.C. Societies Act. It came about when Ken Marchtaler, who has become the president, floated the idea at a monthly networking lunch at the Union Club.
The result is the 100 Men Who Care Foundation, or 100 Men Victoria, with more than 50 men now in the fold.
The plan for 100 Men Victoria is to get together four times a year and have participants donate $100 each time. Members then nominate a favourite charity, three charities are drawn and a recipient is chosen.
After an inaugural meeting in February at Vancouver Island Brewing, the group has decided to give its initial donation of more than $5,000 to the Extreme Outreach Society, which aims to remove barriers linked to poverty and to break the cycle of homelessness and addiction by working with youth.
There are similar women's groups in Greater Victoria and some similar men's groups across the country.
Directors joining Marchtaler in 100 Men Victoria are Scott Borland, Norm de Wit, Mathieu Powell, Michael Reilly, Doug Robb, Marshall Travis and Darren Warner.
For more information on 100 Men Victoria, go to 100menvictoria.org.
The next meeting is May 15 at a location to be announced.
People with lymphedema need support
Wednesday marks World Lymphedema Day, and has been proclaimed in Victoria, Saanich, Nanaimo and other Vancouver Island communities.
The B.C. Lymphedema Association, a non-profit group whose board members and volunteers live with the condition, supports research and awareness, and advocates for individuals and families who are affected.
An estimated one million Canadians have lymphedema, which is the accumulation of lymphatic fluid in tissues, leading to disfiguring swelling in various parts of the body. It is caused by damage done to the lymphatic system through such things as surgery, trauma or cancer treatment.
Many people with lymphedema have their work capacity diminished and have to deal with the expense of items such as compression garments and special pumps and custom wraps, sometimes resulting in financial hardship.
The association's south Island support group will have a display table set up Wednesday at the West Shore Town Centre from 10 a.m.-6 p.m.
Contact the B.C. Lymphedema Association at 1-866-991-2252 or go to bclymph.org.