Victoria's most vulnerable citizens enjoyed a day of shared conversation, arts, fellowship, food and entertainment at Project Connect 2020 on Tuesday at Kirk Hall.
Hosted by the Downtown Service Providers Committee, the event is an one-day service and information fair for those experiencing homelessness and extreme poverty.
The event takes place in January because the winter month can be particularly stressful for people in the community experiencing homelessness and poverty.
The event kicked off a territorial welcome and song by Brianna Bear, a member of the Songhees Nation and executive director of the Oasis Society for Spiritual Health (who works with vulnerable Indigenous people living on the streets).
Following the opening, the Salvation Army Community Response Unit served 400 hot dogs at lunch while the United Way Greater Victoria's Labour Committee and their members served almost 300 spaghetti-and-meatball meals for dinner.
Participants could take advantage of a wide range of free services throughout the day, including care packs, medical attention, haircuts, chair massages and more.
"We were humbled and encouraged by the many groups and agencies who pitched in and helped make the event a continued success," said Janine Theobald, chair of the event's planning committee.
The first Project Connect took place in Victoria in 2008, and is made possible thanks to funding from United Way Greater Victoria.
The Downtown Service Providers Committee is comprised of service providers operating in Victoria's downtown core, or serving populations in the downtown core. It meets monthly to share information, co-ordinate activities and develop collaborative strategies to address the needs in the downtown core. Membership includes representatives of service-delivery organizations, city council, city staff, police and local businesses, as well as funding, advocacy and social-policy agencies.
For more information, go to victoriahomelessness.ca/projectconnect.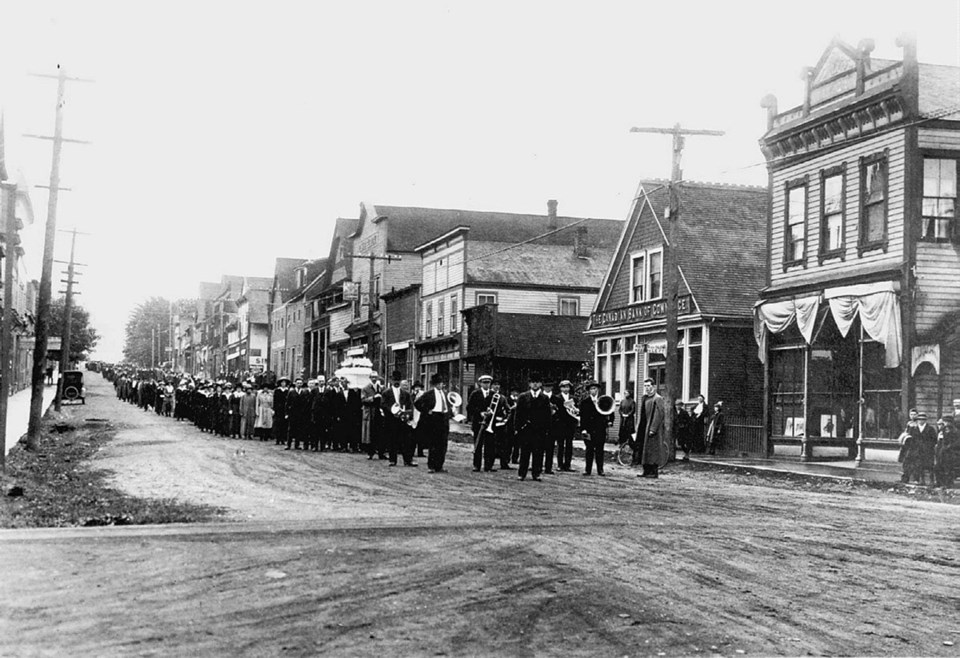 Museum's tribute to activist nets award
The Cumberland Museum and Archives has received the 2019 Governor General's History Award for Excellence in Community Programming.
Albert (Ginger) Goodwin, a labour activist, union organizer and conscientious objector was shot and killed while attempting to evade military conscription on July 27, 1918.
The circumstances surrounding his death were controversial and sparked outrage among workers throughout the province. His death lead to the Vancouver General Strike on Aug. 2 the same year.
To mark the centenary of his death, the Cumberland Museum and Archives led a series of programs and events that engaged the public with history through artistic, academic and immersive experiences.
"We are so proud of this award and its recognition of very hard work by many, many people," said Robin Folvik, museum staff and a member of the Miners Memorial Organizing Committee. "We are thankful for the support we received through sponsorships and volunteers that made it possible for our little community museum to pull off such a big celebration."
Activities offered included tours, workshops, music, lectures, visual art and historical re-enactments. The different programs examined the historical and contemporary questions of social justice, work, ethnicity and gender.
The programming culminated with an community re-enactment of Goodwin's funeral.
The Governor General's History Award recognizes individuals and organizations that deepen our understanding of the past by highlighting lesser-known stories. It represents diversity of our experiences and encourages meaningful public dialogue around history.
For more information, go to canadashistory.ca or cumberlandmuseum.ca.
Royal LePage Realtors aid Shelter Foundation
Realtors with Royal LePage Coast Capital Realty don't just sell properties, they also supply hope for women and children escaping domestic violence and living in emergency and transitional shelters.
Every year, members of the real-estate company donate a portion of their commissions and the proceeds of other fundraises to the Shelter Foundation. The Shelter Foundation is a national non-profit, but its unique feature is that all money raised locally stays in the community.
In Victoria, money raised is donated to the Cridge Center for the Family, Victoria Women's Transition House, Sooke Transition House and Margaret Lawrence House.
In 2019, the Realtors raised more than $27,000 at their annual golf tournament, collecting more than $300,000 over the 14 years of the popular event.
Up to 20 Royal LePage Realtors will be on hand to present a cheque at a ceremony at 10 a.m. Tuesday, Feb. 4, at the Cridge Centre, 1307 Hillside Ave. Saanich Mayor Fred Haynes and City of Victoria Coun. Marianne Alto are expected to attend, along with representatives from all four shelters.
Vic High student among finalists for Loran Award
A Victoria High School student has a chance to earn a Loran Award valued up to $100,000 over four years for undergraduate studies in Canada.
The Loran Scholars Foundation just announced that Sienna Nargang-White is among the top 88 of 5,194 candidates from across Canada. Candidates are judged on evidence of character, commitment to service in the community and leadership potential.
Nargang-White will be participating in the foundation's national selections, Jan. 31 to Feb. 1 in Toronto.
After the event, the foundation will grant up to 36 Loran Awards.
The awards include annual stipends, tuition waivers from a partner university, mentorship and summer internship funding, as well as annual retreats and forums.
If not selected as a Loran Scholar, she will still receive a $5,000 finalist award.
For more information, go to loranscholar.ca.
Grants available for Family Day events
There is still time for local museums, art galleries, historic places, cultural heritage institutions and Indigenous communities to apply for grants to cover the cost of holding free community events for the upcoming B.C. Family Day.
The grants, offered by the B.C. Museums Association in partnership with the Province of British Columbia, will provide funds to facilities to help cover a portion of the costs from hosting a free community Family Day event.
It will pay for items such as art supplies, staff time, honorariums for knowledge keepers and community elders, facility expenses, equipment rentals or basic refreshments.
"In communities across the province, memories that last a lifetime will be created on Family Day," said Ryan Hunt, executive director of the B.C. Museums Association. "This funding allows cultural heritage organizations to open their doors to families, building strong connections between British Columbians and our communities' rich arts, culture, and heritage. We are delighted to work with the Province of British Columbia again to provide financial support to help museums offer accessible special programs to families."
The grants call for events be held during the B.C. Family Day long weekend, Feb. 14 to 17.
Applications are approved on a first-come, first-served basis. The deadline for applications is 4:30 p.m. Feb. 10, or until all grant funds are allocated.
For more information, go to museumsassn.bc.ca/awards/bc-family-day-grants.
Victoria joins call for no-cost contraception
Victoria City Council is behind a proposal to include no-cost contraception medication as an universal health-care service.
This week, council passed a motion to call on the Association of Vancouver Island and Coastal Communities to ask the provincial government to cover all prescription contraception in the province as a universal health-care service — and make it available at no cost to residents.
"It's fantastic to see Victoria City Council pass this motion and support this important issue as the provincial government considers its inclusion in the upcoming budget," said Dr. Teale Phelps Bondaroff, committee chair and co-founder of the AccessBC Campaign for free prescription contraception in B.C. "Universal coverage of no-cost prescription contraception is a policy that is supported by sound evidence and would have significant positive impacts for people across the province."
A 2010 study from Options for Sexual Health estimated that providing universal, no-cost contraception coverage in B.C. would likely cost approximately $50 million — but would save as much as $95 million per year.
Currently, an intrauterine device can cost $75 to $380, oral contraceptive pills can cost $240 a year and hormone injections as much as $180 per annum.
These costs are a significant barrier in accessing contraception for many people in B.C., and make it much harder for B.C. residents to freely make their own reproductive choices. For more information, go to accessbc.org.
Drive Pink campaign raises funds for cancer society
Broco Glass and Speedy Glass partnered with the Canadian Cancer Society through the Drive Pink campaign during Breast Cancer Awareness Month, collecting $8,000 to support women living with breast cancer.
During the campaign, the two automotive glass repair and replacement companies donated $2 from every pair of windshield wipers sold, with Trico, the supplier, matching the donation.
"We were very proud to participate in the Drive Pink Campaign with the Canadian Cancer Society," said Fernando Pierri, Director of Operations for Belron, which owns and operates both brands. "We engaged all our employees across British Columbia in a very successful sales campaign, contributing to such a relevant cause. We would like to thank Trico, our wiper supplier, for participating with us."
Funds raised through Drive Pink will help local women with breast cancer live their lives more fully through research and services that provide information and help women and their families cope with the disease.
For more information, go to cancer.ca.